"Where the rubber meets the road" was Firestone's slogan for decades, but the phrase has come to mean more than a catchy advertising jingle. It's a catchphrase for performance in any critical real-world function. That's appropriate, because your entire investment in your restored classic car is literally riding on the tires you choose.
Choosing the right tire for your restoration project can be easy, or it can be a dilemma. Original-style tires are available for most cars all the way back to the brass era, and for any car of the 1920s and later, you'll generally have several options available. Finding tires isn't the issue -choosing the right tire for you is the conundrum.
The primary factor in your tire choice for a restored classic is whether to stay original or to use a modern tire. There are good reasons to decide either way.
Original tires look right on a classic car. The height, width, tread pattern, and color of the rubber is just as the car's original designers imagined. The stresses fed back through your suspension will be the same as the original engineers expected. Having original-type tires on the car will please the judges at every car show, too.
But on the other hand, modern radial design tires are undeniably better than the older bias-ply design. They offer a better ride, better grip, less rolling resistance, better fuel economy, and they last longer. With a little work (or the handy online table provided by Coker Tire) you can get radials in almost exactly the same size as the original bias ply tires that came on your car.
However, you need to be aware that radials will always look different from bias ply tires. Bias-ply tires are constructed by layering plies of rubber-infused mesh at 45-degree angles to the centerline of the tire tread, while radials are made by overlapping plies radially from the center of the tire's rotation across the tread face. That may not sound like much, but it definitely changes the way the tire works and the way it looks. This is especially true with whitewall tires. Whitewall radials never look right on classic cars.
The bottom line--where the rubber meets the road--is that you should choose original type tires for car shows and radial tires for road driving. If your restoration is a concours trailer queen, you can put the most original tires on the car and leave them there. Likewise, if you plan to drive your classic regularly on the road, or if you plan to drive it occasionally in a spirited fashion, you should invest in radials. And if you plan to do some of each, you should simply find a second set of wheels and buy a set of show tires and a set of road tires. That way your show wheels and tires stay perfectly clean and unscuffed while your road tires give you a great driving experience.
Some other tips to consider when selecting tires are that you should always buy your tires in sets of 5, so your spare matches the rest of your tires. This is especially true for bias-ply tires, because the traditional tire rotation plan for this design includes rotating the spare. With radials, tires are simply swapped front-to-back and the spare stays in the trunk, but it's still nice to know your spare is new and holding air! Using an ancient tire as your spare is a certain way to experience two flats on the same trip.
| | | |
| --- | --- | --- |
| | | Hint... |
Always replace the inner tubes (if your wheels and tires use them) when you replace the tires. It's OK to use tubes with tubeless tires on tubeless wheels, but not the other way around! If either the tire or the wheel requires a tube, be sure to use one.
Finally, be sure to invest in new valve stems and balancing whenever you install new tires. Ask the tire shop to use stick-on weights on the inner part of the rim to keep the judge-facing side of your tires perfect. With all your restoration work sitting there on top of these four patches of rubber, it just makes sense to do everything right.
| | |
| --- | --- |
| | DO |
Buy the right size tires for your car
Buy modern design radial tires if you intend to drive on the road extensively
Keep your tires inflated and balanced properly
Set your tire pressure to what's written on the tire, not what's in your original owner's manual. Tire technology has changed over the years!
Buy a matching spare tire
| | |
| --- | --- |
| | DON'T |
Don't cover up cracks and weathered rubber with cosmetics
Don't use "Fix-a-Flat" as a puncture repair
Don't try to use tube-type tires without a tube, even on a tubeless wheel
Don't put an old, cracked tire in as a spare - it will fail when you need it most
Don't stack whitewall tires with blackwall touching whitewall - blackwall will stain whitewall
Driving the Popular Restorations feature car from its place of purchase to its restoration destination was an exciting trip. I changed the engine, transmission, and rear end oil at a Jiffy Lube before undertaking the 600 mile trek from Sacramento, California to Portland Oregon. At the outset, my biggest concerns were flat tires and overheating, but the tires and the radiator held out, even in the 100 degree summer weather going over the mountain passes near Mt. Shasta in California and the Siskiyou Mountains in Oregon.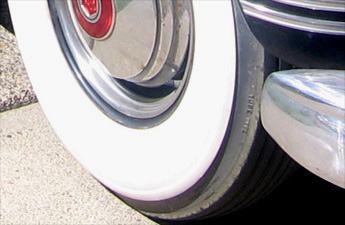 Notice the cracks in the original tire--was it was retreaded?
What I did notice was the 20-year-old, bias-ply tires had major flat spots from the car being in storage for years. At 55 mph the vibration was unnerving and the rumble was deafening. After about six hours the tires warmed up and started to round out but were still annoying as they wanted to follow the ruts and grooves in the road. It was right about then I decided I would replace them with radial tires.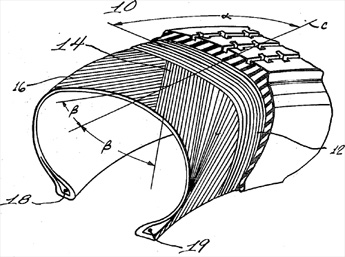 Radial tire. 14 and 16 are bias-plies, 12 is a radial ply.

Other factors in my decision were that radials wear longer, have less rolling resistance (better gas mileage) and a larger tread contact area (better handling).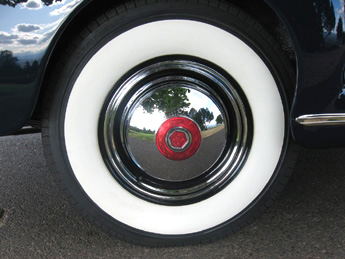 New Coker wide-whitewall radial.
The Packard requires 750-16 tires and I wanted wide whitewalls. The two vendors that offered that combination in a radial were Coker and Diamond Back. I heard that Diamond Back vulcanizes the whitewalls onto existing black-wall radial tires and that Coker whitewalls are better looking. After reading dozens of forum discussions (Coker versus Diamond Back) I came to the conclusion that either tire would be good--Coker tires were more reasonable so I went with them.
Casey Coker
www.cokertire.com
Casey Coker is the third generation of her family to become an expert in the antique and classic car tire business. Whether your needs are for original equipment tires for a Model T or low-profile radials for your resto-mod muscle car, Coker Tire has the tires and tire care products you need. They also stock reproduction rims for many classics. We asked Casey to share her experience where restoration meets the road.
PR: What are the factors to consider when buying tires for a restoration project?
CC: The first thing I would ask is what is the customer looking for? Do they want back to original authentic tires, or are they looking to customize to their own tastes? The other question is are they going to show the car or are they planning to drive it? That helps you choose between radial and bias ply. If you're building a street rod, you're probably not going to use original rims and you'll go with a low aspect ratio radial tire. But if you're building a restoration, you'll want to go with an original whitewall bias ply tire.
PR: Let's talk about the difference between bias ply and radial. What do you recommend?
CC: Riding on a bias ply tire, you will feel the ride a little more, because it has polyester blend materials instead of a steel belted radial. The advantage of bias ply is that it's authentic for car shows, they have wider whitewalls available - from 3/8-inch up to a 5-inch whitewall, they have the original aspect ratio, and they're less expensive than the radials. I have some customers with daily driver cars with bias ply tires.
PR: How about radials?
CC: The advantage of radials include better fuel mileage, better ride and handling because of the modern technology. Usually radials have an all-weather tread, and the steel belts are parallel to the road, so they handle bumps very well. With bias ply, the belts are laid down at an angle, so it'll steer a little when you hit a bump. That's just how the tire was made back then.
PR: Can you split the difference?
CC: A lot of people keep two sets of wheels and tires for car shows and for driving. It's like they've got their Sunday dress-up shoes and their running shoes. A lot of times, the show wheels have more spokes and are harder to clean, and the driving wheels will be aluminum or steel which is easier to keep clean. If the customer knows what they want, they can call up Coker Tire and we can find what they need.
PR: What if the customer doesn't know what they want or doesn't know what tires are correct for their car?
CC: We have a database to match cars with tires and wheels. There will be random cars where we can't give you an answer, especially if the car has been customized. But we can tell a customer what measurements to make and we can determine the right size tire from that. We make tires from 12 inches all the way up to 40x8 inches, so we have a lot of variety. We can also help with some tricks like changing the backspacing or using a lower profile tire with a bigger whitewall to make the tire fit.
PR: Do you stock tires for really old cars, pre-1920s?
CC: Those are always bias ply because of the way the wheel is made, especially with wood spokes. With the brass era cars, we have tires from a 23 to a 28-inch rim, with whitewalls from 2 1/8-inch all the way up to a 4-inch, and we have blackwalls, too. We also have the rims that go with those tires, we make them here in Chattanooga, Tennessee. We don't make the wood wheels, but we have places we can send a customer for those.
PR: Coker also has a line of tire care products. Can you tell us about those?
CC: We have a whitewall and a blackwall cleaner and dressing. It's acidic, rather than bleach-based. We don't recommend using a bleach-based cleaner for whitewalls, because it will dry out and crack the tire over time. Our cleaners are also UV-protectant and they're not expensive at all. They're about $6 apiece, or 2 for $10. One more thing - always use a white terry shop rag. I used a red rag once and turned the whitewalls pink!
PR: Anything else to mention?
CC: We have a tire Q &A section at our website, www.coker.com. It's got information about what to do and what not to do with tires. That can be helpful to folks.
| | | |
| --- | --- | --- |
| Click on any item below for more details at Amazon.com | | |
---
Paul Haney
The Racing & High-Performance Tire: Using Tires to Tune for Grip & Balance


Society of Automotive Engineers Inc, Hardcover, 2003-03

In this 288-page, well-illustrated book Paul Haney explains the complexities of rubber and tires as well as basic vehicle dynamics. In the course of reading The Racing & High-Performance Tire the reader will find out how anti-roll bars work and why, what wedge is and does, how roll centers affect weight transfer, and many other important racing concepts. The text also includes an interview with Mario Andretti.
---
Mike Mavrigian
Performance Wheels & Tires


HP Trade, Paperback, 1998-04-01

Performance Wheels & Tires is a comprehensive guide on the science, application, theory and technology of wheels and tires. The 169 page text includes sections on tire engineering and construction, street and race tire sizes, tire development, tire testing and tuning, wheel construction, mounting and balancing, and much more. Of interest to restoration mechanics is the section on antique and restoration tires.

Mike Mavrigian is an automotive journalist who has written over 500 automotive articles. He is also the owner of the publishing company Birchwood Automotive Group.
---
Accutire
Accutire MS-4021B Standard Digital Tire Gauge


The Accutire Standard Digital Tire Gauge features heavy-duty construction, an angled head and rubber coated handle for easy gripping, a large, easy-to-read LCD display, automatic shut off, and measures air pressure from 5-150 PSI in 0.5-pound increments.
Here are some links to the major classic car tire manufacturers: