Jeff Zurschmeide is a lifelong automotive enthusiast, with broad experience in restoration, hot rodding, and race car development.
Jeff is a professional auto writer, published regularly at Corvettes.about.com and Iveho.com. Additionally, Jeff is a contributor to a wide variety of magazines and websites. He is the author of the Subaru High Performance Builder's Guide, Automotive Welding: A Practical Guide, The New MINI Performance Handbook, and How to Design, Build, & Equip Your Automotive Workshop on a Budget, all from S-A Design Books.
Jeff believes in a hands-on approach to automotive journalism, and so he is a regular participant in motorsports and in hot rod and concours car shows.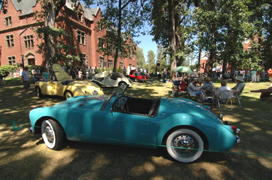 His classic MGA roadster won its class at the 2007 Portland Roadster Show and has been featured at the Forest Grove Concours D'Elegance.
Additionally, Jeff is a past overall winner of the Monte Shelton Northwest Classic Motor Rally, and has long experience racing British and Italian vintage sports cars and was a regular competitor at the late lamented Portland Speedway.
Jeff performs the majority of his own work, and is currently restoring a 1969 Corvette and working on a new book about automotive Fiberglass and Composites.
| | | |
| --- | --- | --- |
| Click on any item below for more details at Amazon.com | | |
---
Jeffrey Zurschmeide
How to Design, Build & Equip Your Auto Workshop on a Budget


S-A Design, Paperback, 2011-09-15

This book is designed to help the practical hobbyist mechanic make the most of any available space, while staying within almost any budget. Illustrated with hundreds of color photographs, Zurschmeide shows you how to:

Plan your workspace
Choose your wall and floor coverings, windows, and skylights
Design and install your electricity, lighting, plumbing, compressed air, a paint booth, and welding facilities
Create and organize your storage space
Select your tools, hoists, cranes and lifts
And finally how to include the human amenities that make your workshop fun and livable

Hundreds of tips and examples show everything from ground-up construction, to rodent control, to finishing touches that will take your shop from good to great.
---
Jeffrey Zurschmeide, Russell Nyberg
Automotive Welding: A Practical Guide


S-A Design, Paperback, 2009-05-15

This book was written by our contributor, Jeff Zurschmede. Besides being informative and comprehensive it is extremely well organized and illustrated. The following topics are presented in a straightforward manner with plenty of color photos: the kinds of welding and metalworking available, the tools required to perform welding tasks, the types of welders available, basic welding techniques, grinding and cutting, various forms of sheetmetal work, frame repair and reinforcement, filling body holes and rust repair, tube-steel projects, and more.
---
Jeffrey Zurschmeide
The New Mini Performance Handbook


S-A Design, Paperback, 2010-05-15

The New MINI Performance Handbook is a hands-on description of both the "what" and the "how" to enhance the performance of the 2002+ MINI Cooper and Cooper S.

Engine performance, suspension, brakes, and interior features are all included.

Step-by-step descriptions take the reader through the process of installing high-performance products, and interviews with experts in the field provide background information.
---
Jeffrey Zurschmeide
High-Performance Subaru Builder's Guide: Includes the Impreza, Legacy, Forester, Outback, WRX and STI


S-A Design, Paperback, 2007-08-15

Author Jeff Zurschmeide explains in detail the similarities and differences between the Subaru models, and describes how to modify each for performance on the street and at the track. He uses over 300 color photos to show you how to modify your Impreza, Legacy, WRX, or STi for improved acceleration, handling, braking, and style.