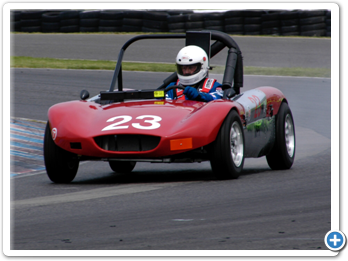 The truck and trailer were barely south of Vancouver when first drops hit the windshield. By the time we hit the Canadian customs station, it was raining sideways and the water was washing over the parking lot in waves.
I explained to the uniformed guard that inside the enclosed trailer was just an old racecar. There was no title. There were no registration documents to create a paper trail to its original owner. All I had was a casual bill of sale from the guy who offered it on eBay.
In spite of the Northwest monsoon, the border guard insisted upon looking for himself.
He put on his slicker and waterproof hat and hunkered down against the pelting rain. When he came back, he shook his head and grinned.
"I'm not sure exactly what you have in the trailer," he said, "but I'm quite certain Canada will be better off without it."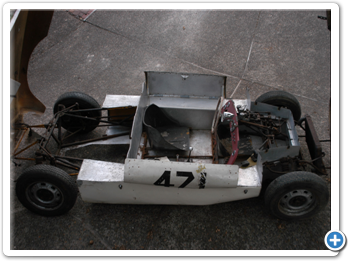 What the guard saw was a chassis of mostly rust-covered steel tubes, highly oxidized aluminum and ill-fitting fiberglass with pieces broken out. There was no running gear, the steel wheels came from a wrecking yard and the passenger side door was heavily dented.
My wife and I immediately named it the "Dierks Bentley" after the country western performer whose current hit was "I Know What I Was Feeling, But What Was I Thinking?"
That sums up four years in the shop.
The car was originally raced back in the 1960s, when it was known as the "Thorgeirson Special." In many ways there really isn't anything special about it, except to those of us who have had a role in building or saving it. And the family it brought together.
"It all began one Friday after work...after too many beers," said Doug Thorgeirson. He and his co-workers -all welders at Her Majesty Queen Elizabeth's shipyard on Vancouver Island -decided to build themselves a racecar.
"I mean, how hard can it be?" he said.
So they borrowed a friend's Lotus 23 for a weekend, and measured every part and piece on it. They had an engineer with a bit of history with Renault's racing division make a few changes and they set about cutting, bending and welding.
When they were all done, the whole thing was tossed in one of the Queen's ovens to be normalized.
Money was tight and progress was slow.
"Originally we wanted to put a Porsche in it," Thorgeirson said, "but we ran out of money long before we got to the engine."
Most of the parts came from wrecking yard hulks. The front uprights, hubs and brakes are off an early Sunbeam Alpine. The steering rack says MOWOG but no one -not even Thorgeirson -can identify the car it came from. Rear uprights were fabricated by hand, drilled for lightness and outfitted with Fiat 600 hubs.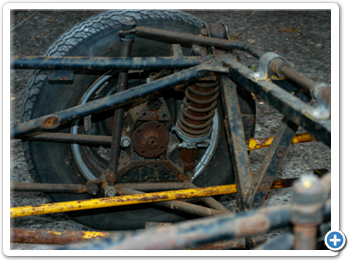 Suspension included crude coil-overs made by welding a circular plate to the top of a Monroe adjustable shock and using a heavy muffler clamp to keep the spring in place on the bottom.
Without money for a Porsche engine and gearbox, the crew opted to drop down a few classes, and compete in H-Modified with Fiat 600 power.
But in the 600 sedan, the engine normally hangs out behind the gearbox. To make the Thorgeirson Special a mid-engine car, they fabricated an adapter plate to turn the gearbox upside down, and reverse the relative rotation of the axle shafts.
That also meant having to fabricate a Rube Goldberg arrangement to come in from the back of the assembly to change the gears.
"We never did get the thing to shift worth a damn," he said.
Bodywork posed yet another budgetary challenge.
"We had just enough money to order the rear body section for the smallest Devin made," Thorgeirson said. The crew mounted the rear section up front and cut an opening in the nose to feed air to the radiator. Then they took a mold of the front and made their own piece for the rear, cutting it short in Kammback style.
As shade tree as it may sound today, it was the way many home-built specials were constructed in that era.
And that is what made the car appealing. It isn't a car with a glorious history and a logbook of famous drivers who have taken the wheel. It is an "everyman's car" in that it represents the passion and ingenuity of an era of racers who did more than write checks and show with a helmet tucked under their arm.
For four years -beginning about 1964 -the Thorgeirson Special was raced on both oval and road courses on Vancouver Island. When the money was right, he brought it to the mainland by ferry to be driven at tracks such as Westwood and Mission, along with frequent appearances at hillclimbs on the twisting mountain roads in the rugged Canadian province.
And then it disappeared.
"My wife never liked the car," Thorgeirson said. "She didn't trust it and she didn't like me racing it.
"We had just finished a race on an oval on the island and we all went out for a few beers," he said. "An hour or so into the evening she began complaining again about the car and saying she wished I would sell it.
"I told her that I could never get enough money for the thing. I had too much invested in it.
"When she asked me how much I needed for it, I gave her a figure that was really pretty high, considering what the car was actually worth.
"Right away the guy next to her says he'll take it.
"So being the kinda bull-headed guy I was, I had no choice. That night I went home without the car."
At that, the Thorgeirson Special dropped out of sight for more than 35 years.