Storage is a significant issue throughout all the stages of a restoration project. Depending on the space you have available, the size of the car, and the extent of your restoration, you may find yourself in the market for a rental locker, a one or even two-bay rental garage. This article is about storage space size, location, and price. For information on climate control and how to prepare a car for restoration see our article on Storage Practices.
Storage during the Restoration Process
How much Space Is Enough?
As a rule of thumb, a two-car garage is the minimum you will need for any kind of restoration where you will be removing the body or even the front fenders and hood. Two car garages are typically 20' X 20' or 400 square feet. Oversize double garages are 24' X 24' or even larger. And even a two-car garage can get cramped. To help picture this, consider having the body of your car in one bay and the frame in another. Then imagine trying to find a place for all of the following:
springs
control arms
steering linkage
steering column
doors
hood
fenders
fender wells
trunk lid
bumpers
bumper valances
stainless and chrome trim
grill
glass
engine
exhaust system
air cleaner
drive shaft
transmission
rear end
radiator
heater and/or AC unit
instrument panel
seats
door panels
carpet
wheels
spare tire and jack
hubcaps
...and many hundreds of small parts and fasteners including the brake shoes, light fixtures, door mechanisms, etc.
| | | |
| --- | --- | --- |
| | | Hint... |
To make the most of your space, think about every cubic foot you have available--no matter where it is in your workspace. Consider using Gorilla Racks which will allow you to stack large plastic bins full of parts up to the ceiling. A 24" X 48" X 72" Gorilla rack will hold 15 bins and only uses up 8 square feet of floor space. If you buy bins made of clear plastic, you can see what is in them without having to add labels. To further utilize overhead space, sandwich (with glue and nails) 4' X 8' sheets of hardboard over a frame made of 2" X 2"s and suspend the shelf from the ceiling joists with chain and eye bolts. You can also use ceiling hooks to store fenders, seats, chrome and stainless trim.
Rental Storage
If you do not have enough space available you may need to rent a storage unit or garage. For restorations there are basically two kinds of rental garages: those that allow you to work on site and those that do not. In the Northwest a quick look at CraigsList.com shows that garages are available starting at about $100 for a single going up to over $200 for a double. This may work fine if you have one bay at home and need room for the overflow, but as a rule the landlords will not allow you to work at their sites. If you have no room to do your work, inquire at your car club meeting or consider advertising that you are looking for such a space.
Storage for a Finished Vehicle
You can rent a garage from a private party as described above, or from a storage facility. The private party solutions are generally less expensive. For example, in the Northwest a private-party, single-car garage starts at around $100. Storage facilities in the same area charge between $170 and $275. But prices and price differences vary widely depending on where you live. In Decatur, Illinois, for example, one storage facility rents 200 square foot (climate controlled) garages for only $122 per month and in Decatur private garages start at about $50.
Security
When storing car parts or a finished restoration, security is a major issue regardless of what facility you choose. Commercial storage facilities typically have gated entries and cameras so the chances your car will be stolen or vandalized are remote. Storing your car in a private-party rental garage in a high crime neighborhood is always a bad idea no matter how low the rent might be, both for your car's sake and your own personal safety. Be sure to choose a location that is well lit and is visible to neighbors. But also try to choose one that does not advertise the fact that a collector car is inside.
| | | |
| --- | --- | --- |
| | | Warning... |
When storing a vehicle or any of its parts, be sure to stay within the guidelines of your collector car insurance. Before you sign any storage contracts contact your agent to see whether your policy allows the facility you have in mind.
| | |
| --- | --- |
| | DO |
Make the most of your storage space--consider racks, bins, and overhead shelves
Shop and compare rental storage locations and prices
Contact your collector car insurance agent to make sure your storage location is covered by your policy
Place a tarp or cardboard under your car when storing at a rental facility
| | |
| --- | --- |
| | DON'T |
Don't underestimate the space you will need for your restoration
Don't store your parts or car in a high-crime neighborhood
For the Popular Restorations feature car I was lucky enough to find an outfit that not only allowed, but actually encouraged you to restore your vehicle on their premises. It was Becker's Auto Restoration and they were reasonable: around $140 per month plus $25 per day when you were actually there doing work. The $25 included the use of their tools and equipment. There was even a paint booth available.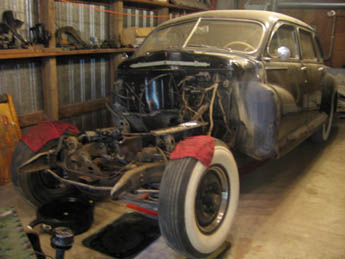 At the storage facility
I did all of the disassembly at Becker's and then towed the frame to the powder coater and later on towed the body and its associated pieces to the blaster and dipper and then on to the paint shop.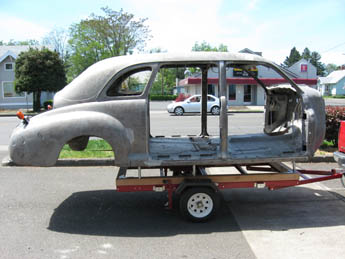 After walnut shell blasting
Once the frame was done I towed it to my home garage where I reassembled it over the next several months.

Frame after powder coating and assembly
While the body was being painted I moved to a house with a large three-car garage, one bay for my wife and two for the Packard and its parts. When the paint shop was done I towed the body and painted parts home, temporarily took the frame out of the garage, put the body inside the garage and then pulled the frame inside under the body.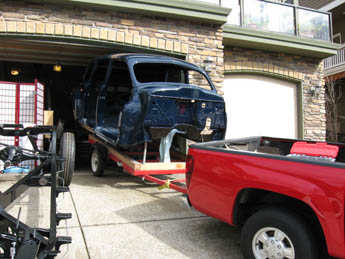 Putting the body and frame in the garage
For most of the final year of the restoration, all that remained in storage was the stainless trim, the glass, and the upholstery. Finally, the glass got put in the doors and it came time to send the upholstery to the shop, and the storage phase of the restoration was over.

Resident Managers: Paul and Dave
29785 NW West Union Road
North Plains, OR 97133
503-647-2203
NorthPlainsRVandSelfStorage.com
North Plains RV and Self Storage is located about 20 miles west of Portland, Oregon. It is fully enclosed and offers 500 secure rental units for storage, cars, boats, and RVs.
PR: What size garages do you rent?
NP: We have a several sizes: 10 X 20, 10 X 25, 15 X 40, 15 X 50, and a 15 X 50 with lights, an automatic garage door, and a power outlet.
PR: What do you charge as of the date this interview?
NP: From time to time we have specials but the standard prices are $174 per month for the 10 X 20, $224 for the $10 X 25, $309 for the 15 X 40, $349 for the 15 X 50, and $369 for the 15 X 50 with lights and a power outlet.
PR: What are the terms of the insurance you offer?
NPS: For vehicles, we don't offer any insurance. Whenever anyone stores a recreational vehicle, a car, or a boat, the onus is on the individual to provide their own insurance.
PR: How secure is your site?
NP: We have 16 cameras, our site is fully fenced, and everyone has their own access code. Customer gate access hours are 6:00 AM to 9:00 PM.
PR: What requirements do you have of the renter's vehicle?
NP: The vehicle must be insured. We won't allow someone to store if they don't have insurance. That's mandatory.
If the person is accessing the car frequently then the amount of gas in the fuel tank is not of paramount importance. But if they're going to be dropping the car off and it's going to be sitting on blocks for a long period of time we like the tank to be as empty as possible.
PR: What are the renters allowed to do at your site?
NP: Generally we are just a storage facility but if you need to detail your car it's not a problem. Engine and transmission work is not allowed.
| | | |
| --- | --- | --- |
| Click on any item below for more details at Amazon.com | | |
---
Tom Benford
The Complete Idiot's Guide to Restoring Collector Cars


Alpha, Paperback, 2004-08-03

The first 150 pages of this book are dedicated to the process of finding and deciding upon a restoration project and determining your restoration strategy. This part is covered in detail, and covered very well. The last 50 pages or so cover what to do with your car after the restoration is done, which leaves just over 100 pages to cover the actual work. For example, the chapter on engines assumes that the basic mill is in good shape, and simply covers tuning, carb adjustment, and freshening the engine bay. This is not a step by step mechanical manual - but it offers some of the best coverage on every other aspect of restoration.
---
Tom Brownell
How to Restore Your Collector Car


Motorbooks, Paperback, 1999-12-24

This book has a great deal of information on selecting a potential project car and setting up the workshop, plus a lot of detail on cleaning, stripping, blasting, derusting, bodywork and trim restoration, but comparatively less (just 1 chapter) on engine and mechanical restoration and 1 chapter on brakes. The book includes many nice color photos, however, and would be a good addition to a restoration library.