Anyone who plans to attempt a restoration should first plan to obtain some education about automotive restoration in general and the specific car under consideration. No matter how handy you are with a wrench or a paint gun, each restoration project presents a unique set of challenges. Luckily, educational resources for the amateur automobile restorer have never been more complete or easier to obtain. Indeed, this website is a prime example of resources that were not available just a few years ago.
In fact, with the resources available to the amateur restorer, there is no good excuse not to take advantage of collected knowledge before you begin to restore your classic car.
Many people choose to begin with an Internet search - that may be how you found this site and this article. The Internet has a wealth of information about the restoration process and each make and model of car typically has at least one dedicated site where enthusiasts can come together for support and information exchange. Make/model websites may include some or all of the following resources:
Background information about the model
Tables of production data, serial numbers, and other statistics
Photo galleries of original and finished cars
Technical tips and how-to articles
Contact lists for local enthusiast clubs
Online forums or chat rooms where you can exchange information with other enthusiasts
| | | |
| --- | --- | --- |
| | | Hint... |
An online community is great for exchanging information, but a local club will know what businesses to use in your area, and local club members can help you with difficult tasks. Your local club dues are well worth the expense.
Also available on the web are vendor sites for the parts and supplies you need to complete your restoration. Sites such as Eastwood Company (www.eastwoodco.com) offer a wide range of products to aid the amateur restorer. But in addition to products for you to buy, the site also includes educational resources including a forum, blog, and access to a schedule of classes offered at Eastwood's Pennsylvania facility.
Numerous experts have created videos and DVDs to help educate others on the finer points of restoration. With the advent of high-speed Internet access, some experts and businesses are publishing streaming or downloadable video primers on a wide range of restoration topics. For example, Bill Becker of Becker's Auto Restoration has begun publishing free instructional videos on his website.
Additionally, sites such as www.carestoration.com sell instructional VHS tapes and DVDs for a wide variety of topics. Even a topic as obscure as Porsche 356 engine work is covered in a set of tapes from the legendary "Maestro" of Porsche engines at www.hcpresearch.com.
By far the most common source for information and education is published books. Virtually every popular collector car has at least one book that details its peculiar requirements. These books are generally marketed as "Restoration Guides" or "Complete" manuals for the make and model. Many original shop manuals have been digitally scanned and are now sold on CD-ROM. Some of the most popular restoration models have spawned enthusiast magazines such as The Restorer, a publication of the Model A Ford Club.
But while websites, videos, CDs, and books are valuable tools, there's really no substitute for genuine hands-on learning. In most areas, the local community college or trade school offers several useful classes. For example, most community colleges offer classes in automotive bodywork, painting, and basic auto repair.
| | | |
| --- | --- | --- |
| | | Hint... |
Before you sign up for any community college course, ask if you can audit the class. Auditing allows you to attend classes and participate as a student, but you will not receive a grade or course credit towards a degree. Audit students sometimes qualify for reduced tuition charges.
Full-program training centers and technical universities generally focus on training professional technicians for new car repair, but may also offer courses in body and paint work that you can attend without signing up for the whole program.
Among the most useful educational resources are classes offered by local experts. For example, in the Portland area you can take Bill Becker's classes in bodywork, paint prep, and general restoration topics through Portland Community College, or you can take the same courses at Becker's Auto Restoration shop in Washington County. Like many experts, Becker also offers individual tutoring and consultation on restoration projects.
But finding classes taught by local experts in your area can be challenging, which is another point in favor of joining your local make and model enthusiast club. Your fellow club members will know of classes in your area - and it is likely that the club has its own library of books, videos, and local contacts for further assistance. If your group does not offer these things, then you have a golden opportunity to become the founder of the club library!
Too often, people are ashamed to admit that they lack information or skills. But as one restoration expert remarked: "No one is born with the knowledge to do this work. Every one of us started from zero and learned to do this from others, or by making a lot of mistakes." With all the resources available today, there's never been a better time to get some schooling.
| | |
| --- | --- |
| | DO |
Join a car club for your make and model
Ask the experts for advice and tutoring
Invest in education before you begin
| | |
| --- | --- |
| | DON'T |
Don't assume that experience with modern cars is directly relevant to your restoration
Don't try to perform skilled tasks without instruction or experience
Don't be ashamed to admit the things you don't know
One of the best ways to learn about car restoration is to put together a book or a website on the topic. For the Popular Restorations feature car I relied on what I remembered from being a mechanic several decades ago. The types of cars I could afford at that time were 1940s and 50s models so a 1946 Packard was a good fit for the skills I had.
Also, I asked a lot of questions of one of our contributors, Bob Earls, listened to advice from Bill Becker at Becker's Auto Restoraton, and have read all of Jeff Zurschmeide's articles and interviews for this website as he has written them.
One thing I will have to admit is although I purchased the appropriate service manuals, I'd rather just start working on some part of my car than to have to read about it first. I can't emphasize how much of a problem this is. Here is an excellent example...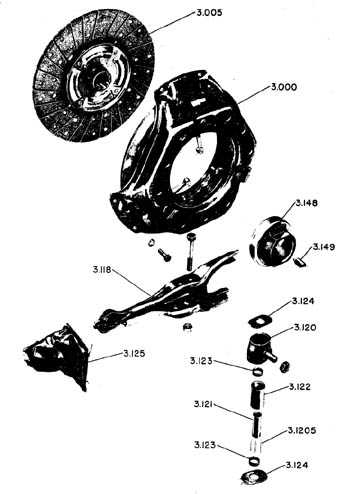 A couple of days a go I was assembling the Packard clutch assembly. I didn't have an aligning arbor to line up the clutch so I tried to eyeball it. But whenever I started to tighten the pressure plate bolts, the plate would move a little. Finally I lowered the engine to the transmission with no throw out bearing or lever installed and tightened the pressure plate. I pulled the engine back out and tried to install the throw out bearing and its release lever but it wouldn't fit. Apparently it needed to go in first. But when I reversed the order the pressure plate wouldn't fit. To make a long story short, the manual recommends tightening the pressure plate and blocking off its three clutch release levers with 3/8" inch nuts so the levers remain in the engaged position. In this way it can be removed and replaced without interfering with the throw out bearing and its release lever.
It is a lesson most of us have to learn again and again. Find the right educational materials and take the time to study before grabbing for that wrench!
Bill Becker
PO Box 2088, Beaverton, OR 97075
Phone: 503-628-2174
www.beckersauto.com
PR: Tell me about your community college classes?
BB: I teach a five-week class at PCC Rock Creek campus. The class is an overview of restoration that starts at the beginning and goes all the way through to the finish of the car. It starts with looking for an automobile, what kind of work area do you have. We cover how you look for a car and appraise the value. We have a checklist we give to the students. We also cover the facilities equipment you need to do the work. From there, we go into the proper way to catalog stuff and take pictures.
PR: So you start off with the basics, but is this a lecture class or do we get our hands dirty?
BB: There's not a lot of hands-on in this course. The first three nights we go over everything, then we bring in guest speakers. We start with a towing company to talk about bringing the car home, then we go through a bunch of large companies in the Portland area that work with us, and we either go to their facility or they come in and talk to the class. All the speakers are very familiar with their fields. For example, Drive Line Services will come in and talk specifically about building a drive line. Each time it's a little bit different. We just found a guy who does pin striping, and he's going to come in and talk about that.
PR: Who are your students?
BB: We have people who take the class who have no idea what they want to do, all the way to people who have done a lot of restoring and are experienced. Last time, we had a guy who was a 20 year body man, and he was able to offer his experience. Each person who takes the class offers something.
PR: Do you offer hands-on classes?
BB: We have bodywork and paint preparation classes that we teach here at my shop. A lot of the bodywork classes in the community colleges are oriented for modern cars, and not show cars. We offer a basic four-night hands-on bodywork class that is co-taught with Bob Pence. Bob is an old-fashioned pick and file metal bodywork expert. He also teaches a class at Portland Community College.
Paint Prep is also a four-night class. This class starts when the bodywork is done on the car. We talk about what sealer/primer to use and cover all the way through to finish paint.
We also rent space and do one-on-one tutoring, but you can go to PCC and take the beginning welding class they have there, which would be very good. You can also take the painting class. The problem that people have with PCC is that the classes are usually 4 days or 4 nights a week and people can't fit that into their schedule. Our classes are done in a 4-night setup to get an overview. Then our students come in and rent the paint booth.
PR: What do these classes cost?
BB: The bodywork class costs $150 plus $10 in materials and the paint prep class costs $100, plus $30 in materials. We try to keep them reasonable.
PR: What does the material charge cover?
BB: We encourage students to bring their cars and parts, and we talk about them and what needs to be done. We have a pickup that we work on, and we sand it, mask it up and learn how to block sand and everything else. Then on the fourth night we work with spray guns, how to set up a gun and how you paint everything. We take them into the spray booth and spray the pickup with primer. In the bodywork class, each person takes a part of the car and gets to try pick and file, bumping, and all these techniques.
PR: How about the tutoring and consulting?
BB: Tutoring can get into everything from just talking a little bit to teaching a person step by step how to restore a car. If a person wanted to, I could tutor him and he could do all his own work and have a pretty nice show car by the time he was done.
PR: Other than your classes, what else do you recommend?
BB: Get the right books, join a car club, network with the people who have restored your kind of car before, take a welding class at your community college. Portland Community College also offers courses on upholstery and pattern-making. You can just go through the catalog and see what's there. But the basic way to go is the way I learned it. I learned from a fellow who had been restoring cars for years. There's a lot of information that is totally different from working on a modern car. There are a lot of tricks and secrets.
| | | |
| --- | --- | --- |
| Click on any item below for more details at Amazon.com | | |
---
Tom Brownell
How to Restore Your Collector Car


Motorbooks, Paperback, 1999-12-24

This book has a great deal of information on selecting a potential project car and setting up the workshop, plus a lot of detail on cleaning, stripping, blasting, derusting, bodywork and trim restoration, but comparatively less (just 1 chapter) on engine and mechanical restoration and 1 chapter on brakes. The book includes many nice color photos, however, and would be a good addition to a restoration library.
---
Greg Donahue
How to Restore Your Muscle Car


Motorbooks, Paperback, 2005-11-07

This book covers all aspects of restoration in detail, with a focus on the special issues found in 1960s and 70s muscle cars. From car selection through engine and interior restoration, this book is full of photos, illustrations, and step by step procedures. Examples are given from all domestic automakers. Reviews have been generally positive, for example (from AutoWeek): "With clean vintage muscle cars skyrocketing in price, this second edition has good timing, providing updates on parts sources and restoration techniques. We didn't use the book to restore a muscle car, but we found it clear and concise, with user-friendly disassembly diagrams and 1,300-plus step-by-step photos, from choosing tools and which muscle car to restore, to completing the restoration."
---
Tom Benford
The Complete Idiot's Guide to Restoring Collector Cars


Alpha, Paperback, 2004-08-03

The first 150 pages of this book are dedicated to the process of finding and deciding upon a restoration project and determining your restoration strategy. This part is covered in detail, and covered very well. The last 50 pages or so cover what to do with your car after the restoration is done, which leaves just over 100 pages to cover the actual work. For example, the chapter on engines assumes that the basic mill is in good shape, and simply covers tuning, carb adjustment, and freshening the engine bay. This is not a step by step mechanical manual - but it offers some of the best coverage on every other aspect of restoration.
---
Matt Joseph
Collector Car Restoration Bible: Practical Techniques for Professional Results


Krause Publications, Paperback, 2005-10-14

This book covers it all, from buying a restorable car to the finishing touches. And in between, it touches on every part of the car, from sheet metal repair to engine internals. If you were to have just one book as a guide, this would be that book. The book is photo-rich and provides both procedural details and collected wisdom from experienced restorers.
---
Ray Vagedes, Fred Vagedes
The Collector Car Restoration Home Video Library


Horizon Productions, DVD

Fred and Ray Vagedes are the former owners of "The Antique Auto Shop" in Elsmere, Kentucky. They have restored too many collector cars to count and use their experience to help you find out what tools you need, the best way to document your car, and the right way to disassemble and store the parts. In addition, they provide some "tips of the trade" that they've learned during their twenty years in the car restoration business.