When your restoration is done, most of the world will admire the outside of your car, but more than anyone else, you'll spend time on the inside. Judges will also be impressed when the interior of your car looks as good as your paint and chrome.
On the inside of a restoration, the dashboard is the star of the show, and the carpet and upholstery are supporting actors. But the "extras" -the trim pieces, knobs and covers play a critical role. You can have the most perfect dash in the world, but without knobs on the radio, the effect is ruined.
When you begin your restoration according to best practices, you carefully disassemble everything, photograph and catalog it, and store the parts in clearly labeled bags or bins. This is critical for interior trim because of the small screws and intricate shapes of the parts. It's easy to lose that stuff if you toss it into a box!
The trim parts and fasteners you must restore will generally fall into three categories: dirty, broken, and missing. Obviously, dirty is the easiest to fix. Just make sure you use the right cleansers to take off the accumulated gunk. Fine steel wool is your tool of choice for removing rust, tar, and other stuff adhering to the parts. Where possible, try water first, then stronger cleansers and solvents, and always try your products on the backside or other hidden areas before you commit to the visible portions.
If the parts are cracked or broken, you have some decisions to make. Sometimes a dab of krazy glue will do the job, especially on plastic, ceramic, or bakelite parts. But sometimes you'll find that age, UV light, and heat have cooked the life out of these parts until they're permanently discolored, and sometimes they'll crumble right in your hands. At that point, it's best to consider those parts as falling into the third category: Missing.
Your procedure for missing interior trim is the same for every other missing part on your classic: start a search process. As always, eBay, Hemmings, sometimes even Craigslist, are useful, and there are also a growing number of businesses such as Year One (www.yearone.com) are producing a wide range of quality reproduction interior trim pieces.
While you've got all the parts out, it's also time to look at painted trim inside your car. Often times you'll have these parts painted along with the rest of the car, but sometimes they're painted in a contrasting color or even painted to resemble woodgrain on some domestic cars from the 1920s to 1940s. Think of it as the period equivalent of woodgrained plastic! Luckily, there are who can come in and paint your trim parts and dashboard if your car originally came with painted woodgrain.
If you are sending your whole car out to be painted, the painter will often do these pieces at no extra charge, since they'll have ample valances, doors, and other parts to paint at the same time. But if your parts are to be painted in a contrasting color (usually black), you can also use them as test-beds to learn the craft at home with an airbrush or small HVLP setup, or even with a rattle can.
| | | |
| --- | --- | --- |
| | | Hint... |
If your dashboard and other interior trim parts are painted in an easily matched color (such as black), you might consider having those parts powder-coated rather than painted, as the powder coat will offer much tougher scratch protection.
Woodgrain paint takes a bit more finesse and skill. If you choose to do this work yourself there are kits available from www.woodgraining.com that use rollers and "graining plates" to simulate the grain pattern. As with all of these paint techniques, the trick to getting the prized high gloss finish is patience -and the application of about seven coats of clear coat, with a light sanding in between coats! The right kind of clear coat is also available at www.woodgraining.com.
When you've finished all your cleaning and painting, reassembly is another area for care -bear in mind that if you're reassembling with original parts, they are not likely to be as sturdy as they were when they were new, even if they're in good condition. Snug down delicate threads, rather than securing them with torque, and then be gentle when you use them.
Sometimes a piece that doesn't look its best, but you haven't found a replacement for it yet, is a good place to hang your driving gloves, or some other piece of period-correct memorabilia can cover a blemish. That won't fool every judge, especially at a proper concours, but it'll get you by while you find the last few things.
Once you have found your parts and completed your restoration, bear in mind that you will want to protect your investment. Most restorations have a garage in which to live, but even when you're out and about, consider an EZ-up sunshade or even a custom-cut dash capper and a windshield shade to keep the UV off of your restored parts - especially if those parts are originals!
| | |
| --- | --- |
| | DO |
Save and identify all interior trim pieces as you start your restoration
Identify good sources for original and reproduction parts
Take a sample of the original with you when you shop or go online to find replacement products
| | |
| --- | --- |
| | DON'T |
Don't throw away any parts, no matter how broken or worn
Don't use glue or other inappropriate fastening to install new trim
Don't decide to ignore missing trim pieces
Here's something I'll bet you've never seen before. The Popular Restorations feature car's dashboard is woodgrained on the outside and the inside.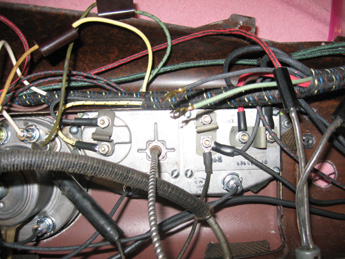 When I went to Matley Woodgraining with my dashboard and window trim I asked the owner why it was treated on both sides. He told me the factory would apply the woodgrain applique to a flat piece of metal--then stamp the metal into the form of a dashboard. Apparently there was a flaw in the first applique so they just flipped the metal over, put on a new applique, and then stamped it into shape.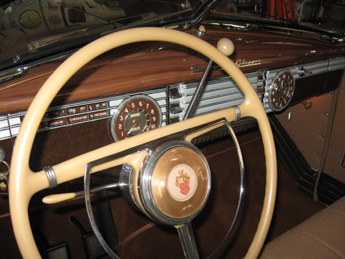 All of the Packard's interior trim pieces are woodgrained with a burl-wood lower and a straight-grain upper.

The window trim has a stainless strip in between. The burl wood was in reasonably good shape but the upper straight grain was sun damaged. Lauren Matley restored all of the pieces by touching up the lower burl portions and brushing new woodgrain on the uppers. He then applied seven clear coats to create a deep shine.
Restoring the Packard knobs was not a problem. The gearshift lever knob and the gearshift lever boot were available at Max Merritt Auto. Most of the knobs on the dash were chrome so I had them replated. The windshield wiper, turn signal, vent, hood release, overdrive, and window crank knobs and escutcheons are in good condition. I recently noticed all of the aforementioned plastic knobs are available at Yesterday's Radio.

Lauren Matley, Owner
Matley Woodgraining
253-350-3604
PR: Painted woodgrain looks very complex. How do you do it?
LM: You have to simulate the way they did it originally. One method they used was a decal - GM was big on decals. They'd put a decal on a sheet of metal, then stamp it with dye, then another station would touch up the work and clearcoat it and send it on.
On the other hand, Ford used a big sponge roller and a grain pad to do their wood grain. Back in 1930 and earlier, they did it all by hand.
PR: What was the point of this treatment?
LM: It was all developed to give the appearance of a more ritzy car, because the foreign cars, your Rolls Royces and such, all used real wood.
PR: Where was this technique used in the cars?
LM: It was used in window surrounds, dashboards, steering wheels, if it was a formal car, it would have a road rail and a bar in the back seat, the ashtray, sometimes different parts were done in the same or a different color. There's a lot of variety.
PR: How long does it take for you to turn around a set of parts?
LM: It depends on the car. If it's just 5 pieces in a convertible, there's less time involved. Generally the quickest is 3 weeks, and the longest takes about 6 weeks, but it depends on the work backup I have at the time. It takes a week just to get the parts stripped.
PR: How do you prepare the metal parts?
LM: I have to make sure what goes on there stays on there, so I have everything stripped to bare metal. I fix up all the flaws, weld up any holes, and use a metal-etching primer. Then I use a 2K filler primer, that's an acrylic urethane high-build primer, which allows me to sand out imperfections and get the piece perfectly smooth.
PR: How much should someone expect to spend?
LM: Probably about $1,000 to do a basic set of parts. It depends on the amount of damage and the number of pieces. I work by time and materials, so just a dashboard might be $800 or $900, or it could be $2500 for a big sedan with 21 pieces. If there's extra work it's more, but if there's less, then it's less. It's hard to put a price on it, but I can generally give people a target before we start. I'll also help people who want to buy a kit and do it themselves, because that's just how I like to do business.
PR: Do you have any other advice for a prospective restorer?
LM: I would say two things - first, a total restoration is going to cost more money than you ever imagined, so be prepared for that. The second thing is to do buy a car that's already done and research who did it. If a guy just wants an old car, they should just buy one that's already done because they'll never recoup their costs. I've done a lot of restorations and I'm amazed at the time and work it takes. And never buy a car to restore that's in parts. If you're going to do it yourself, buy one complete and get a parts car, too, if you can. Sometimes you can sell the extra parts for more than you paid for the parts car.
Mastercraft Auto Upholstery
5625 Newland Way
Arvada, CO 80002
Toll Free: (866) 588-3108
Fax: (303) 442-2547
http://www.mastercraftautoupholstery.com
PR: Tell us about your business?
MC: We restore automotive interiors. We do upholstery, carpet, and interior trim.
PR: What are the issues involved with restoring interior trim?
MC: Mainly, it's just finding the parts. And determining if it needs to be completely restored or if it's salvageable. Often times, I cut out the bad and put in the new.
PR: Are there good sources for these trim parts?
MC: There are a lot of sources. There's three supply houses just in my home town of Arvata. Also, there's a few places like Year One that make reproduction parts, and there's another place that just makes dash caps to go over the top of an existing dash. Those look good. Hemmings is a good source for looking stuff up and finding parts.
PR: If a piece of trim is just dirty or grimy, how do you clean it up?
MC: Sometimes I'll use steel wool to bring it back as best we can. If it needs to be replaced, we can do that too. I just did a '66 chevelle, and the guy didn't have the moulding for the windshield. I found that through Year One - and as for door handles and seat release knobs, you can find those pretty easy, depending on the year and make. I'm doing a '54 Buick right now, and they don't make very much stuff for that car.
PR: Do you find parts on eBay?
MC: I don't, but I have customers who do. For example, we're working on an old Karmann Ghia Volkswagen, and the backrest release knobs are gone. We're still trying to locate a set of those.
PR: Do you ever fabricate pieces yourself?
MC: Really, we just fabricate structural stuff, internal frames and the like, because most of these parts are available somewhere or another.
| | | |
| --- | --- | --- |
| Click on any item below for more details at Amazon.com | | |
---
Don Taylor
Custom Auto Interiors


California Bill'S Automotive Handbooks, Paperback, 2003-11

This is a fun book, full of color photographs that illustrate the process of creating a custom interior from scratch. Although the emphasis is on custom work, the same principles will apply to restoration, especially if you are in the position of having to re-create a stock-looking environment, rather than installing reproduction pieces.
---
K. Henson
Car Interior Restoration Manual


Haynes Publishing, Hardcover, 1995-05-14

This book is filled with advice on feeding and maintaining leather upholstery, repairing seat frames, renewing trim panels, curing water leaks, re-coloring vinyl trim and much, much more.
---
Dennis W. Parks
How to Restore and Customize Auto Upholstery and Interiors


Motorbooks, Paperback, 2005-09-29

This book primarily focuses on creating custom upholstery and interiors for hot rods, but the basic practices are all the same, and the techniques apply well to any restoration job. Seat uphostery, dash, headliner, and interior panels are all covered.
---
Jeff Lilly
How to Restore Metal Auto Trim


Motorbooks, Paperback, 1997-07-12

This is the book to have if you do a lot of trim work. Sections cover safely removing trim, marking flaws, repairing flaws, sanding and buffing, and unusual trim pieces made of copper, brass, aluminum, and so on. The book is photo-rich and includes detailed instructions on repair and restoration.
---
Sue Elliott
Automotive Custom Interiors


Motorbooks, Paperback, 2009-07-19

This book covers every aspect of design--seat and upholstery, dashboards and gauges, door panels and armrests, consoles, steering wheels, pedals, shifters, knobs and hardware, floor coverings and headliners, audio and high-tech accessories, and cargo areas and trunks. Also included are hundreds of color photos and thorough descriptions of a wide variety of parts and accessories.
---
Dennis W. Parks
How To Plate, Polish, and Chrome


Motorbooks, Paperback, 2006-11-15

Aluminum and steel can be polished, chromed, anodized, plated, and painted, and this book shows enthusiasts how to do it. The book includes what is required, what it will cost, when to use different processes and whether to have a professional do it or tackle the project at home. Applies to cars as well as motorcycles.
---
Craig Fraser
Automotive Cheap Tricks & Special F/X


Airbrush Action, Inc, Hardcover, 1999-12-30

This book is a how-to handbook on automotive airbrushing and Kustom graphics. It covers a range of topics from basic layout and simple fades to advanced airbrush effects.
---
William Cannon
How to Cast Small Metal and Rubber Parts (2nd Edition)


McGraw-Hill Professional, Paperback, 1986-02-01

This book shows you how to make high quality, defect-free castings for almost any purpose ... at amazingly low cost! Applications include making obsolete or vintage car parts, hood ornaments, garden and fireplace tools, kitchen utensils, replacing broken antique parts, reproducing sculpture, plaques, and other art. You'll learn how to reproduce or create new items of brass, bronze, or other metals--or almost anything made of rubber. Also included are chapters on grinding, polishing, and buffing.
---