Of all the parts that go into all the cars that get restored each year, the steering wheel is always special. At least, it is to me. When you slide into the driver's seat of your classic car, the steering wheel is right there, front and center. The steering wheel is your interface to control the car, and thereby to command the road stretching out before you. It's the part of your car you feel most intimately, with your bare hands or through thin gloves designed to maximize grip without reducing the subtle connection between man and machine.
Okay, maybe that's a bit over the top, but I really like a nice steering wheel, and I'm not at all unusual in that regard.
The good news about steering wheels is that they're generally built tough, as every automaker always knew that this part would have to absorb a lot of sun baking, dirty hands, and the occasional whack as you curse the guy in front of you. The other good news is that even if your wheel has seen better days, they're generally easy to restore.
And when you're done, the result is most soul-satisfying.
First things first--you'll want to remove your steering wheel from the car to work on it effectively. Sometimes this is not an easy task - especially if you don't want to damage or even ruin the wheel. Many older steering wheels have been sitting on their splined shafts for decades, and have long-since rust-welded themselves in place.
Pay careful attention to the materials used in the wheel before you use heat to try and break a stuck wheel loose! Aluminum doesn't always take well to a propane torch, and you don't want to burn plastic trim, turn signal stalks, clear coatings, or other nearby components.
A steering wheel puller is often a good investment, along with a nice plastic dead-blow hammer. Work carefully and patiently and you will eventually get the wheel off. Put a little anti-seize on the splines when you reinstall it, and you'll save time and agony later.
Cross-reference: If your wheel has chrome trim or a fancy metal horn push, refer to the section on metal trim for information on restoring those materials.
Steering wheels have been made out of just about every material known to man. We'll cover a few of the more popular styles. Many wheels are leather-wrapped, which is both easy and fun to restore. If your wheel has a wood or metal frame wrapped in leather, you can usually find a replacement skin for it. Companies such as Wheelskin (www.wheelskin.com) allow you to measure your wheel and send them the overall wheel diameter and the circumference of the rim so they can custom-make your new leather to fit your wheel precisely. You can also specify the color of the wheel skin you need. Basic black and brown account for the vast majority of wheels.
For more complex wheels, you may sometimes need to obtain some thin leather in a matching color to stitch or glue small trim pieces into place before applying the primary leather wrap. The best news is that these premade leather wraps are also pre-drilled for easy stitching in place.
Wooden steering wheels are lovely when they're slick and shiny and beautiful. If yours has been weathered for years after losing its varnish, or if your wheel has been chewed by wedding rings (look at the area from 10 o'clock to noon on the wheel - you'll see the damage) then you will have to evaluate what level of intervention is necessary. In some cases, sanding and wood filler will bring the wheel back to stainable and sealable condition. In other cases, you may have to get some hardwood and do some careful woodworking to replace material that's too far gone.
The good news here is that most of the time, some careful sanding work and a little stain will have your wheel ready for a new coat of varnish, and a good quality marine spar varnish will restore luster and wood grain nicely. Be sure to use plenty of thinner on the first coat so it soaks into the wood!
Finally, a lot of classic wheels are covered in a layer of bakelite, vinyl, or plastic. These materials are prone to cracking after decades of UV exposure, and they pose the biggest challenge to fix. Many restorers hide these sins with a leather cover, and if a hand-stitched leather covering is a period-correct option or common aftermarket addition for your car, you can get away with that in all but the most exacting concours competitions.
For a near-perfect steering wheel restoration, you can use a professional restoration service. Look at the External Links sectin of this page for suggestions.
Another option is to obtain a steering wheel restoration kit that uses a filler, such as the POR-15 products or Eastwood products. These kits include an epoxy putty that hardens into material that is indistinguishable from the original. Then you sand the hardened putty until it's even with the surrounding material and paint the wheel with primer and the final color.
| | | |
| --- | --- | --- |
| | | Hint... |
You can also use the POR-15 steering wheel kit to repair knobs and turn signal lever ends and any other parts made of the same kinds of materials.
Whatever design you're working with, it's worth your time to pay special attention to your steering wheel and get it just right, because it's going to be right there in your hands every time you drive your restoration project, and your hands will know the difference between a quality restoration and a hack job.
| | |
| --- | --- |
| | DO |
Take the steering wheel out of the car to work on it
Take the time to get your steering wheel just right
Carefully examine the splines or other connection interface to make sure your steering wheel has a solid purchase on the steering shaft before you reinstall it
| | |
| --- | --- |
| | DON'T |
Don't use heat to loosen a stuck wheel unless you're sure it's safe
Don't break the wheel trying to remove it
Don't try to hide flaws with anything but an appropriate leather cover
Don't use an aftermarket wheel on a judged restoration - they will deduct points no matter how nice or period-appropriate the wheel may be
One of the reasons I chose the 1946 Packard Seven Passenger for the Popular Restorations feature car was that it only had 50,000 miles on it. As of this writing, it is at 51,000 plus change. Although it was a low-mileage car, it wasn't in such fine condition that I was comfortable leaving it original. The paint was worn through in places and the chrome, engine, transmission, brakes, and upholstery were all in need of attention. On the other hand, because of the low miles, nothing was completely worn out, including the steering wheel.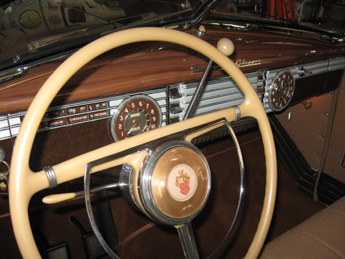 In fact, the steering wheel is one part of the car where I felt its little wear adds charm. It has a couple of very small cracks but is also very presentable.
Chris Wright
PO Box 1235
Morristown, NJ 07962
(800) 726-0459
www.por15.com
PR: Tell me about this POR-15 steering wheel repair product. Does it use the same cyano-acrylate base as the POR-15 paint products?
CW: No, not at all. The epoxy putty we supply in the steering wheel kit is a two-part epoxy mixture that can be used on metal, plastic, wood, brick, stone, concrete, glass, or tile. It bonds very well to those surfaces and has incredible strength. You can sand it, drill it, tap it, and so on, and it doesn't shrink. We also sell it separately because it's got so many other uses.
PR: How do you use this epoxy?
CW: When you mix it, it's like potter's clay and it will stay soft for a long time. We recommend that people file down cracks and gap areas to give the epoxy more room and a good fresh surface for the epoxy to bond with. You can use it to fill areas and smooth it with your hand, and then sand it when it's cured.
PR: It sounds like restorers could use this to fill the back of a stripped knob or other fitting and then drill and tap the knob for further use?
CW: That's actually a very common use for it. Knobs and steering wheels can be repaired with this product and then used as they were before. This product is actually overkill for the cosmetic things you can do, such as steering wheels.
PR: I'm surprised that this product doesn't use the same chemistry as the basic POR-15.
CW: We've expanded over the years. We pride ourselves on our maintenance products for people who have unique problems. For example, we have a very good body filler, too. We're not the only game in town, but we are the best game in town.
| | | |
| --- | --- | --- |
| Click on any item below for more details at Amazon.com | | |
---
Tom Brownell
How to Restore Your Collector Car


Motorbooks, Paperback, 1999-12-24

This book has a great deal of information on selecting a potential project car and setting up the workshop, plus a lot of detail on cleaning, stripping, blasting, derusting, bodywork and trim restoration, but comparatively less (just 1 chapter) on engine and mechanical restoration and 1 chapter on brakes. The book includes many nice color photos, however, and would be a good addition to a restoration library.
---
Tom Benford
The Complete Idiot's Guide to Restoring Collector Cars


Alpha, Paperback, 2004-08-03

The first 150 pages of this book are dedicated to the process of finding and deciding upon a restoration project and determining your restoration strategy. This part is covered in detail, and covered very well. The last 50 pages or so cover what to do with your car after the restoration is done, which leaves just over 100 pages to cover the actual work. For example, the chapter on engines assumes that the basic mill is in good shape, and simply covers tuning, carb adjustment, and freshening the engine bay. This is not a step by step mechanical manual - but it offers some of the best coverage on every other aspect of restoration.
---
Matt Joseph
Collector Car Restoration Bible: Practical Techniques for Professional Results


Krause Publications, Paperback, 2005-10-14

This book covers it all, from buying a restorable car to the finishing touches. And in between, it touches on every part of the car, from sheet metal repair to engine internals. If you were to have just one book as a guide, this would be that book. The book is photo-rich and provides both procedural details and collected wisdom from experienced restorers.
---
Jeff Lilly
How to Restore Metal Auto Trim


Motorbooks, Paperback, 1997-07-12

This is the book to have if you do a lot of trim work. Sections cover safely removing trim, marking flaws, repairing flaws, sanding and buffing, and unusual trim pieces made of copper, brass, aluminum, and so on. The book is photo-rich and includes detailed instructions on repair and restoration.
---
Greg Donahue
How to Restore Your Muscle Car


Motorbooks, Paperback, 2005-11-07

This book covers all aspects of restoration in detail, with a focus on the special issues found in 1960s and 70s muscle cars. From car selection through engine and interior restoration, this book is full of photos, illustrations, and step by step procedures. Examples are given from all domestic automakers. Reviews have been generally positive, for example (from AutoWeek): "With clean vintage muscle cars skyrocketing in price, this second edition has good timing, providing updates on parts sources and restoration techniques. We didn't use the book to restore a muscle car, but we found it clear and concise, with user-friendly disassembly diagrams and 1,300-plus step-by-step photos, from choosing tools and which muscle car to restore, to completing the restoration."
---
OEM
OEM 27017 Steering Wheel Puller


This steering wheel puller is designed to pull the steering wheels on all major makes of automobile. The set includes yoke, pressure screw and three sets of pulling screws with washers and swivel. Comes in a blow-molded case for easy storage. Sizes include 5/16-inch x 18, 5/16-inch x 24 and 3/8-inch x 16.
---
---