The term "sealant" in auto restoration covers a wide range rust prevention inhibitors, caulks, undercoatings and trunk coatings, phosphating, chromating, electroplating, and other similar products and processes. Sealing is generally considered to be different from painting and powder coating, although those products do also seal bare metal and protect it from rust.
The decision to use an anti-rust coating, and then choosing the form of coating you want for your restoration, will vary on a case-by-case basis. Some of the most common coatings and sealants in use today are listed here:
POR-15
POR-15 is the leading commercial sealant using cyano-acrylate compounds similar to those found in commercial "Super Glue." While these products are highly valued by many in the automotive world, they must be applied carefully and are not used in strictly original restorations. However, they create a hard-surfaced seal that is ideal for a project that will see significant real-world use. It's also great on truck beds and any parts that are exposed to the elements. The POR in POR-15 originally stood for "Paint Over Rust," but I can't recommend that use.
Bed Liner/Undercoat/Trunk Sealant
Virtually any auto supply store will carry some variation of heavy plasticized truck bed liner, undercoat or trunk sealant. Some of them can be sprayed on, but more often are designed to be applied with brushes. These products work reasonably well for their purpose, but as a restorer you'll want to be careful. These are not original products and their use will be obvious. Also, if you have any oxidation trapped under these heavy coats, you can find rust bubbling up over time. Finally, the surface must be meticulously cleaned or you risk peeling. If you do wish to have a top quality bedliner material applied, your best bet is to have it done professionally. It simply does not cost that much more, and the pros can apply a hot urethane coating to any surface.
Phosphating/Chromating
You can treat bare metal by spraying a weak phosphoric acid solution over it. The acid and other ingredients in the phosphate solution create a chemical reaction with the surface of the metal that leaves a layer of iron phosphate crystals on the surface of the treated piece. The phosphate crystals stick to the metal and also provide an excellent bonding surface for paint or powder coating.
If you're working with aluminum, a similar process is known as chromating. Either way, it's best consider this an immediate pre-painting treatment. Don't leave phosphate sitting open to the air for long periods of time.
Teflon Paint Sealant
There are some paint sealant products based on compounds similar to Teflon, and the utility of these products is hotly debated, but the best evidence suggests that they are not as effective as paint or powder coating. Real Teflon coatings are baked onto metal at high temperatures, and these paint sealant products are very expensive. Better to stick with traditional wax and enjoy the process of detailing your car.
Natural Sealants
Restorers have used many other products to seal bare metal, and results have been mixed. The traditional rust protection sealant for centuries was molten beeswax, and this was still used on some very early automobiles, but the treatment doesn't last long. There are modern wax and oil-based sealants on the market, but unless you want to schedule regular sealing sessions, it's best to leave these to history.
| | |
| --- | --- |
| | DO |
Apply sealant to bare metal to avoid rust
Choose your sealant carefully based on your expected use of the car
Test your sealants on a sacrificial part before wholesale application
| | |
| --- | --- |
| | DON'T |
Don't believe "snake oil" claims about any product's ability to protect paint
Don't believe claims that you won't have to wax your car for years
Don't choose a grossly unoriginal sealant for an otherwise meticulous restoration
Coming up with effective anti-rust coatings and sealants was a high priority when I was working on the Popular Restorations feature car. My goal was to restore the car to the point that it would never rust again. All right, maybe "never" is unrealistic, but my guess is it will last at least 100 years if it is treated right. After all, even without extensive rust protection, cars that are driven but kept in a dry climate last for half a century or more without significant rusting.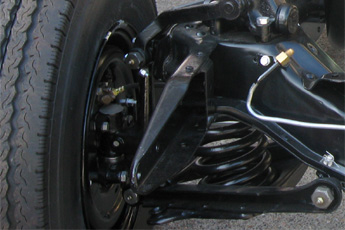 As I mentioned in their respective articles, I had the frame and much of the suspension powder coated and nearly all of the nuts, bolts, and other fasteners cadmium plated.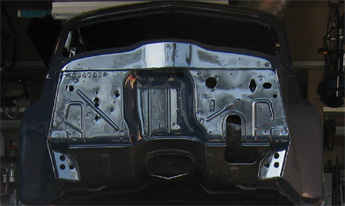 After the body and fenders were primed, I had them undercoated with a very tough, spray-on truck-bed liner. You can see the coating on the underside in the photo above.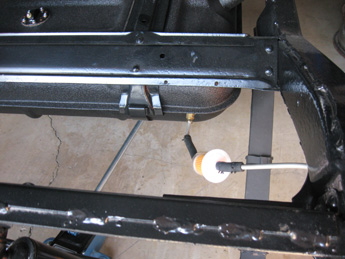 And similarly with the gas tank.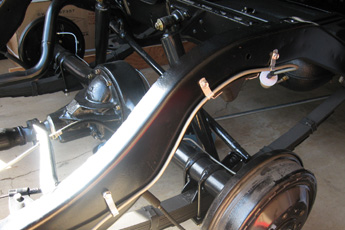 I applied POR-15 to many the chassis parts--especially those that could not be powder coated such as the "fifth shock" (that runs from left to right) and the differential.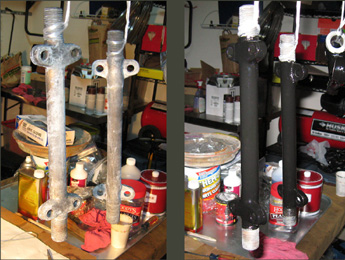 And many of the smaller parts such as the control arm support brackets. The POR-15 works well if you follow the instructions. The only problem I had with it was it would settle while drying. That is, it would slowly shift to the lowest point, leaving a sag at the bottom. I guess it's more or less irrelevant for parts that are not highly visible, but I stopped short of using it to seal the driveshaft.

Jeff Womack
9831 SE Powell Blvd.
Portland, OR 97266
503-761-1549
http://www.womackautobody.com
PR: What sort of metal sealants do you recommend?
JW: If you strip your vehicle down, but you don't want to have it sand blasted because of the mess and the expense, there are different types of sealants available. There's stuff called Rust-Mort and Rust-Seal that you can put over metal surfaces that have any surface rust. That converts rust into primer.
PR: Can they then paint over that rust?
JW: No, that doesn't mean you can sand that primer and it's ready to paint. That's not what it does. It just neutralizes the rust. It's a band-aid fix. It doesn't mean the rust is fixed. You can use this stuff on floor pans or trunk floors. For example, we did a job on a car recently where we sprayed this stuff on the top and bottom of the floor pan, then the next day we sprayed the underside of the pan with undercoating, and now he's ready to put his interior back together. The rust is neutralized and sealed, so it's ready to go.
PR: What about visible parts of the car.
JW: If you're doing the outside of a car, there's stuff called "acid etch" that you can put on, and it will help neutralize rust, but it doesn't convert the rust. So I use acid etch on bare metal that doesn't have rust. They say it makes the metal more responsive to primers.
PR: Do you recommend undercoatings?
JW: It depends on the vehicle. We'll use rust-mort on any of the non-visible panels such as floor boards, trunks, and the inside of door panels wherever they might develop surface rust just to seal them. Then I'll often put undercoat on the floors to create a moisture barrier. Water's going to get on the car at some point, and if the factory had done that years ago, we wouldn't have these cars rusting so much.
PR: What kind of undercoat do you use?
JW: I'm not talking about a thick coating like a spray-on bedliner. It's just a thin coating. Then for a restoration, I'll put one coat of paint over it. It's just a little extra protection.
PR: Anything else to recommend?
JW: Painting a classic car is like building a house. You have to have a good foundation or everything will crumble on top of it. You have to have something positive, start with your primers and build everything up from there.
| | | |
| --- | --- | --- |
| Click on any item below for more details at Amazon.com | | |
---
---
Jim Richardson
Pro Paint & Body


HP Trade, Paperback, 2002-09-03

This is another well-reviewed guide to professional paint and bodywork. It includes information on bodywork tools, materials and techniques. A partial list of subjects includes: Assessing a project car and damaged bodywork, disassembly and stripping, basic hammer and dolly techniques, diagnosing dents, fillers, leading, spray guns, current paint technology, color coats, color sanding, and custom colors.
---
Martin Thaddeus
How to Restore Classic Car Bodywork


Veloce Publishing, Paperback, 2004-09-27

This book goes into detail about all facets of body and frame metalwork, with detailed, photo-rich procedures for such tasks as wheel arch and door sill repair. Hammer and dolly, pick and file techniques are explained and illustrated. This book does not cover paint prep or mechanical issues - this is strictly "panel beating." This book was written and published in Britain for a British audience, but is perfectly applicable to American restorations.
---
Martin Thaddeus
How to Paint Classic Cars


Veloce Publishing, Paperback, 2005-08-28

This is a very basic book. There are only 5 pages devoted to panel beating and metalwork, and not much more than that to many other topics. All in all, not the best book for the do-it-yourselfer.
---
Pat Ganahl
How to Paint Your Car on a Budget


S-A Design, Paperback, 2006-06-30

This is a great basic paint book. If you just want to throw a nice coat of paint on a car, this book will tell you how to do it. If you are going for the complete 100-point absolutely perfect show car paint job, this is not your book. Basics of bodywork are covered, as is paint prep and the sanding/cutting/blocking process. Paint jobs at several different levels of commitment are detailed in step-by-step procedures.

---
POR-15
POR-15 BLACK SEMI-GLOSS RUST PREVENTIVE PAINT - QUART


Dries to an incredible rock-hard, non-porous finish that won't chip, crack, or peel. Prevents rust from recurring by protecting metal from further exposure to moisture. Use it to coat rusty frames, floor pans, farm equipment, marine equipment, or even a heavily corroded battery tray.

Use Marine Clean and Metal Ready cleaners before applying POR-15.
---
POR-15
MARINE CLEAN - QUART


It cleans and degreases in one application without leaving residues or noxious fumes. Use it to clean canvas, vinyl, nylon, holding tanks, grease traps, auto parts and more.

Use this cleaner for the first step of the POR-15 preparation procedure.
---
Eastwood has page dedicated to Rust Solutions on their website.
POR-15, Inc. has been providing rust prevention solutions for 25 years.