One of the biggest attractions to classic American cars (of the postwar period, anyway) is the automakers' love affair with chrome. Chrome is the ultimate expression of silvery bling--it stays shiny long after stainless steel or even true silver has lost its luster, and you can plate it on almost anything metal. Chrome is an opulent expression of wealth and style, and the cars of the 1950s are renowned for using chrome in quantity.
Chrome is what makes many classic cars beautiful, but it also poses a special challenge to the restorer. Chrome is tough to get right, but it is absolutely imperative that the chrome must be right to create a first class restoration.
Most restorations start with chrome in poor condition. Rust and dents are the usual suspects. Sometimes chrome (especially chrome that was not well-done originally) is peeling and flaking off, and other times it is simply pitted with rust in the underlying metal. Dents and unwanted bends in chrome are also more common than perfect unmarred bumpers and trim.
To get the chrome right, the part must be completely cleaned. Any grease or dirt on the surface to be plated will spoil the process. Generally this involves stripping the original chrome and the substrate materials off of the part. Chrome bonds best to copper or nickel, and so there are often several layers to remove before you arrive at the base metal of the part.
Once cleaned, any dents, waves, or other imperfections must be hammered out of the part before the replating process begins. Deep pitting and cracks are also repaired at this time. The part needs to be as smooth and straight as possible at this point, because any flaws become highly visible in the final product. The part is then etched in an acid bath to prepare to receive the metal.
When the part is as perfect as it can be and etched, the plater starts by depositing at least one and often several layers of copper plating on the surface. This process can be extended to fill pits and minor imperfections, but it's necessary to get a smooth copper surface on the part before the nickel layer is deposited. Race car builders often stop at this level because nickel plating protects parts from rust and looks nice (at least, under the special care that race cars receive) but also shows cracks in the base metal more readily than a chrome-plated part.
Finally, the chrome layer is applied. All these metal plating processes involve running an electrical current through the part while in a bath of dissolved metal salts. The current causes the metal salts to adhere to the part in an even layer, creating a deposit of the plating metal. It's here that any remaining defects will turn up, because unlike copper and even nickel, chrome does not fill in pits or smooth over ridges--it actually makes them worse. Chrome's reflective properties are what draws your eye to dents and waves in the part.
| | | |
| --- | --- | --- |
| | | Hint... |
With a process of this complexity and sensitivity, you can see that even with the availability of home electroplating kits, you can safely assume that this process has to happen at a professional chrome plating shop if you want show-quality results. For the amount of plating that an amateur restorer needs to do, the supplies, equipment, and expertise necessary to chrome plate a bumper just doesn't make sense.
Your best solution for chrome parts is to find the best chrome plating shop in your area and have them take car of your parts. The price may be high, but the results are absolutely necessary to make your chrome reflect your investment in the rest of your restoration.
| | |
| --- | --- |
| | DO |
Take your chrome parts to a well-regarded professional chrome plating shop
Make sure the plating shop can and will straighten, repair, and fill all flaws in the metal, or will allow you to do so before plating
Ask your club or other local restorers for references to a good plating shop
Treat your rechromed parts with utmost care when they come back from the plating shop
| | |
| --- | --- |
| | DON'T |
Don't try to chrome-plate a large or important part yourself
Don't use a shop that expects you to deliver the part clean enough to begin plating
Don't believe that you can hammer out flaws in a freshly-plated piece
Don't use a shop that neglects the layers of substrate metals under the chrome
I learned two big lessons when I was having the chrome replated for the Popular Restorations feature car. The first is that, at least in my case, you get what you pay for. The second was that if you plan on cutting corners, don't do it with pot metal parts. Poor preparation work on pot metal can leave your parts partially chromed with bubbles and peeling.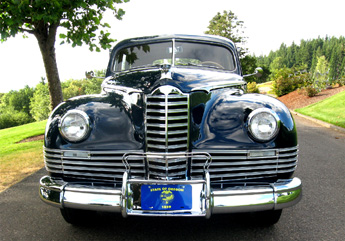 I had the bumpers, grill, hood ornament, hubcaps, and headlight trim rings plated at Oregon Plating. I'll have to say they did a good job. It's expensive though. Before giving me a quote the guy asked me what type of quality I wanted. For "show" quality they take more time with the copper plating, sanding and replating as necessary so the end result looks much better than new. Some restoration shops will actually pick up the parts when the copper plating has been done so they can smooth the finish to perfection before the nickel and chrome are applied.
With regard to cost, I placed my parts on the counter and the guy started picking them up one-by-one saying six hundred dollars (grill), five hundred dollars (four hubcaps), four hundred dollars (rear bumper), two hundred dollars (rear bumper ends), two hundred dollars (rear bumper guards), four hundred dollars (front bumper), two hundred dollars (front bumper ends) two hundred dollars (front bumper guards), five hundred dollars (front bumper license plate holder and vertical guards), etc. You get the idea. It was a traumatic experience, especially knowing there were many more chrome parts in need of plating at home. Several months later I picked up the finished parts and, as I said, the quality was excellent.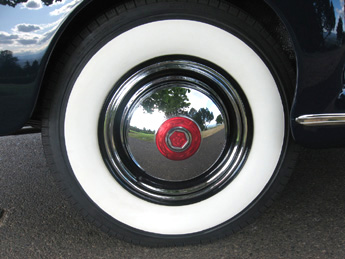 Along the way they called tell me to say that the front bumper had a slight ripple in it. They wanted to make sure I was okay with it. I drove to the shop and really couldn't see it, so it was okay with me. Later they called to say that one of my hubcaps could not be plated, at least for the cost quoted, because the outer skin was made of brass. Apparently all of the original hubcaps were like that. The other three had been replaced with steel equivalents over the years. I ordered another used, steel hubcap from Max Merritt and used it instead. And one of the bumper ends was rusted so badly they couldn't plate it. I looked around and found one for sale in one of my Packard Club magazines. It was listed in one of those ads that has several hundred parts itemized.
Next I took the rest of the parts (parking and taillight bezels, door handles, more grill parts, and countless interior chrome pieces) to the same shop but they were closed on a weekday. That's when I got the idea of taking the parts somewhere else. I got a recommendation for a shop about an hour away and drove the parts there. They did a good job on some parts and a mediocre job on some others, which I had replated later.
So the lesson was simple. Chrome is gut-wrenchingly expensive and you get what you pay for!

Garry Smurthwaite
Chemist/Foreman
436 SE 6th Ave
Portland, OR 97214-1103
503-232-7416

PR: Take us through the rechroming process. How do you get from a rusty peeling bumper to a finished product?
GS: The first thing we're going to do is strip your part. We'll strip the plating and paint and whatever off completely, or as close as we can without hurting the part. To strip old chrome plating off, we put the part through a reverse-current caustic solution that takes the chrome layer off and exposes the nickel underneath. Then a reverse-current acid bath takes the nickel off. Then depending on how it was processed before, there may be copper there, or bare metal. Now the part gets rinsed and we put it in an inhibited muriatic acid bath to remove the rust and oxides. Then we rinse it again and put a mild caustic solution on it to prevent rust.
The next step is where we grind it and look for highs and lows and do any straightening. When we finish grinding, we use the polishing machines. We use belt sanders to take the grinding lines out. Then we copper-plate in a cyanide solution and wet-sand it to make sure we've got good adhesion. Next, the part goes into an acid copper plating and builds up in there. We'll deposit 1-2 ounces of copper per square foot. Then we can sand it to make sure we've got the pits out. If everything's good, after we've copper plated it we can put the nickel plate on it. But if there's any flaws we'll silver-solder it and then copper plate it again. It's unlimited how much you can put on there. When it's ready we'll nickel plate it, then put on the chrome layer.
PR: How much chrome is in a chrome-plated layer?
GS: When something is decorative chrome-plated, you're lucky to see 50 to 100 millionths of an inch anywhere on the part. That's as much as you get because the more chrome you put on, the duller the deposit. It's actually very ugly if you don't do all the steps we do.
PR: What are the downfalls of chrome plating?
GS: You can do chrome plating with only nickel and without the copper layer. But you will see a definite difference in the finish.
PR: What about chrome plating pot metal?
GS: With that material, even to make a good driver level part takes a lot of work. Sometimes those parts are so deteriorated. A lot of shops won't even touch that material. If it was steel with oxidation issues, we'd see red rust so we'd know where we're at. But with the zinc die-cast, it gets lots of pits and oxidation that hasn't fallen out yet, and plating just won't stick to it.
PR: What about other shiny finishes like tin and brass?
GS: You can hot-dip a part in tin, but we use electroplating. We've done brass before, but we didn't have a good lacquer system and without that the finish goes downhill very quickly.
PR: Any good advice for auto restorers?
GS: I can't speak for every shop, because we're a custom shop and we work with a lot of modified parts and leaded parts. So we put fairly thick deposits of copper on parts so that we can bring up the plane -the surface of the parts where it blends in and hides flaws. When a guy's going to do something, start with the best part you can possibly get. Anything that's lumpy or choppy, I point out right up front. Tip the part in the light and sight down the length of it like looking down the barrel of a rifle. Depending on the quality the customer's looking for, we can do a nice driver, or a show car, or what we call a trailer queen or concours part.
| | | |
| --- | --- | --- |
| Click on any item below for more details at Amazon.com | | |
---
Dennis W. Parks
How To Plate, Polish, and Chrome


Motorbooks, Paperback, 2006-11-15

Aluminum and steel can be polished, chromed, anodized, plated, and painted, and this book shows enthusiasts how to do it. The book includes what is required, what it will cost, when to use different processes and whether to have a professional do it or tackle the project at home. Applies to cars as well as motorcycles.
---
Jeff Lilly
How to Restore Metal Auto Trim


Motorbooks, Paperback, 1997-07-12

This is the book to have if you do a lot of trim work. Sections cover safely removing trim, marking flaws, repairing flaws, sanding and buffing, and unusual trim pieces made of copper, brass, aluminum, and so on. The book is photo-rich and includes detailed instructions on repair and restoration.
---
John Gunnell
How to Restore Automotive Trim and Hardware


Motorbooks, Paperback, 2009-07-15

When it comes to restoring classic cars, the devil is often in the details--specifically, the small pieces of decorative trim and hardware. In this book one of the best auto restorers around provides step-by-step instructions for getting those essential details just right.
---
Michael Furman
Automobiles of the Chrome Age: 1946-1960


Harry N. Abrams, Hardcover, 2004-11-01

The book contains more than 150 stunning photographs of these motoring icons, many never before published. An informative text and an illustrated index of technical information describe the unique qualities of these spectacular cars, each more imposing in design, size, and power than the preceding models.
---
Ken Steacy
Brightwork: Classic American Car Ornamentation


Chronicle Books, Paperback, 2000-06-01

This look at automobiles of the past is filled with facts and color photographs of American car hood ornamentation, horn buttons, and emblems. Heavier on pictures than text, the book provides a fact-filled history lesson about car design and insight into the how-to of collecting ornamentation.
---
SimiChrom
Cleaner Simichrome Polish 50 Gram/1.76 Oz


Simichrome is said to be "absolutely the best metal polish in the world", and it may be. Check out the Amazon customer reviews--nearly all five star. Simichrome is guaranteed to put a shine on brass, chrome, silver, gold, aluminum, glass and plastic.
---
Meguiar's
Meguiar's NXT Generation All Metal Polish


Meguiars NXT All Metal Polish cleans, polishes, and protects all wheels, stainless steel exhausts, chrome air intakes and valve covers, aluminum, brass, copper, silver and all other bright work components. Anti-corrosive technology locks in the shine.