Most people will judge your restoration from the outside-in. They form a first impression based on your paint, bodywork, and wheels, then they look at the engine bay, and finally get around to checking out the interior. But you experience your restoration from the inside-out. "The office" is where you spend the most time enjoying your classic car, so you want to make sure you maintain that interior right.
Interiors are subject to different perils than exteriors or engine bays. Flying rocks and muddy water are less of a problem, but on the other hand, mice don't like to eat your chrome bumpers. You can spill coffee on your paint and it's just annoying, but spill the same cup on your red wool carpet and you're looking at a big cleanup problem.
Your basic strategy for interior maintenance is solidly based in common sense: Keep things clean and keep attractive nuisances far away. While this is fundamentally the same strategy you use for exterior maintenance, the practice is markedly different.
Keeping your interior clean requires comparatively few products, yet there are dozens of interior cleaners on the market. A mild soapy solution and some good window cleaner combined with some terry cloth and microfiber towels will take care of most dust and general cleaning issues. If you have leather seats, some good leather cleaner and conditioner can also be part of your interior maintenance arsenal.
Give your car a once-over after every trip, and you'll easily stay on top of interior cleaning requirements. You're going to give it another go-through before you take it to any car show anyway, so if all you have to tackle is the dust that has settled since the last time you drove the car, you've made your job easy.
The single biggest and most important rule that every detailer and restorer will tell you is that food, drink, and your restored classic do not mix. On a vintage car rally that lasts several hours, I'll make exceptions for bottles of drinking water and some clean snacks, but be sure to clean them out of the car immediately at the end of the day. I once discovered the shredded wrapper of a granola bar in my MG just days after a big rally, along with the unmistakeable odor that told me that mice had held a big campout in my door pocket for several days while feasting on that tidbit.
Another serious error I have made in the past was to leave a fur hat in my car. It's tempting to leave your driving gloves or a hat in the door pocket or under the seat, but mice find these items to be attractive sources of nesting material, and they'll spread them all over your car (leaving their own droppings behind in the process) in a matter of days. Moths will be attracted to any wool clothing you leave, so vintage-correct driving coats and lap blankets should also be cleared away when you park your car.
The safest rule for interior maintenance to leave nothing in the car. Not paper, wool, fur, leather, food, or water. Instead, make sure the car is as well-sealed as possible and toss some mothballs in the car. Sonic pest repellents are also a good idea.
Another area where you can make your maintenance life easier is to have a set of sacrificial floor mats. You cannot avoid tracking dirt, grass, and detritus into your car, and it's a safe bet that any passengers you may host will not give the state of their shoes a second thought as they hop in for a fun run. So, keep a set of mats for getting to and from the car show, and remove them only during the show. You'll be amazed at how much mud and crud they prevent from hitting your carpet.
It goes without saying that you will want to keep your car generally protected from moisture and UV radiation, and that means a garage. Leather, vinyl and cloth interiors all deteriorate quickly under moist or sun-baked conditions. You can use all kinds of products to try to slow down that process, but none of them come close to a clean, dry, temperate, shady parking space. That parking space, combined with a little attention to cleanliness, will keep your interior enjoyable for years.
| | |
| --- | --- |
| | DO |
Park your car in the best possible indoor space you can manage
Use basic products like mild soapy water and quality window cleaner
Buy and use a set of traveling floor mats to keep dirt out of your carpet
Clean your interior after every driving trip
Make sure your interior is thoroughly dry before sealing up the car
| | |
| --- | --- |
| | DON'T |
Don't ever leave any food in your car
Don't trust a travel mug or paper cup
Don't use any silicone-based product on your interior
Don't leave any hats, gloves, scarves, coats or blankets in your car
The Popular Restorations feature car was originally upholstered with English broadcloth wool. When I had it reupholstered I specified the same kind of fabric and it looks very authentic. I know of two vendors for that fabric and they are SMS Auto Fabrics in Canby, Oregon and Bill Hirsch Auto in Newark, New Jersey.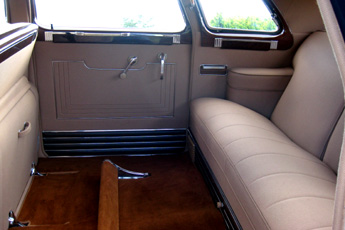 I called each vendor to ask about the maintenance of the wool and here's what I found out with regard to caring for the fabric.
In response to cleaning, SMS Auto Fabrics said, "Don't do anything drastic!" I didn't feel that was specific enough so I called Bill Hirsch Auto. Bill Hirsch himself got on the phone and said that it really depends on what type of stain you are cleaning. He said if it is something like blood from a scratch, putting on cleaning fluid will set it up permanently. For blood you should use cold water. For oil and grease he said to use cleaning fluid and to blot or gently rub the fabric--with the nap, not against it.
I asked about ScotchGuard protection and he said he's never used it, so I called a local upholstery shop who directed me to a local detail shop. They do apply ScotchGuard and for a car the size of the Packard the owner said it would cost $118 for the seats, door panels, and carpets (not the headliner).
Years ago I bought a new sofa for my living room and the furniture shop put a protective coating on it. You could see where the applicator had gone one direction and another. It was a permanent striped effect and they agreed to take the sofa back. I asked the detail shop owner about that and he said they must have used the wrong type of solution for the fabric. He said the ScotchGuard will not leave any visible signs of application on wool.
Another thing Bill Hirsch told me is that every winter he puts a couple of metal tins (from Home Depot) with mothballs in his cars to protect their wool upholstery. He said he's never had any moth damage as a result and that the smell goes away when you air out the car. I'm still on the fence on that as I don't like the smell of mothballs and some people claim they can't ever get rid of it.

Guy Recordon
2016 NE Alberta Street
Portland, OR 97211-5848
(503) 224-8657

PR: What maintenance practices and products do you recommend when someone takes delivery of an interior restoration that you have performed?
GR: Let's start with convertible tops. There's a product called Raggtopp by Haartz. Use that according to the instructions. However, I caution anyone who's cleaning a top with a product other than automotive soap to be careful not to get it on the paint. It's hard to do avoid, but you can mask off the body somewhat so that you don't get large quantities of this stuff on there, and rinse the body immediately afterwards. This stuff is not supposed to affect paint, but you never know. Also, if you have a plastic window on the convertible top, try not to get anything on the window. Cleaning products can discolor or etch the plastic. Don't put tape on the window -use a towel. If you can't get Raggtopp, use Dawn dishwashing detergent, mixed 1/3 with the detergent and 2/3 water in a spray bottle. Dawn is an excellent degreaser and it's a very mild detergent. And always do the top first, that way you'll do the body just afterwards. You should always wash a car from the top-down.
PR: How about inside the car?
GR: If you've got leather seats, leather's pretty tough and you can use almost anything on it. The thing you have to worry about is the finish. You won't hurt the leather itself, but you can hurt the color. Red, in particular, is very fragile. Meguiar's and Lexol both make cleaners. Either one of those will work fine. Follow the directions and use the one you like.
PR: What do you do for interiors that regular folks might not think to do?
GR: I use compressed air to blow out the pleats and seams in upholstery. Dirt and crud get down in there and when you clean the seats, you force more dirt and crud into the crevices. Don't use more than about 80 pounds of pressure, but blow it out and you'll be surprised how much better your seats look.
PR: What do you recommend for carpet maintenance?
GR: Woolite carpet cleaner -follow the instructions! It comes in an aerosol can and you spray it on and work the stain with a soft bristle brush. Then let it dry and vacuum it up.
PR: What's a big mistake that people make?
GR: A word of caution for anything in the interior: don't use any harsh products. No acetone, no lacquer thinner on any surface for any reason. People do that all the time. It's funny, but some people see a dark spot and go after the highest horsepower stuff they can get. But most of those will clean up easily with soap and water.
PR: Classic cars have lots of interior surfaces such as varnished wood and painted metal. Do you have a cleaning product that you recommend?
GR: Nothing specific. These days, the finish on an older Mercedes, for example, is going to be pretty heavy plastic. Find out what's been put on the wood and then use whatever that company recommends to clean it. If you don't know what the finish is, then find a high-end furniture store and ask their advice. But always use a very soft, very fine cloth, because you can scratch these finishes in a heartbeat.
PR: For a concours-level car, how can someone keep the interior perfect?
GR: Coming back to convertible tops, never leave the top down. Always store it with the top up. Put the top down only when you're actively using the car. If you store it with the top down, you'll get condensation forming in there. And make sure that your convertible drains are kept clear. 95% of convertible top jobs I do, I find that the drains are clogged.
PR: What about animal pests?
GR: Pests do a remarkable amount of damage in a short time. Some people will store their cars with mouse poison in the car. Never do that, or you'll end up with dead mice in the car. Put the poison as far away from the car as possible. Don't put it under the car or they'll take it inside the car to store it. Mice don't like the smell of mothballs, but we've got tough mice these days. I don't know what mice don't like any more. A mouse can squish down to less than an inch tall. They can squeeze
PR: Anything else?
GR: There is a thing called a negative ion generator. If you put one of those in your car for 24 hours, all sealed up, it will eliminate most of those bad smells, including mouse urine. It works pretty well, and it's a non-chemical trick.
| | | |
| --- | --- | --- |
| Click on any item below for more details at Amazon.com | | |
---
K. Henson
Car Interior Restoration Manual


Haynes Publishing, Hardcover, 1995-05-14

This book is filled with advice on feeding and maintaining leather upholstery, repairing seat frames, renewing trim panels, curing water leaks, re-coloring vinyl trim and much, much more.
---
David H Jacobs Jr
Ultimate Auto Detailing Projects


Motorbooks, Paperback, 2003-09

This book covers detailing in a series of easy projects, such as using a clay bar, cleaning wire or mag wheels, trunk detailing, and so on. The book is divided into chapters based on the area detailed, such as "Under the Hood" or "Tires and Wheels" and includes many photos and detailed instructions for a solid detail job.
---
---
Don Taylor
Automotive Upholstery Handbook


California Bill'S Automotive Handbooks, Paperback, 2001-11-02

This is the book to have for upholstery work. The author provides illustrated step-by-step instructions for virtually all necessary restoration procedures from rebuilding a seat to creating a convertible top. Tool tips and custom work information is also provided.
---
Dennis W. Parks
How to Restore and Customize Auto Upholstery and Interiors


Motorbooks, Paperback, 2005-09-29

This book primarily focuses on creating custom upholstery and interiors for hot rods, but the basic practices are all the same, and the techniques apply well to any restoration job. Seat uphostery, dash, headliner, and interior panels are all covered.
---
---
Meguiar's
Meguiar's G2310 Car Odor Eliminator


Eliminates the odor at its source. Attacks the chemical structure of the organic material, destroying the cause of the unpleasant smell.
Samarins.com has a good article on interior maintenance.
Edmunds.com has an article on the basics of interior detailing.