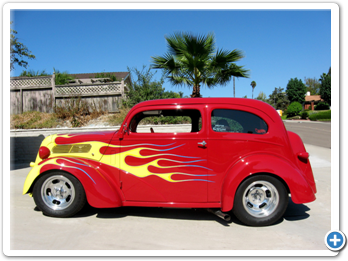 This Anglia has it all: looks, speed, and it gets 20 miles per gallon. But creating this jewel wasn't quick and it wasn't easy. Gary Browne took a couple of decades building and then rebuilding his English Ford which is now on its fifth engine.
"I got the car in 1975. It was just a frame and a body, no floor boards and no firewall. It had a Buick engine that was mounted horribly and a cut-down Chevy rear end that was really butchered. Somebody was trying to make it into a drag car that would have been a great failure. So I bought it for 750 dollars and started redoing it. It's been done twice," says Browne.
Browne's first vision for the car was a cool looking hot rod with a modern four cylinder engine.
"The first time I built the car up was during the 1970s energy shortage. I wanted to drive the Anglia as an economical street car so I chose a Datsun 1600 engine. There were a lot of performance parts for those. And I used a Datsun 210 independent rear suspension rear end which I had to cut down two inches on each side. But as soon as I started the Datsun engine I knew it was wrong. No matter what I did it just sounded like a Datsun engine so the Anglia never hit the road with it and I pulled it back out."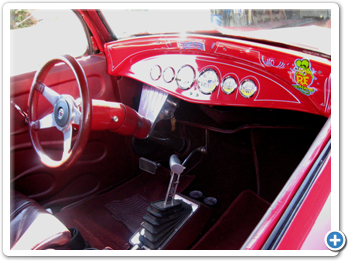 At this point Browne made some serious changes including a Capri V6 2800 engine and four speed, a new firewall, new floorboards, and an independent suspension front end with disc brakes.
"The new engine fit in the engine compartment easily. I raised the floorboards so there would hardly be any tunnel at all. And grafted the front suspension from a Datsun station wagon--this was before the days that you could buy suspensions from anybody. I put it all together, painted it with primer, and started driving it. It drove good; it was peppy because the car was really light. I was content with the power, it wasn't fast but it was okay. And it handled great with the independent suspension at both ends."
This might have been the end of Browne's rebuilding process except for one problem. The narrow floorboard had no room for his left foot.
"When you were shifting it was okay but when you drove down the freeway it was really uncomfortable. Originally the engine was tiny and a lot more forward. There was no tunnel and with flat floorboards you had more room. I drove it 1700 miles and decided I just couldn't handle it anymore."
During that 1700 miles people would ask Browne, "Where's the other two cylinders?" So to solve the floorboard problem he replaced the Capri engine with a small block Ford with an automatic. And that led to replacing the front and rear suspension.
"The second time I redid the car I went with a five liter Ford V8 out of a 1991 Mustang, an automatic overdrive transmission, and a Ford nine inch rear end. I replaced the Datsun front suspension with a Mustang II suspension kit as it was getting hard to find Datsun parts."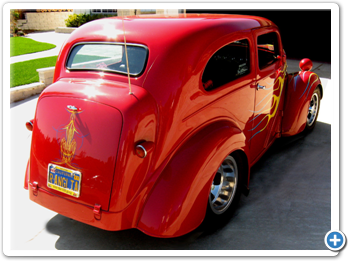 The Anglia has a short wheelbase as well as a short track width. So Browne needed to cut the rear end way down so it would squeeze underneath the fenders. But even that was not enough.
"The car's footprint is small: it is one of the few that fits, in stock form, on a piece of plywood. It hangs over on both ends but the wheels will fit. So, I widened the rear fenders two inches. It's tubbed for the wide tires but I moved the fenders out a little bit so there would be some room between the tires."
The car fits Browne like a glove, although it would never do for an NBA player.
"The top has been chopped three inches and the floorboards raised four inches. So the car is missing seven inches inside, top to bottom. Anybody tall has a problem. If they recline the seat, they can fit in it but that's about it," Browne says laughing.
The Anglia now has a good balance between performance, economy, and drivability.
"I put a little higher performance cam in it, added headers, and went from fuel injection to a Holly 600 with an Edelbrock manifold. I ran it at Carlsbad when it was still a racetrack and it did 13.9 seconds and just over 100 mph in a quarter mile. I was content but the thing should have been quicker. My problem is that I have a stock torque converter and the engine never gets to work at the bottom end. But I built it to be a street car so that's okay. Right now I have over 20,000 miles on it and I just use it and drive it. I did have a problem with the electric fuel pump once and replaced it. But that's the only problem I've ever had. I just drive it and drive it."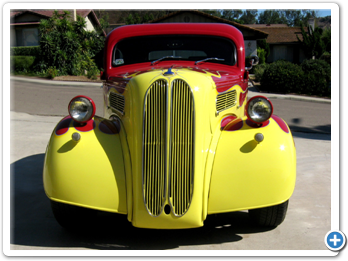 One of Browne's biggest challenges was fitting the front and rear suspension under such a narrow vehicle.
"The Mustang II suspension had to be narrowed 15 inches. For the control arms too fit, the frame had to be moved in two or three inches on each side which made it really skinny. It was a major job but you've got to make sure it's right because if it's not it'll never go straight. But it was a kit from Fatman Fabrications and they have such beautiful directions it worked like a dream," says Browne.
Despite its light weight, the Anglia's rear end grips the road.
"When I went to the nine-inch Ford rear end I installed it with four-bar linkage. It's fully adjustable for racing so you can make it so it really hooks up, which it does. People like to ask me, when they see that it's a light car with a powerful engine, 'Can you do burnouts?' I say 'No' and they say 'Why not?' and I say, 'Because it hooks so good! If you're smoking tires you're wasting energy.' I can make it burn out but it really hooks up good. It's a rear end that will never break even if I get a huge engine."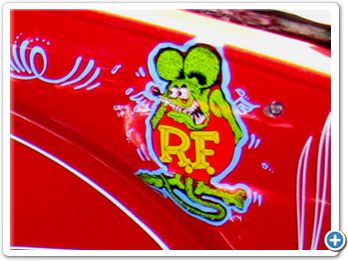 The Anglia's interior is just as cool as the flames-over-red-painted exterior. Ed "Big Daddy" Roth striped the dashboard complete with Roth's iconic "Rat Fink," who appears to be looking at the driver with a toothy but friendly grin. The front seats are from a Chrysler LeBaron. Browne chose them because they were the skinniest seats he could find. He had the other upholstery made to match, including a single seat in the rear.
"The back wheelwells are tubbed, but instead of removing the back seat I put a single seat back there. That way my wife could ride in the front and my daughter in the back. When she got older my daughter found that guys really liked the car so she made sure her friends always knew what I had--she was always bringing kids home. Then when she was 18 or 19 years old she started telling all her friends it's her car, she just lets me use it. That's one big reason I can't sell it."