For car buffs, there may be no better travel destination than the San Diego Automotive Museum. For starters, it is situated in Balboa Park, the nation's largest urban cultural park, home to 15 major museums, the Old Globe Theater, beautiful gardens, and the San Diego Zoo.
Next there is the weather, boasting an average daily temperature of 71 degrees Fahrenheit and 300 sunny days per year. Finally there is the Automotive Museum itself. In addition to a fine representation of brass era, vintage and classic cars, there is an excellent display of motorcycles, many interpretive exhibits, and an accessible historical library. And if that's not enough, the Petersen Automotive Museum and the Nethercutt Collection are just a 2-3 hour drive north.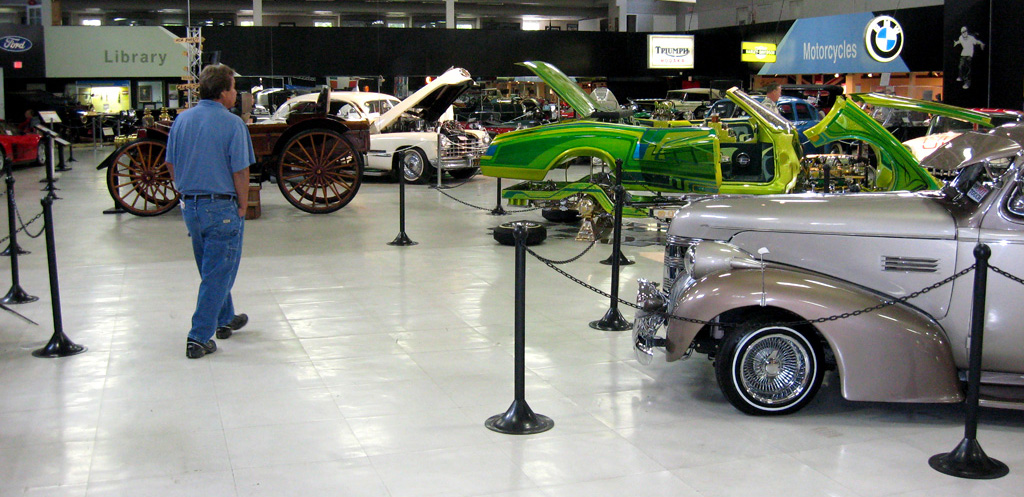 The San Diego Automotive Museum has been open for more than two decades. Founded by a group of high-end car collectors, the museum was spearheaded by renowned automobile collector and racer Briggs Cunningham. In 1980 the San Diego City Council approved a long-term lease to the museum for the use of one of Balboa Park's historic buildings . After a million dollar renovation the museum opened in December of 1988. Since then millions of auto enthusiasts and tourists from all over the world have visited its world-class collection.
"We are a museum and not just a collection," says Paula Brandes, Executive Director. "There is a significant difference. A collection is presentation of cars as cars only. A museum presents cars in an interpretive way, to let each car tell its story, because the cars are the storytellers."
One interesting exhibit of a 1928 Studebaker is titled, The "Barn Find", a reference to an unrestored car found in a rural outbuilding.
"We chose not to restore the car because in its unrestored condition, it tells the story of what these cars really look like when people find them," states Brandes. "Not every car should be restored. Some cars should remain artifacts, such as this one."
Brandes notes that the museum works closely with the local schools. "We are a museum, so we do offer an educational component. Children, teachers, and families come in and learn something other than the "wow factor" of a beautifully restored car. A case in point: In fourth grade students learn about California history--and our current exhibit is California cars, and everything iconic about the California car culture. So we are producing standards-based lesson plans for the teachers to use. The students will learn exactly why these cars are here."
To keep the museum experience fresh, the San Diego Automotive Museum features guest exhibits, special exhibits with a particular theme. Currently, the guest exhibit is California Roll, Diversity of the Car Culture.
"The permanent collection takes up half the exhibit. We don't change or modify that for several months at a time. The other half of the floor is currently devoted to everything iconic about California, but that will change. We rotate our guest exhibits about every four months. We want to keep the experience fresh and engaging. The death knell of a museum is to have someone come in and say, 'Oh I was here 12 years ago and saw that.' However, there are a few cars that are never going to leave the floor, specifically the museum's signature vehicles.
Click images for more photos of the 1947 Cadillac
"Louie Mattar's fabulous seventy-five thousand dollar 1947 Cadillac still holds the land endurance record for driving. He drove it all the way from Anchorage, Alaska to Mexico City without ever turning off the engine. He made a cross country trip with it too. He's a local, very interesting fellow; worked with Mine Sweeper technology for the Navy, was a civilian engineer, and adapted this car so it could be driven nonstop. It's fascinating! That's the type of car that will stay out on the floor because it tells such an amazing story."
Brandes added that the museum staff formulate the plans for upcoming exhibits. Once formulated, the plans are turned over to Research Director Ken Colclasure.
"Ken has been with the museum almost 10 years," says Brandes. "He decides what we need...for example, the California Roll exhibit needed lead sleds, low riders, a woody, a dune buggy, and a hippie bus.
"We then go hunting for them. Once we make arrangements for the cars, the exhibit's design team takes over and displays them properly."