The earliest woodies were custom-built, wood-bodied cars or trucks designed to haul people, luggage, and parcels. They were often purchased by railway stations and as a result were given the nicknames "depot hacks" or "station wagons." By the late 1920s, Ford had two reasons to put the first woodie wagons into production. Demand had grown, and the Iron Mountain, Michigan plant, built in 1920 to produce wood body parts for Model T's, was now largely idle as Model A bodies were mostly steel. For the 1929 model year, Ford introduced the Type 150-A, which seated eight passengers or could carry cargo when the three rear seats were removed. Pictured above is the successor to the 150-A, the 150-B, which was produced in 1930 and 1931.
By 1937, Plymouth, Pontiac, and Studebaker, all offered wood-bodied station wagons and by 1942 more than half a dozen followed suit. During that period, station wagons were increasingly used by lodges, country clubs, and became a status symbol for owners of country estates.
After World War II, U.S. automakers faced the enormous task of restarting their mothballed auto production facilities. In most cases, there was no time to tool up for a new model year so the '46 and '47 cars were simply '42s with a few cosmetic changes. It was at this time the automakers realized they could give their prewar holdovers a fresh look by adding wood features to convertibles (Ford and Mercury Sportsman and Chrysler Town and Country) and sedans (Chrysler Town and Country and Nash Suburban).
In 1949 the concept of upscaling a car by adding wood trim was extended to steel-bodied station wagons including Ford and Mercury (real wood over steel) and Chevrolet, Pontiac, and Oldsmobile (wood applique over metal, nicknamed "Tin Woodies").
Although some car clubs do not recognize the post-1948 "wood over metal" or "imitation wood" wagons as true woodies, most car buffs consider the 1953 Buick Roadmaster the last "real" American woodie as it used wood for the structure and paneling of it rear deck and window frame.
The most plentiful of the remaining woodies are the 1949-51 Ford and Mercury wagons because they are aesthetically interesting (real wood trim) and many of them survived due to their steel bodies and high production numbers. Although valued at about half that of their 1948 all-wood counterparts, they are very popular, with top examples fetching upwards of $60,000.
The most significant challenge in restoring any woodie is bringing the wood back to its original condition. For those who want top-notch results, read the accompanying interview on this page. Rick Mack Enterprises provides fully-assembled wood sets for 1949-51 Ford and Mercury wagons, including the mahogany paneling.
See Part 2 (Wood Bleaching) and Parts 3, 4, and 5 (Woodie Wood Refinishing).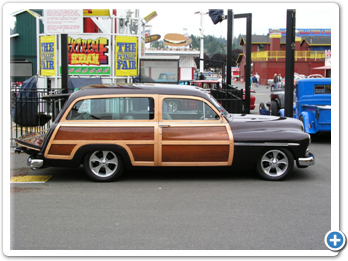 1950 Mercury Woodie
P.O. Box 39631
Lakewood, WA 98496
253-539-0432 (shop, daytime)
rick@rickmack.com
www.RickMack.com
Rick Mack has been involved in Ford and Mercury woodies since 1962, with the exception of a ten year hiatus from '74 to '84 while living in Hawaii. In 1991 he set up his operation in Lakewood, Washington to do 'in shop' rebuilds of woodies, and, a few years later, switched over to building wood sets for 1949-1951 Ford and Mercury wagons. Rick has built over one hundred complete new wood sets for these cars over the past dozen years, and has built a great many individual parts for these models as well.
PR: Tell us about your business Rick.
RM: My business offers individual parts, complete, fully assembled new wood sets for 1949-1951 Ford and Mercury wagons including the mahogany paneling. My parts are compatible with original Ford manufactured wood parts. My parts match the original Ford parts and they fit.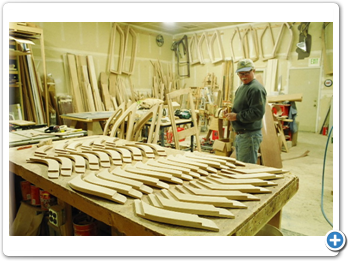 PR: How much do they cost?
RM: The price for a new wood set varies depending the make and model. The basic price for a late 1950 or 1951 Ford wood set is currently $12,800 for 'clear' maple framing with stock mahogany paneling. That is the low end. The high end price would be for a 1949 Mercury, which has the super difficult double bend on the front door. That price is currently $16,300.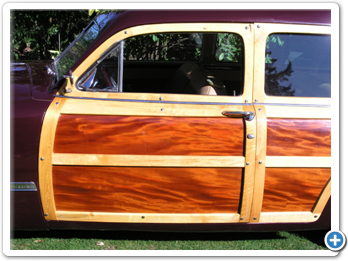 PR: Do you stock kits or are they all made to order?
RM: Virtually all of my wood sets, and I like to describe them as 'wood sets' rather than 'wood kits,' are built to order, even if they are completely stock. I do some mildly custom work from time to time, and many customers ask for some special touches: some 'birdseye' or other 'figured' grain, and some other things. I have a form I fill out for each job to make sure I know all the small details of each project, and what differences there might be in the set I will be building for the particular customer.
PR:How long does it take to ship, once a set is ordered?
RM: The work time on any given project also varies depending on my current work load as well as on just which model I am to build. Currently, the work time is only between four and six months.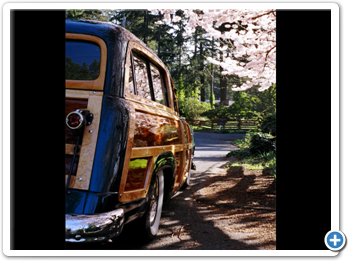 PR: Do you sell parts separately or just entire sets?
RM: Yes, I do sell individual parts separately as well as beautiful paneling sets, some with absolutely outstanding special wood choices.
PR: Do you have any suggestions for people who want to save the original wood--that is, how they should go about restoring it?
RM: I have written a 'how to' article both on finishing wood and on bleaching wood, as well as some short notes on specific aspects of wood restoration for these cars. I do take regular phone calls from woodie people seeking advice on how to do this or how to do that, and what is the quickest or the best way to achieve some aspect of the restoration process.
PR: What was Ford's wood care instructions for woodie owners back in 1949-51?
RM: Ford basically sent out a maintenance brochure that recommended yearly re-varnishing to maintain the wood on these cars. This was always a problem for woodie owners--especially when these cars had to serve as constant daily drivers in all weather conditions. Few owners ever spent the time and effort to do this upkeep work on anything close to a yearly basis. Most never did any varnishing work at all. But a few did, and their cars survived as coveted collectors items to this day. As an aside, Ford knew the wood upkeep was always a drawback to most people who were considering buying one of the wooden cars, so they came up with the not so marvelous plan to build and stock replacement wood sets so a customer could come in three or four years later and purchase all-new for their now tired wagon. Few folks bought into this program at the time, but the surviving NOS wood sets were a big seller for restorers over the years. As you might guess, few, if any, of these wood units still exist unused today.
PR: What do suggest for wood care today?
RM: Varnish, you never outgrow your need for more varnish. Marine Varnish: Epifanes, Z-Spar 'Captains,' Z-Spar 'Flagship,' Interlux, and Interlux 'Schooner' varnish to name a few great varnishes. There are others.
PR: What are you plans going forward?
RM: I turned sixty-four today, and I simply cannot say how much longer I will pursue the very difficult, and very time consuming, work of building new wood for woodies. For the time being, I will be continuing to seek, and take on new woodie work, but my retirement from this may be fast approaching.
See Part 2 (Wood Bleaching) and Parts 3, 4, and 5 (Woodie Wood Refinishing).
| | | |
| --- | --- | --- |
| Click on any item below for more details at Amazon.com | | |
---
Lorin Sorensen
Famous Ford Woodies: America's Favorite Station Wagons, 1929-51


Ten Speed Press, Hardcover, 2003-12-01

When you think of Woodies, you've got the 1929 to 1951 Fords in mind. Now some of the hottest collector cars on the planet, these unique America auto legends, are rediscovered in Famous Ford Woodies for new fans and old by veteran Ford historian Lorin Sorensen.
---
Byron Olsen
Station Wagons


Motorbooks, Paperback, 2000-06-19

This book's emphasis is on station wagons of the '50s and '60s. Some of the cars featured include woodies from all manufacturers, the Chevrolet Nomad and Pontiac Safari sport wagons, rare examples from Packard, the Studebaker Wagonaire, and the Oldsmobile Vista Cruiser. Includes period color photography and print ads, as well as exclusive modern color photos of restored wagons.
---
Colin Peck
British Woodies: From the 1920's to the 1950's (Those were the days...)


Veloce, Paperback, 2008-07-15

Today, there's resurgence in the interest in British Woodies across the world with an increasing number of cars being restored and cherished. The work of hundreds of small coachbuilder firms is highlighted and illustrated with 100 rare and previously unpublished photos. The British Woodie is undoubtedly a thing of beauty and this book is a tribute to the skills of the coachbuilder who built these amazing wooden wonders.
---
Richard Bloechl
Woodies & Wagons


Austin & Company, Inc., Hardcover, 2000-12

Over 300 photos illustrate the evolution of the station wagon from the early 1900's Depot Hack to the stately estate wagons of the 1950's. The 160 pages contain mostly color images of every kind of wooden station wagon produced.
---
Ron Kowalke
Station Wagon: A Tribute to America's Workaholic on Wheels


Krause Publications, Paperback, 1998-04

Discover the integral role the workhorse station wagon has played with American families throughout the years in work and leisure. This book contains more than 250 pages, including 300 photos and a 16-page color pictorial. Also includes information on the vast number and value of station wagon collectibles: plastic model kits, dealer promos, tin toys, etc.
---
David Fetherston
Woodys


Motorbooks Intl, Paperback, 1995-06

This book covers everything from the earliest Pre-World War One cars to Ninties vehicles with fake trim; from beautifully restored originals to hot rods and even custom-built one-offs; and not just wagons, but sedans and convertibles, too.
---
Bill Gerrard
Woodies 2010


Bill Gerrard / Primary Colors Photography, Calendar, 2009-01-01

This collection of images, photographed by Bill Gerrard, are of the most significant woodie collection ever assembled, the Nick Alexander Collection. The collection was sold at auction to individual investors from all around the world in August 2009, so Nick could enjoy more time with his grandchildren.
---
The Wood... The Cars... The People...


Turner Publishing Company (KY), Hardcover, 2005-12-15

Celebrate the 30th anniversary of the National Woodie Club with this one of a kind publication dedicated to the people and the cars of this fabulous organization. This book will provide an in depth, retro, folkloric look into the NWC celebrating the wood and metal autos that cruise the highways and byways across America and beyond. It features everything associated with the wooden car from found in a barn stories to the history of major events.
---
Hans Halberstadt
Woodies


MetroBooks (NY), Hardcover, 2000-04
---
Donald J Narus
Chrysler's wonderful woodie: The Town and Country, 1941-1950


Distributed by Marjac Enterprises, Hardcover, 1973

Published in 1973 this 96 page book provides a comprehensive and complete history of the Chrysler Town and Country. It includes pictures from original advertising and full page color photographs of a few models plus numerous black and white photographs of interiors and mechanicals.
---
Doheny Wood Classic Car Show


DVD, 2003

Fascinating interviews with the owners of featured cars include restoration stories and tips. This video also features general coverage of the entire Doheny Wood classic car show along with historical and woody trivia sprinkled throughout the program. Featured woodies include a 1938 Ford depot hack; 1940 Pontiac with updated drive-train; the only remaining factory-built 1946 Mercury Sportsman in the world; 1946 Ford Super Deluxe All Wheel Drive Marmon-Herrington; 1947 Oldsmobile Model 66; 1948 Chevrolet Fleetmaster; 1948 Ford Super Deluxe; 1949 Chrysler Town and Country Convertible; 1949 Plymouth Special Deluxe; and a 1950 Ford Custom. Wall to wall woodies and all the sights and sounds of a Southern California classic car show.