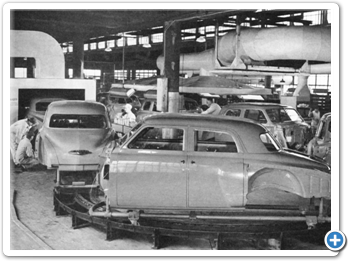 Are you interested in automotive history? A columnist in Hemmings Classic Car magazine recently claimed it's an essential part of the car hobby. You probably agree, but reading history books may not be your thing.
One fun way to come up to speed is to get involved. Start with topic you care about. Browse the web to find audio, video, and interactive presentations on that topic. Join a club and ask questions of those who know more than you. Visit museums to see and experience the roots of your hobby.
But before you start gathering knowledge, consider how you might organize and remember it. The best way to learn new material is by creating a mental hierarchy--start by reviewing the high points, then fill in the details.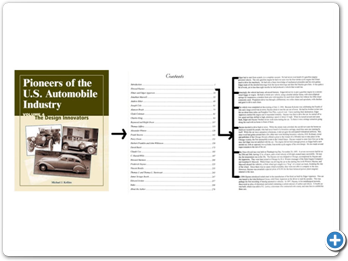 For books, read the table of contents to acquaint your brain with the chapter titles. For articles and chapters, read the lead sentence of each paragraph. Only then do you start reading whole paragraphs.
Along those lines, I recently wrote a few articles on automotive history. It seemed natural to familiarize myself with the automobile "eras" before researching any details. In books and on the internet, I found that the Veteran Era, Brass Era, Horseless Carriage Era, Vintage Era, Classic Era, and many others, are defined in completely different and often contradictory ways.
How could this be? It was like a table of contents with duplicated chapter names and random page numbers. How could I build my mental hierarchy?
Fortunately I had just discovered the Society of Automobile Historians. If you haven't heard of it, it's a club doing great things: preserving automotive history, promoting discussions, answering questions, and bestowing awards on those who make significant contributions to the field. In speaking to Susan Davis, the president of the Society, she encouraged me to join and subscribe to MotorMail, their online mailing list.
What a friendly, helpful bunch! Within days of posting my observations and questions on the automobile eras, I received many courteous and helpful responses from all over the world.
The essence of their responses will be included in a subsequent article; but the point is, the SAH has proved to be an excellent means of learning more about a particular topic, or automobile history in general. The club is seeking new members and its publications are invaluable. If you really want to learn by getting involved, join the club and subscribe to its MotorMail online mailing system. It's fun, social, and educational.
To learn more about the Society, take a look at the related interview on this page and visit their website at Society of Automotive Historians.
The next article in this history series discusses the automobile eras. You'll be surprised at how many there are--and you'll find out which terms to use, which to avoid, and the reasons why.
The Society of Automotive Historians is an international organization with over 800 members worldwide. Its mission is "to encourage research, preservation, recording and publication of historical material concerning the development of the automobile and related subjects, from inception to the present day."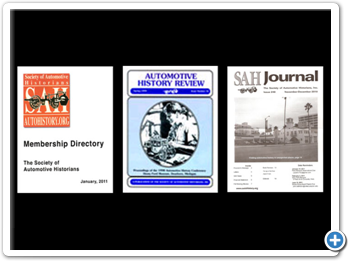 The Society prints three publications: a membership directory, the Automotive History Review, and the bimonthly SAH Journal. In addition to receiving all three publications, members have access to MotorMail, an email-based question-and-answer conversation opportunity. The Society also presents seven different awards annually for "significant contributions to the publishing, documentation, and preservation of the worldwide history of the motor vehicle."
Susan Davis, President of the Society of Automotive Historians, says the Society has a broad scope of concern.
"We represent all aspects of the automobile and its history," says Davis. "Manufacturing, auto parts, auto makes, social, there is just no end of people who are interested in automotive history and who belong to our association."
The Society was formed in 1969 by a group of individuals interested in automobiles, especially the historical perspective.
"The founders were interested in writing articles and publishing books, and so forth," states Davis. They came up with the idea of forming an organization that would create a network of people who liked to talk automotive history. That's really how it started."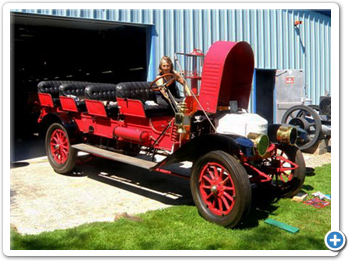 Davis has been with the SAH since the early '90s. Her area of expertise is Stanley Steamers, about which she has written numerous books and articles. She is also the founder of the Stanley Museum in Kingfield, Maine. After logging tens of thousands of miles in a Stanley, she started the museum's Stanley Steamer Driver's Ed Program, a three-day course that was booked up from 2004 until 2006. And she's starting the program again at the Seal Cove Auto Museum in Mount Desert, Maine.
In addition to encouraging research and preservation, Davis explains, the SAH is actually raising the bar on automotive history through its awards program.
"Until the Society was organized, many people wrote about their hobby interests with a focus on their Packards or their Stanleys; they weren't necessarily historians or academicians. They were simply people interested in some aspect of the hobby. As a result, many of the books out there are basically hobby books, more autobiographical and lacking depth.
"If you want your book to be qualified for our Cugnot award, it needs to be at the level of a peer-reviewed document. It needs to have an index, a table of contents, footnotes, bibliography, and the photographs need to be identified; it must stand up to an in-depth analysis of the subject matter. We provide awards not only for books, but also magazine articles, magazines, non-print media, and student paper awards (we're trying to stimulate youth interest in automotive history). The quality of automotive journalism is better as a direct result of the mission of the Society."
Every automotive club has a different culture; too often one's status is based on wealth, or at least the value of the cars one chooses to build or buy. Davis comments that this is not the case with the SAH.
"We have some personalities, but we don't have anybody saying, 'My make is better than yours.' Or, 'My roadster is better than your touring car.' I'm a historian first and a car person second so I fit pretty well into this society in that respect, although I really don't consider myself the historian that so many of our people are, one an expert in the history of hubcaps, another of lamps, or whatever it happens to be."
You can find out more by visiting their website:
| | | |
| --- | --- | --- |
| Click on any item below for more details at Amazon.com | | |
---
Albert Bud Drake
The Age of Hot Rods: Essays on Rods, Custom Cars and Their Drivers from the 1950's to Today


McFarland & Company, Paperback, 2008-05-30

This collection of columns from Rod Action and Goodguys Gazette over the past quarter century, also incorporating several unpublished pieces, offers a wealth of historical information and insights. The colorful writing illuminates the people, machines, movies and cultural events that shaped hot rod culture.
---
Rudi Volti
Cars and Culture: The Life Story of a Technology


The Johns Hopkins University Press, Paperback, 2006-04-21

This fascinating book explores the wide-ranging impact of a technology that completely transformed how people live--the automobile. The author explores how cars shaped, and were shaped, by our physical, social, and cultural environment, as well as economic and political forces.
---
Barney Olsen, Joseph Cabadas
American Auto Factory (Automotive History and Personalities)


Motorbooks, Hardcover, 2002-11-14

Concentrating on the 1920s to 1950s, large photographs of the assembly lines in action send readers into nostalgic old factories. See the workers, the tools, the methods and the machines that combined their efforts with the ingenuity of industry players like Henry Ford, Ransom Olds. Walter Chrysler, and others to make possible the automobile's worldwide proliferation and availability. Flash back in time to witness the factories decade by decade in never-before-published vintage photographs. Featured automakers include Ford, GM and Chrysler, along with smaller companies like Packard, Studebaker, and Auburn.
---
James M. Rubenstein
Making and Selling Cars: Innovation and Change in the U.S. Automotive Industry


The Johns Hopkins University Press, Paperback, 2008-05-02

From the creation of fast food, to the design of cities, to the character of our landscape, the automobile has shaped nearly every aspect of modern American life. In fact, the U.S. motor vehicle industry is the largest manufacturing industry in the world.

James Rubenstein documents the story of the automotive industry... which despite its power, is an industry constantly struggling to redefine itself and assure its success. Making and Selling Cars: Innovation and Change in the U.S. Automotive Industry shows how this industry made adjustments and fostered innovations in both production and marketing in order to remain a viable force throughout the twentieth-century.
---
Jonathan Glancey
The Car: A History of the Automobile


Carlton Publishing Group, Paperback, 2008-02-01

Once viewed as a plaything of the wealthy and eccentric, the car is now an integral part of modern life. The Car takes us on a tour of the many roles that the automobile has played in its lifetime, and the many guise and different models in which it has appeared. Not just a book of glossy advertising shots, The Car is a social history of the impact that cars and driving have had on the world, and nowhere more so than in the United States: freeways, driveins, trucks and trailer parks all spring from the invention of the internal combustion engine.