SCOTTSDALE, AZ -There are a few truisms about sales such as the annual Barrett-Jackson Collector Car Auction.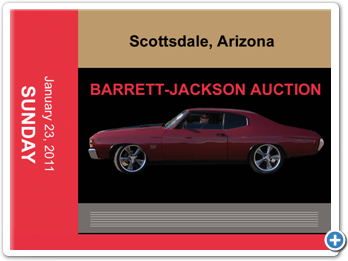 You can pay too much for a car.
You can get good cars at a bargain price.
You can make good money selling a car.
Or you can lose your shirt.
Craig Jackson won't argue with any of those statements. Jackson has been involved in the auto auction business ever since his parents, Russ and Nellie Jackson and partner Tom Barrett began the annual sale 40 years ago.
While it is the high end and cars with unusual history that make the news, the Barrett-Jackson auction includes lots of cars an average collector can afford to buy and drive home.
"Early in the week we sell lots of cars for $10,000 to $20,000," he says. "Most of the cars are in the affordable range."
Jackson says that in many ways, an established auction such as the annual winter opener in Scottsdale is an excellent place to find a collector car.
"We go through the paperwork, and the car, to be certain that what is represented is accurate," he says. "We'll turn away a car that isn't what it is advertised to be.
"We won't sell a car as a GTO if someone shows up with a Pontiac Le Mans that has been converted," he explains. "That doesn't mean we won't sell that car...we just won't sell it as a GTO. The owner will have to advertise it as a conversion or a GTO replica."
Jackson says his company also works with potential sellers to help establish a price for a car, explaining that some people have an inflated ideas what their vehicle may bring at auction.
"They see a car like the one they own bring a lot of money and assume they can get the same kind of money for theirs, without recognizing theirs isn't on the same scale.
"We get people who think what they own should get $110,000, but we see it as a $50,000 car. Because this is a no-reserve auction, we want to be sure sellers don't go away feeling badly about how things turned out. We try to explain to them what is a realistic price before we accept the car."
Jackson says it's important for buyers to look closely at the cars they may want to bid on, and do their own research on what similar vehicles are valued at and being sold for.
In other words, don't blame the auctioneer if you pay too much.
Of course, he's not disappointed if you do. The Barrett-Jackson fee is based on the selling price.
The veteran car enthusiast also says it is important for sellers to be at the sale before their car goes to auction to talk about what they have to sell and create interest in it.
"I see guys with million dollar cars fly in the morning of the auction and then be unhappy with the sale price," he says.
"These cars sit outside under a tent for days," he explains. "If you don't take care of them and don't clean them -and if you aren't around to talk to people about your car -then you can't expect top get top dollar when it goes to the auction.
"There are a lot of cars here," he says. "You have to convince the bidders they want yours."
See related interview: 1971 Chevrolet Chevelle