A good restoration is always a labor of love. If it wasn't, few people would spend the money -- but more than money, it's the time and painstaking work that makes the difference between a car that's been freshened up for a quick and profitable sale and a unique piece of history that runs and drives as if it were new. To undertake an effort of this magnitude, the car has to mean something important to the owner.
"My family didn't have a lot of money when I was growing up. When I was a kid, I used to watch old 30s and 40s escapist movies that showed life among the rich. Those people were having a lot of fun, and they had those stately-looking cars. So in high school, as opposed to having a fast car, I wanted to drive the big classics." says Jeremy Wilson of Portland.
One of Wilson's first cars was a big, beautiful 1946 Packard seven passenger sedan that he bought for $125. "Packards have their own feeling. They're very smooth driving. Almost unbelievably smooth for cars of that era. It was fun to be able to fit seven friends in the car, and I used to give people a ride home from school in exchange for gas money. After the Packard, among other cars, I had a '41 Buick seven passenger, a '49 Cadillac seven passenger, and a '58 Cadillac seven passenger."
"As a mechanic, I drove a lot of cars and came to appreciate not the fast cars but rather those that were well-built. Cadillacs and Packards were both top of the line automobiles with ultra-smooth, quiet rides and plenty of power," he says, "And the Packards were built even better than the Cadillacs."
Wilson's passion for the big iron led him to purchase, fix, and sell over 60 cars between age 16 and 21. Life and career eventually took him away from repairing cars, but as with so many restoration stories, fond memories remained and eventually pulled him back to his automotive love affair. Using his experience creating the informational website (JazzStandards.com) he decided to create PopularRestorations.com. Soon after he chose the 1946 Packard as the website's feature car.
"Here's what's funny: the name of the car. It's a 1946 Packard Custom Super Clipper Eight Extended Wheelbase Line Four Door Sedan Seven Passenger. I think that's funny just in itself," he says, and adds: "One thing I'd like to point out is that in the Extended Wheelbase Line, there's the "Seven Passenger" version, and the "Limousine."
The limousine has a separation window and leather on the front seat as it is designed to be chauffer driven. I looked in the Classic Car Club of America registry, and their directory shows that there are only one or two seven passenger sedans from 1946 and only a dozen or so 1947 seven passenger sedans, so there really aren't many left," Wilson says.
Locating the Car
Over 40 years after that first Packard, Wilson set out to locate a 1946 Packard Clipper Seven Passenger. To find a solid example, Wilson began a nationwide search. "I was watching eBay and Hemmings, that sort of thing. This car was in Sacramento. I flew down to look at it and drove it home. It was either bold or foolish, depending on how you want to look at it," he says.
The drive home to Portland began the bonding process, and the shopping list for the restoration.
"I got the oil changed, and Jiffy Lube made me sign a release to even change the oil as they had no specs for it. I got on the freeway and the whole car was rumbling from the old bias-ply tires it had been sitting on. The overdrive wasn't working and I was afraid to push it much over 55 MPH," he says.
"The other salient thing I noticed on that trip was that everywhere I stopped, people would come over and ask me questions about the Packard, or tell me about their collector cars. People would come up to me in coffee shops and ask me about it. People on the freeway would give me thumbs-up for it," Wilson recalls.
Deciding on the Restoration
Like many first-time restorers, Wilson wondered where to begin, and what the goal of his project should be. Expert advice helped him find the way.
"The first challenge was to decide how to restore it. Really, what I wanted was to be able to drive the car anywhere, safely and comfortably. I talked to Bob Earls, a veteran restoration mechanic, who told me that this model and year is considered a 'Full Classic' by the Classic Car Club of America. It's a significant distinction for a car. So I made the decision to restore the car to its original condition." Wilson says.
Safety First to Last
Having made the decision to go with an original restoration, Wilson set about to make the car as good as it could possibly be.
"I found out that if I rebuilt the stock suspension, it should work fine. Packard uses recirculating ball steering, and for cars of that age it's a very good steering box. For the engine rebuild, I chose Portland Engine Rebuilders because they offered a solid warranty and they had extensive experience with Packard engines in general." he says.
Wilson has spared no expense on basic safety and drivability.
"I had the brakes redone by Ott's friction in Portland. Like all cars of its era, the Packard uses drum brakes all around. Ott's relined the shoes and turned the drums. Then I had the drums ceramic coated to disperse heat. They were rusty-looking, and I want them to last years without rusting again," he says.
"When I looked to the brake hydraulics, I was able to find new wheel cylinders and then had a place called Hagen's Parts and Machine Shop in Puyallup, Washington sleeve them. For about $50 per wheel cylinder and $125 for the master cylinder they sleeved the cylinders with stainless steel. Now the brakes are better than original in just about every way. The wheel cylinders, master cylinder, linings and drums are all new," Wilson says.
Making a Classy Chassis
Determined to restore every inch of the car, Wilson created a set of stands to hold the body above the frame so that each could be separately prepared.
On the Packard Super Clipper, "Extended Wheelbase" means 148 inches between the front and rear tires. With a car this large, transportation on modern trailers is a challenge.
"The chassis is so long that it won't fit on a standard U-haul trailer. We had to slide out the trailer ramps and the chassis sat back so far that the tongue weight was about a negative 200 pounds," Wilson says.
Cleaning and painting the frame and suspension was a big challenge for this project. "I eventually decided just to send them out to the powder coater. Not having to wire brush and chemically clean everything was a big incentive," Wilson says.
But it's not just the big parts that pose a daunting task for the restorer. When you're working towards a complete restoration, there are hundreds of small parts to be considered.
"I had over 100 zip-lock bags with notes for the bolts that came from the various places on the car. When it came time to start assembling things, the thought of opening every bag and cleaning all these bolts was just overwhelming to me. I would have to sit each bolt in paint remover and rust remover overnight, and I'd still have bolts with no plating and no paint on them. I didn't want to just assemble the whole thing and paint it, so I had to choose what kind of plating I wanted to do. The logical choices are zinc, black zinc, or cadmium. So I took all of the bags of nuts, bolts, and other fasteners to be cleaned at American Metal Cleaning in North Portland, and then to Eastside Plating to have them cadmium plated," Wilson says.
To keep everything organized, Wilson took photographs of the contents of each bag, and then re-sorted the hardware when it was returned. "It's time consuming, but not as bad as having to clean every bolt yourself," he says.
Putting It All Together
"After six months, I had replaced all the front suspension bushings and reassembled the frame and suspension. I had the frame and rear end housing powder-coated and sent the leaf springs out to be redone. I had the rear end set up by a professional because it uses tapered axle bearings that need to be shimmed. Dan's Gears in Sherwood assembled the rear end for me," Wilson says.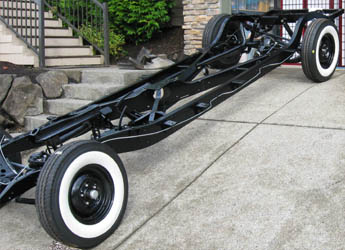 A year after he started the restoration Wilson took the body to be walnut shell blasted and the doors, fenders, hood and trunk lid to be dipped. He then had it painted and didn't work on it for a few months but then finished the restoration nine months after that.
60+ Articles Detailing the Restoration
You can see over 60 articles detailing all aspects of the 1946 Packard restoration by starting at this link. Once there, click the "Next" links to go through the articles, one by one. Or look up individual topics by going here: Restoration Topics.
Car Shows
The Packard has won Best in Class at the Forest Grove, Oregon Concours d'Elegance, Columbia River Concours d'Elegance, Cottage Grove Concours d'Elegance, and scored 99.75 points (out of 100) at a Classic Car Club of America Grand Classic national event. It has also won Best in Show and many other awards at car shows in Oregon, California, and Washington
.Forest Grove Concours d'Elegance, Oregon
Columbia River Concours d'Elegance, Washington