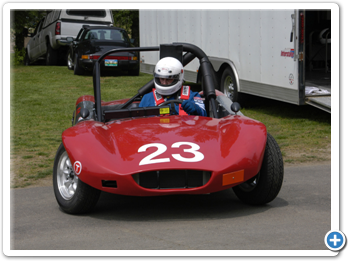 Although the car is more than 40 years old, it is still new. That means there have been teething problems.

First race out, a special, competition water pump bought from a firm I've trusted for years, simply came apart. All the bolts holding it together backed out of their holes, the engine overheated and the pistons scored two cylinder walls. Scratch one block and four NOS pistons.

Three months later -using a tired old mule motor from the 850 Spyder I bought in the $500 fire sale -the car spun coming out of the first corner of the first lap of the first practice session of a three day weekend. A Saab Sonnett, with no place to go, centerpunched the special's nose, splattering fiberglass, twisting the radiator, bending the steering rods and tweaking the chassis.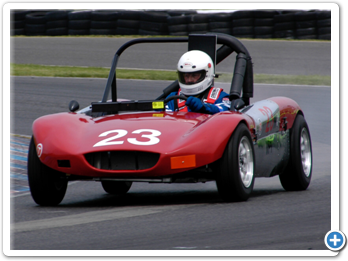 It took a year and a couple thousand dollars to get it back together. There comes a point in the process where one begins to ponder if this car is a good investment of time and capital, if it isn't time to heed my wife's advice and look for something different to race.
And then something happens to make everything worth while.
An email arrived from a woman in Southern California.
Like Clint Thorgeirson, Karen Taylor was searching through the internet chaff when she stumbled upon the same site about the Thorgeirson Special's restoration.
She asked, if by chance, I knew the builder?
Taylor explained that she is Doug Thorgeirson's daughter by his first marriage, and that she hasn't seen her father in more than 40 years.
I responded, explaining I hadn't talked to Doug in a long while, but that I do, on occasion, email his son, Clint.
Clint, she replied, is her younger brother, who she has also spent years trying to locate with no success.
An email goes to Clint. An email goes to her. And then an email goes to both, introducing a brother and sister who have never spoken to one another before.
Three weeks ago I got an email from Clint. He sent an attachment. It was a photo of him and his sister, who have become great friends.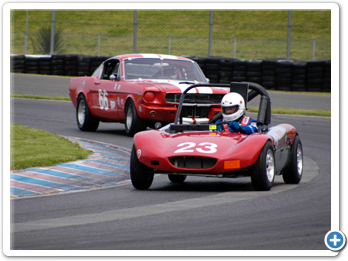 And it was all because of the car.
I put the special up for sale recently, and it has found a new home in Southern California, as part of a modest fleet of vintage race cars owned by a driver who appreciates the unique history each line carries.
The day after I took a deposit on the car, I went out to the shop and peeled back the cloth dust cover, and had a conversation with myself...and with the Thorgeirson Special. And I told both that if I never race again...well, that's OK. The saga of the car reminded me there are things in life that mean far more than another checker flag and restoring metal and fiberglass. There are things like family...and that we've had the incredible good fortune to be part of restoring one of those, also.