You might want to take notes on this couple's approach to car collecting. Few owners are as able to integrate the hobby and its pleasures into so many aspects of their lives.
Matt and Karla Hackney bought their 1949 Packard Deluxe Eight Four Door Sedan in 1995 and continue to drive it on a regular basis. To it they've added a 1938 Packard Rumble Seat Coupe and a 1953 Nash Healey Roadster (both show quality), and most recently a 1947 Packard Custom Super Clipper Eight Limousine.
Their cars are more than a hobby; they are instrumental in their family life and community involvement as well as their recreation and transportation. Although the Hackneys are third-generation Packard collectors, Matt downplays the collection aspect, saying, "To us, they're just 'The Cars!'"
Karla's father is a long-term member of the local chapter of Packards International, established in 1974. As of this writing, Karla's mother is Tour Master and Matt is President. He and Karla joined 15 years ago and have participated in dozens of club tours.
"In the 15 years that Karla and I have been members we may have missed 4 or 5 tours," said Matt. "One of us always tries to make each tour. I think it's important to support the club that way."
The family's keen interest in automobiles began with Karla's grandfather.
"This is something that goes back 60 years, easy, in Karla's family," said Matt. "Her grandfather had a lot of early brass and several big Packards, a couple of Rolls Royces, and a lot of horse drawn equipment, carriages and wagons. He basically had an old time museum. Unfortunately, he passed away before it really got rolling. When they closed, it a lot of his stuff ended up going down to Harrah's Auto Museum in Reno.
"Karla's dad picked up the hobby as a young man. He did his first restoration, a 1920 Model T, beginning at age 13. I think he finished it when he was about 15. He used it in a lot of parades, drove it around during High School, and just had fun in it. Next he restored a 1931 Model A and drove it to college. That's how he started his collection, with those two cars."
Matt and Karla have known each other since their early elementary school days. And Matt's interest in cars began as a young teenager, a direct result of his friendship with Karla's family.
"We got married in our late 20's and one day we saw an advertisement for a '51 Packard. That got our attention because of Karla's dad's interest in Packard's, so we went to look at it and a couple of others. We told her dad about it shortly after that and he said, 'Well, I know of a '49 for sale.' So, not knowing what a '49 looked like, we checked it out one evening. It was dark and that's the first and last time I'll ever buy a car in the dark. The floor was rusted out but I didn't see it until a couple of months later. I was crawling around in the garage and noticed that I could see gray carpet padding from underneath the car."
Eight years later the Hackneys acquired their 1953 Nash Healey Roadster as a basket case.
"We went to the National Nash Convention in 2000 with a friend of ours who had a Nash Healey Coupe," said Matt. "There were seven Healey Roadsters, from 1951 to 1953, and one in particular was just drop dead gorgeous. It had the most beautiful wheels on it and we both looked at it as if to say, 'Okay, we could do one of these'. A couple of years later we found our '53. Its owners had started the restoration and unfortunately were killed in a bicycle accident, so we bought it through a friend of ours from the estate."
With the roadster finished, Matt and Karla continued the family Packard tradition and purchased their 1938 Super Eight Rumble Seat Coupe and acquired their 1947 Limousine in late 2007.
"We chose the Packards because Karla's dad is so heavily into them," said Matt. "Her grandfather also owned Packards, not only as collectibles, but he drove both a '56 Four Hundred and '55 Patrician until his passing. And her dad drove them as a young man.
"Our '38 coupe had been restored about 25 years ago in Southern California. It's been on several caravans with The Classic Car Club and on a lot of local trips.
"The '47 Limousine has a lot of originality to it. Unfortunately some of that originality will need to be replaced with broadclothupholstery that won't tear when you look at it. It's got several problems, but it's a fun car to drive."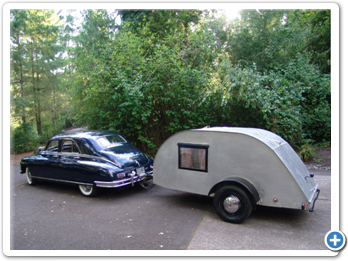 In addition to club tours, Matt and Karla drive their cars often including taking friends along to garage and estate sales. For camping, they pull a teardrop trailer behind the '49 Packard, a sight that is guaranteed to turn heads.

The Hackney's have a relaxed, but effective attitude when it comes to maintaining their vehicles.

"I'm kind of haphazard," said Matt. "I'll make sure the oil is changed and put premium fuel in them. For mechanical issues I take them to my brother-in-law who is a mechanic."

And they figure that driving the cars occasionally is the easiest way to get them through the winter season.

"I never use a fuel stabilizer," said Matt. "I've talked to my brother-in-law about that and he said, 'If you're using the premium fuels, you're not going to have the break-down problem you do if you're using regular.' I don't tend to let the cars sit. Even in the winter time they get pulled out and driven. I figure it's easier just to wait for a dry day and get in and drive it around. At least it's easier when you have one versus four versus eight or more cars."

As with any hobby, it takes time to maintain four cars and participate in three clubs (the local chapters of Packards International, the Classic Car Club of America, and the Nash Car Club of America).

"Between the cars themselves and the car hobby, I probably put in 15 hours a week easy," said Matt. "More than that in the summertime."

And judging from their enjoyment, that time is well spent!