The brakes on your restored car are even more important than those on your daily driver. That's because the brake design on your restored classic is probably not as good as the brakes on any new car. That means getting the brakes into top working order is necessary to give you stopping power comparable to what you're used to having every day.
Even though older brakes aren't as efficient as modern systems, with careful restoration you can make your car stop better than it did the first time someone drove it home. This is because you can always use modern abrasives, which is where the biggest advancements in braking technology have been achieved.
To begin, most brakes in restoration project cars are hydraulic (sometimes called "Juice") brakes. This means that when you step on the brake pedal, you're actuating a piston in a hydraulic cylinder and pushing fluid through a series of tubes to other hydraulic cylinders. Pistons in those cylinders are pressed outward and force the brake abrasives into contact with the brake drum or disc.
Hydraulic brakes work very well, but in most old cars, there is rust and corrosion inside the lines and the cylinders, and this must not only be removed, but the cylinders must be smoothed inside to seal properly. Additionally, the abrasive materials must usually be replaced and the drums or discs must be machined smooth.
When restoring your brakes, you can purchase hydraulic rebuild kits and hones to smooth the sealing surfaces, but it's usually not much more expensive to purchase professionally rebuilt cylinders. These come with a warranty and have been tested to make sure they seal well.
| | | |
| --- | --- | --- |
| | | Warning... |
Be sure to at least blow out your brake lines with compressed air and replace all flexible lines as you work. Rubber flex lines swell and become infirm over time, and every time you step on the brakes, old flex lines will swell like balloons. This gives your brakes a "spongy" feel that you can't eliminate with bleeding. And eventually those lines will burst.
One area where you can make a big improvement is in the brake abrasives. Modern abrasives give you more stopping power in the same size brakes and also dissipate heat better than original materials. Be aware that these materials may abrade your drums or discs faster, but most restored classics are not driven enough miles to make this a serious concern.
If you have mechanical drum brakes, or a pre-World War 1 car with strap brakes where the abrasive material is placed on a strap wound around a drum and tightened when you actuate the brake, you can still improve performance by changing the abrasive material.
Lastly, when you have your drum or disc surfaces smoothed, be sure to ask the machine shop to "rough up" the surface. They'll use a special tool to scratch a crosshatch pattern in the abrasion surface which will help increase surface area and help your brakes to "bite."
As you reinstall your brakes, be sure to carefully examine all hinges, clevis pins, and other mechanical connections to be sure there's not excessive play in the connection. When you reassemble hydraulic cylinders or brake calipers, remember that the air bleed valves are always positioned at the top to let air out of the system. Get a friend to help you bleed your brakes and start with the wheel farthest from your brake master cylinder. Use plain DOT3 brake fluid unless your parts supplier specifies a different grade.
With just a little attention, your brakes can easily end up better than they were when your car was new, and that's an effort worth making.
| | |
| --- | --- |
| | DO |
Use a respirator any time you're working around brake dust
Seek professional help if you're not confident of your skills when working with brakes
Carefully restore all brake components, including lines and power boosters
| | |
| --- | --- |
| | DON'T |
Don't re-use old pads and shoes, even if there is plenty of material left
Don't machine a brake drum or disc past its minimum service thickness
Don't use brake fluid that is not compatible with your hydraulic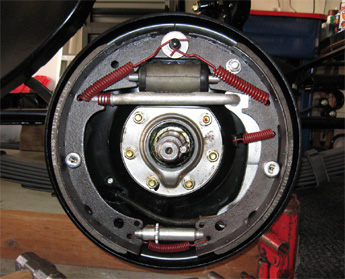 With utmost safety in mind, I took special care in restoring the brakes on the feature car. I had the shoes relined and the drums turned at Ott's Friction Supply and then took the drums to Finish Line Coatings for a combination of thermal dispersants and heat barrier coatings. The coatings are supposed to cut brake fluid temperatures in half and significantly reduce brake fade.
Ott's Friction Supply recommended Hagen's Hiway Auto Parts, Inc. who stainless steel sleeved the wheel cylinders and the master cylinder, all for about $225.
The stainless sleeves will keep the cylinders from pitting, so with periodic fluid changes, the brake system should last a long, long time.
Ed Bruzer, VP of Sales
201 N Columbia Blvd
Portland, OR 97217
503-283-4165

PR: How do you approach working on vintage brakes?
EB: Our claim to fame is discontinued brakes. For example, if you're talking about a 1955 Studebaker, you can't go to a book and look it up and expect to get brake shoes for it. The manufacturers simply don't make them anymore. We take the old shoes or pads and reline them with a new lining. We refurbish the shoes and offer a choice of four or five linings, to best fit the needs of the vehicle.
PR: What is the process for refurbish shoes and pads?
EB: We cook the lining off in an oven at about 850 degrees. Then we'll clean up and shot-peen the shoe itself. Then we rivet or cook on a new lining.
PR: How about banded brakes?
EB: We get into a lot of that with very old cars. For example, we just got a 1925 Overland, and each wheel has its own band. There are a lot of materials we can put on those.
PR: Can you fabricate shoes if someone doesn't have the originals?
EB: In many cases we fabricate parts. And we have a lot of core parts on-site, and in some cases we can come up with a core to replace the missing piece.
PR: What sort of materials do you use?
EB: We have brake linings that far exceed the manufacturer's specs from when those cars were built. For instance, one of the most popular linings we put on brake shoes is a formula called ABEX 685. It's a 23,000 pound truck lining used in garbage trucks and cement trucks where there's a high duty cycle. It helps performance and takes some of the burden away from the front brakes. It's just one of many different linings we have. We don't use anything with asbestos, of course. But we have a lot of different types of lining from heavy and light duty woven that was used on Model Ts and Model As, right up to some really aggressive applications such as logging equipment.
PR: Do you work with brake hydraulics?
EB: We're one of the biggest Bendix houses in the Northwest. We carry the Centric line, ABEX, Wagner, Raybestos, and pretty much anything that has to do with brakes, from automotive through heavy industrial.
PR: How much should I expect to spend to reline a set of good brake shoes?
EB: I would say you're looking at $10 to $20 per shoe. So the most you'd be looking at is about $80 for a set of shoes, or as little as $40. And that's not a stock lining, either. We can give you much better materials than the manufacturer. We look for longevity and performance over time.
| | | |
| --- | --- | --- |
| Click on any item below for more details at Amazon.com | | |
---
Fred Puhn
Brake Handbook


HP Trade, Paperback, 1987-01-01

This well-reviewed book covers drum systems, disc systems as well as providing information on converting from drum to disc. It includes basic braking theory, practical applications, cylinder size calculations, information on brake boosters, calipers, pads, rotors, drums and much more.
---
The Nichols/Chilton Editors
Brake System Diagnosis and Repair


Haynes Manuals, Inc., Paperback, 1998-03-01

This book covers everything needed to safely perform brake jobs. Includes inspection, maintenance, repair and rebuilding brake components. Also includes extensive brake specifications.
---
Mike Mavrigian, Larry Carley
Brake Systems: OEM & Racing Brake Technology


HP Trade, Paperback, 1998-10-01

The first half of this book covers brake basics and original-equipment information. The second half covers racing brake systems in great detail, for every type of racing use. Both sections are well done providing a useful text for racers and non-racers alike.