For most classic automobile restorers, amateur and professional alike, restoring upholstery is a particular challenge because it requires an entirely different skill set than rebuilding an engine or a set of brakes. Many of us are adept at turning a wrench or hammering down a dent in sheet metal, but present us with a few yards of upholsterer's cloth or a leather kit with welting and we're as lost as someone who never learned "Righty tighty, lefty loosey" trying to assemble a crankcase.
But creating quality upholstery is among the most critical of restoration steps if you plan to have your car judged, or indeed if you simply want to drive your car in comfort.
Let's cut to the bottom line here-probably 95% of restorers take their upholstery work to a professional, and the other 5% are professional upholstery restorers.
However, if you would like to try to restore your upholstery yourself, there are some conditions that, if they apply to your project, will offer you a great chance of a successful outcome on your own.
Read on, and be honest with yourself about the answers:
Is your upholstery situation very, very simple, or is your car very popular? For example, on my MGA roadster, the upholstery consisted of some new premade seat pads, some premade leather seat covers, a one-piece replacement armrest, and some easy-to-install premade side panels. It was the work of a leisurely afternoon to get the upholstery (and the new carpet) installed because the parts were simple, and the demand for MGA parts is high enough that a complete restoration upholstery kit is a line-item in several catalogs.
On the other hand, if you're restoring a full classic limousine, you have to be prepared to source fabrics from overseas and get them sewn into the correct pattern, perhaps with welting or other trim. Seatbacks, arm rests, door panels, headrests and headliners may all require different leathers or fabrics, and if your car is not popular enough to create an aftermarket in easily installed kits, you will have to get this done somehow. And just like homemade clothing, the difference between perfect fit and a botch job is the real skill level of the craftsman.
Is your upholstery very expensive? Color-matched top grain leather doesn't come cheap. Nor does suede or velvet or two-toned cloth. If you're restoring a really old or really cheap car with just a leather covering over a wad of excelsior fibers and stapled on the bottom of the seat board, you're in luck. You won't risk much investment doing that yourself. However, for most of us, once we see the price of the raw materials, we won't want to risk having to do this work twice, and it's time to call in pros.
Don't be ashamed if this is the only part of your restoration that you farm out. Upholstery at this level, especially creating upholstery from raw materials, requires specialized tools (got a leather sewing machine handy?) as well as refined skills. No one will think the less of you for taking this part of the project to someone who knows what they're doing.
| | |
| --- | --- |
| | DO |
Honestly evaluate the difficulty of doing a good job on your upholstery
Price out the cost of restoration materials for unusual projects
Take a sample of the original with you when you shop or go online to find replacement products
Be ready to substitute a similar material if the absolutely correct stuff is outside your budget.
| | |
| --- | --- |
| | DON'T |
Don't throw anything away until your new upholstery is done
Don't choose to believe that you can learn as you go
Don't choose to believe that no one will notice the difference between cheap vinyl and original leather
Don't try to use a clothing sewing machine on leather upholstery. It just won't work and you'll break the machine.
When I bought the Popular Restorations feature car I hoped to have the interior redone for about two thousand dollars. Although the back seats and door panels looked good, they were sun damaged and starting to tear with normal use. I checked with a couple of upholstery kit manufacturers and found that 1946 Packard seat and headliner kits were available, but not for the Seven Passenger Sedan. That's because so few were made, and the Seven Passenger interior is designed differently. It has a fixed partition behind the front seat that needs upholstery and the back of the seat itself is not upholstered. Also, there are jump seats that fold up into the partition and the headliner is longer.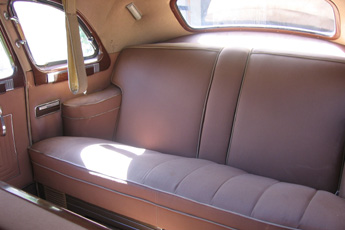 Original interior
For the fabric, I chose an English wool broadcloth that matches the original fabric in texture and color. The first upholsterer got the job most of the way done but was running considerably behind his initial and subsequent time estimates. To be fair though, most of his work looked good.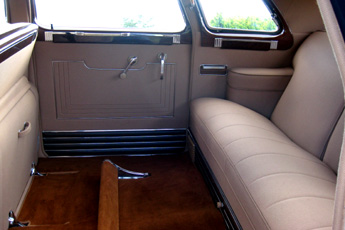 Finished interior
I hired a second upholsterer who adjusted the panels and reinstalled the windlacing. He also inserted foam into the bottom cushion coils which raised the driver sitting position several inches as it had settled a bit. He placed a steel rod across the upper cushion about at the lumbar level. The rod is under the padding and is tied to the back of the coil frame, firming up the back of the seat. Now the seat is very comfortable and the upholstery looks great! The rear seat is beyond comfortable and, with the arm rest down, feels like plush living room furniture.

Jack Mayeaux, Owner
Box 23063
Tigard, Oregon 97281
503-267-8824
www.jacksupholstery.com
PR: If an amateur is doing a restoration, is it accurate to say that they need to take their upholstery work to a professional?
JM: Yes, that is accurate.
PR: I've used upholstery kits in the past, and they've worked pretty well. How much harder is it to start from raw materials. Can you take me through the process?
JM: It's great if you have the original materials still on the car, because otherwise you have to depend on other restorations in your area. But if you know what the materials are, there are a number of good companies that can help you get the right materials. One of these is LeBaron Bonney (www.lebaronbonney.com). They've got the original mohair, windlace, and others that can be custom-made, or you can find an alternative material that's very close. It depends on whether the client wants to put it back to original for a 100-point car or something that's just like the original.
PR: I've heard that sometimes sourcing rare products just isn't possible for very old cars?
JM: There are some sources for specialty cars like Packards and Rolls, because there are clubs around the world that have done a lot of this research for you already, and you can plug into those clubs to find what you need. But for example, right now I'm working on a 1937 Nash Lafayette, and nothing's available for it at all. So we're going with an original style of mohair fabric, but it's synthetic mohair. And we've been able to find other products that aren't the same pattern, but they are the same style.
PR: As far as sewing skills, it takes a lot of practice to learn the techniques, right?
JM: It takes quite a bit of fitting. A lot depends on whether you have good patterns, but even if you have a good pattern, many times they're stretched out of shape. Even if you take apart the old upholstery stitch by stitch and seam by seam, sometimes you can hardly use it. Other times you've got no pattern at all, so you need the skill and experience to build a pattern off the frame itself.
PR: What equipment do you need to do this work?
JM: You need an industrial sewing machine with a walking foot. It takes a lot of hours on the machine to be able to sew a straight line.
PR: How is old upholstery different from newer cars?
JM: Old cars are like antique furniture. They have wooden frames and they use materials like burlap, cotton, horse hair, and a lot of stuff is hand stitched and hand tacked. Springs are tied with spring twine -made using the same techniques as antique furniture. Then with more modern cars, you see more of the automotive style of construction.
PR: How much should people expect to spend on a restoration job?
JM: It's really hard to say. If you're doing carpet, headliner, door panels, and seat covers and you're coming up from bare metal, you can spend $2,500 to $3,000 pretty easily. Some of the older cars can run $5,000 labor, plus materials. So it can run $6,000 or $7,000 by the time you're done. It's not uncommon to take 100 hours of labor on a project like that. For two buckets and a back seat in a more modern car, it can run you $1,500 to $2,500.
PR: Anything else to mention?
JM: Talk to your upholsterer before you tear anything apart! Even if we don't need to take the upholstery apart seam by seam and stitch by stitch, we need know what it looked like. And take really good care of headliners and other parts that may be hard to replicate and very important. At a minimum, try to take really good pictures.
| | | |
| --- | --- | --- |
| Click on any item below for more details at Amazon.com | | |
---
Dennis W. Parks
How to Restore and Customize Auto Upholstery and Interiors


Motorbooks, Paperback, 2005-09-29

This book primarily focuses on creating custom upholstery and interiors for hot rods, but the basic practices are all the same, and the techniques apply well to any restoration job. Seat uphostery, dash, headliner, and interior panels are all covered.
---
Don Taylor
Automotive Upholstery Handbook


California Bill'S Automotive Handbooks, Paperback, 2001-11-02

This is the book to have for upholstery work. The author provides illustrated step-by-step instructions for virtually all necessary restoration procedures from rebuilding a seat to creating a convertible top. Tool tips and custom work information is also provided.
---
Don Taylor
Custom Auto Interiors


California Bill'S Automotive Handbooks, Paperback, 2003-11

This is a fun book, full of color photographs that illustrate the process of creating a custom interior from scratch. Although the emphasis is on custom work, the same principles will apply to restoration, especially if you are in the position of having to re-create a stock-looking environment, rather than installing reproduction pieces.
---
Anytime Tools
7 pc CAR DOOR PANEL, TRIM & Windshield REMOVAL TOOL


Remove auto door panels and trim without damaging the connectors with these tools. Designed to fit most makes and models. Includes a square notch door panel remover, V notch door panel remover, curved V notch door panel remover, window and door handle remover, and a trim pad remover.
---
RepairPlus1
Fabric, Carpet & Upholstery Repair Kit


This kit repairs holes, rips, tears, burns and more. It contains seven intermixable fabric fiber colors to match nearly any material. One kit makes multiple repairs.