Windshield wipers are such a simple part of your car, so why do so many restorations have slow or ineffective wipers? The answer is in two parts -first of all, many old cars just never had very impressive wipers. Secondly, the wiper motor is frequently original to the car and very tired after all these years.
Dealing with your wiper blades is simple ­- even if modern blades don't fit on your old wiper arms, you can (and you probably should) just purchase the rubber blade inserts and cut them to the proper length you need. Also, take some time to freshen up your original blade components. Often a quick retouch with flat black spray paint is all they need to look like new. Just make sure that the wipers you're restoring are in fact original or at least period-correct!
The sticky problem with wiper restoration is usually the wiper motor. These components are often placed in the car's cowling, and if the cowling drains get plugged up the wiper motor and its hardware can sit in a bath of dirty rain water for years. Even if it has not been submerged longer than the Titanic, chances are that the wiper motor has been subjected to harsh conditions.
| | | |
| --- | --- | --- |
| | | Hint... |
This article focuses on electrical windshield motors. For vacuum motor parts and repair look at Hemmings.com (search in Parts or Services). You can usually get your Trico vacuum motor rebuilt for under $100.
But before you start searching for the elusive new old stock (NOS) parts, take some time to assess just how bad your wiper assembly really is. In many cases, a struggling wiper motor can be helped just by making sure that the ground wire is clean and well-attached to the chassis and that the power wire is delivering the proper voltage. You may want to remove the wiper motor and conduct some tests on your workbench. Check to see if the motor armature needs some fresh oil or grease on its bearings to help it turn freely. You may also be able to replace the brushes in the motor to freshen things up.
Be sure to also check your wiper switch in the cabin to make sure it's delivering the proper signal to the motor. In some cars, all the power to run the wiper motor has to pass through that switch. If you can do it discreetly, you might consider installing a relay to deliver a stronger current to the motor.
Finally, be sure to go over the associated hardware and make sure that it is clean, repainted, lubricated, and working freely. Your motor may have enough power to run the wipers, but not if the hinges and other moving parts are putting up a fight.
Even if you never ever drive your classic in the rain, a set of well-functioning wipers will provide a little extra demonstration of quality and attention to detail that can impress show judges
| | |
| --- | --- |
| | DO |
Clean, paint, and lubricate the entire wiper system
Retain your stock wiper arms and blades
Take your stock wiper blades with you when you shop or go online to find replacement products
Check all electrical connections and switches
| | |
| --- | --- |
| | DON'T |
Don't throw any wiper parts away until your restoration is done
Don't put 12 volts through a 6 volt wiper motor - it will turn faster, but only for a little while!
Don't choose to ignore a wiper motor that gets hot or is dirty just because it's out of sight
Don't install obviously modern wiper blades on a car you don't intend to drive in wet weather.
The windshield wipers in the Popular Restorations feature car work beautifully. Not because of anything I did. They just worked well right from the start. All I did was remove them from the firewall when it was time to prep the body for painting and then reinstall the assembly when it came time.
By the assembly I mean the motor, the drive housing, and the frame and link assembly (the arms that go to the wipers). Just as with the heater motors, though, I installed clear shrink tubing on the wiring that goes into the motor so there will be no chance of the insulation breaking up.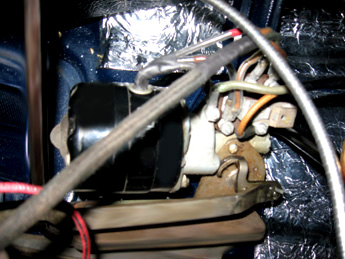 The only new parts required were a couple of rubber gaskets that go between the wiper arm bases and the body, which I purchased from Steele Rubber.

Bill Jungck, Owner
8420 SE Hinkley Ave
Happy Valley, OR 97086-3616
Phone: (503) 777-7172
PR: Sometimes if restoration projects have been sitting outside for several years, the wiper motors have been sitting in a bath of old rainwater for years. How bad does it have to be before you can't bring them back?
PMX: Probably one like you describe is bad enough. If everything's eaten up with rust, you can't even get them apart without breaking the screws off.
PR: But if it's not too far gone, what do you do?
PMX: Wiper motors are among the worst because of the environment they work in - exposed to rainwater and stuff. But basically, if they're not too bad, all they need is to be cleaned up and sometimes the brushes are gummed or rusted into place. If you can get everything apart and the pieces out and if you can get everything moving freely, they can be rebuilt.
PR: How about two-speed wiper motors - how do they work?
PMX: There are different ways they work. Some of them use a rheostat delivers higher or lower voltage to it, and sometimes there's an extra set of wires that connects a second field coil for the second speed.
PR: Is there anything particularly different about wiper motors?
PMX: No, not really. Sometimes the parts and circuits are more of a hassle if they're burned up, and finding parts can be difficult, especially with rare or very old parts.
PR: Anything else?
PMX: Headlight motors are very similar. We've rebuilt a lot of those - it's the same basic thing. You have to take them apart and clean them up and rebuild them. They're sitting in the weather like a wiper motor.
| | | |
| --- | --- | --- |
| Click on any item below for more details at Amazon.com | | |
---
Peter Wallage, John Wallage
Repairing and Restoring Classic Car Components


Haynes Publishing, Hardcover, 2002-01-17

This book will show you basic workshop techniques, such as welding, grinding, riveting and soldering. It walks you through specific restoration tasks such as restoring door locks, fuel pumps, distributors, speedometers, and much more. It has a full chapter on windshield wipers and their motors. The focus is on British cars.
---
Haynes
Haynes' Automotive Electrical Manual


Thomson Delmar Learning, Paperback, 1999-01-15

A complete guide to electrical system troubleshooting, repair, maintenance and rewiring. Clear step-by-step instructions and hundreds of photos show you how to do a professional job yourself.
---
Matt Strong
Custom Auto Wiring & Electrical HP1545: OEM Electrical Systems, Premade & Custom Wiring Kits, & Car Audio Installationsfor Street Rods, Muscle Cars, Race Cars, Trucks & Restorations


HP Trade, Paperback, 2009-04-07

This book covers electrical theory, wiring techniques and equipment, custom wiring harnesses for racing, hot rods and restorations, pre-made wiring harnesses, special electrical systems (navigational, audio, video), troubleshooting common electrical problems, dashboards and instrument, and trailer wiring.
---
Greg Donahue
How to Restore Your Muscle Car


Motorbooks, Paperback, 2005-11-07

This book covers all aspects of restoration in detail, with a focus on the special issues found in 1960s and 70s muscle cars. From car selection through engine and interior restoration, this book is full of photos, illustrations, and step by step procedures. Examples are given from all domestic automakers. Reviews have been generally positive, for example (from AutoWeek): "With clean vintage muscle cars skyrocketing in price, this second edition has good timing, providing updates on parts sources and restoration techniques. We didn't use the book to restore a muscle car, but we found it clear and concise, with user-friendly disassembly diagrams and 1,300-plus step-by-step photos, from choosing tools and which muscle car to restore, to completing the restoration."
---
Vyvyan Lynn, Tony Molla
The Complete Idiot's Guide to Auto Repair


Alpha, Paperback, 2007-07-03

This book shows you how to make some of the most basic repairs. It includes more than 300 easy-to-understand illustrations, a 50-page self-diagnosis guide organized for quick troubleshooting, and step-by-step illustrated instructions on how to conduct routine maintenance.