Most of the time in restoration, we strive to bring the car back to its original condition, but insulation is one area where you can make your car substantially better than it was when it was built. Purists will still choose to restore to original specification, but insulation is generally invisible, and new products can help you minimize noise and heat in the car and even reduce the potential for rust in the future.
Automakers built their cars using all kinds of insulating materials. Some of them are tar-based sheets of sticky gunk that petrified into place over time, and some of them are batting made of fiberglass or wool or God knows what, now crumbling into dust or holding moisture up against your car's bodywork.
As your restoration progresses towards reassembly, you need to decide if you want to use original (or similar) products, or if you will cheat just a little and use a better modern product. Modern insulation will be made of closed-cell foam or bubble plastic, but it will be wrapped in Mylar or other impermeable sheeting, and it will have a light glue or tacky surface on one side. The advantage of these products is that they will not degrade like the original insulations, they work better at reducing noise and unwanted heat, and they are easier to install and remove than the original products.
Whatever you choose, insulation generally comes in sheets, and you will cut it to fit your car. With the sticky-backed products, you can also cut and install small pieces to reduce trim squeaks and hot spots where exhaust heat finds its way to your cabin.
Good places to think about adding stick-on insulation (even if your car didn't have it from the factory) include the inside surfaces of wheel wells, the floor pan and transmission tunnel, the firewall and trunk panels, and the inside surfaces of your car door skins.
If you choose modern materials, only the most exhaustive inspections will reveal your anachronism, and even then, it's probably only a partial-point deduction. Still, for a pure show restoration, you'll probably want to choose original materials. But for a car you plan to drive, modern insulation materials are likely to make more sense. Just be sure that the new insulation is out of sight and you can enjoy a quieter and more comfortable ride.
| | |
| --- | --- |
| | DO |
Remove all insulation and check for evidence of moisture, rust and rot
Consider using modern materials if your car will be driven for pleasure
Take a sample of the original material when you shop for replacement products
| | |
| --- | --- |
| | DON'T |
Don't put non-original materials in plain view
Don't ignore evidence that original materials are trapping moisture near metal or degradable products such as carpet
Don't decide to do without insulation where the manufacturer put it
Don't leave old insulation in place without inspection
Packards have a reputation of being very quiet cars. You may have heard a Packard owner say, "When it's idling you can't tell if the engine is running." So I wanted the Popular Restorations feature car to be at least as quiet as when it was new.
When I had the body walnut-shell blasted and the doors dipped, all of the original soundproofing had to be removed. In its place I wanted to put equivalent or even better sound absorbing material.
When I was visiting Custom Automotive Restoration in Portland, Oregon, I saw how they covered nearly every square inch of interior metal with Hushmat, including the floorboard, the firewall, and inside the doors. That was my plan so I ordered a set of Dynamat kits from quietride.com. I was surprised when I received the kits that there was not anywhere near enough Dynamat to cover the inside of the doors, the floors, or anywhere else. The instructions said that full coverage was not necessary to achieve the desired effect--that putting strips in crucial areas would do the job.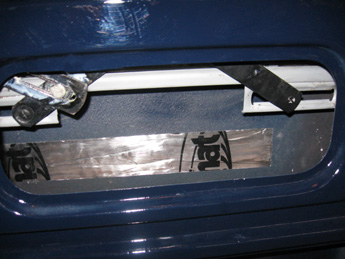 This is the door with just the Dynamat strip applied. More HushMat was added later.
In the past I had closed a few fully-covered doors and in each case it was like closing the door to a walk-in safe. After applying two strips of Dynamat to the inside of each of my doors, my impression was that it was quiet, but not like those with full coverage. I don't know how this test would translate to road noise, but I decided to add more while I had easy access to the metal.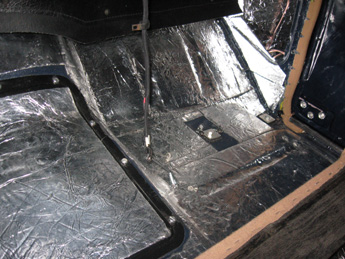 Rather than buy more Dynamat, I decided to supplement what I had with something a little more flexible with a softer feel. I bought a couple of 12"X23" 20 packs of Hushmat Ultra. I then used most of the Dynamat for the inside of the roof and Hushmat for the floor and firewall.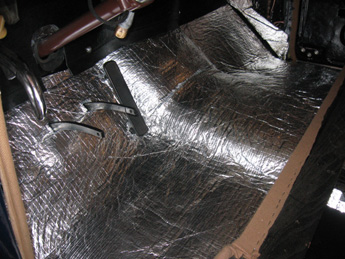 I replaced the firewall insulator with a new one from quietride.com, and then put thermal padding on the floor, front and rear.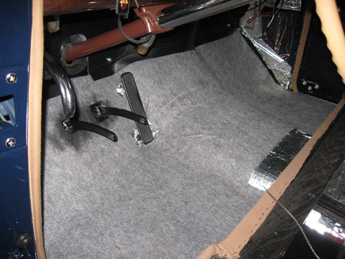 Next came the carpet padding.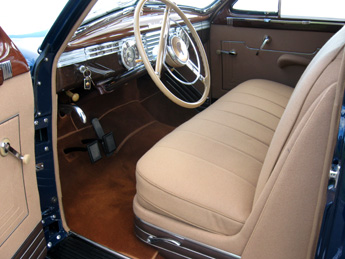 And then finally the carpet. I can't say enough good about using spray-on adhesive to glue each layer of padding to the layer below. The adhesive holds well but at the same time you can pull the layers apart if you need to do any repositioning. Initially, the carpet looked like it would have some bulges here and there but with the adhesive I was able to make it look form fitted everywhere.
I used the same materials for the trunk and now the car is very quiet and relatively cool.

Beth Maranda, Managing Director
Dynamic Control of North America, Inc.
3042 Symmes Road
Hamilton, Ohio 45015
www.dynamat.com
PR: Where does dynamat sound insulation material fit in the classic car restoration process?
BM: We have two products designed for use in restorations. The first is Dynamat Extreme, which is a constrained layer damper. You can use it in any car to give the car a quieter, more solid ride. It takes care of rattles, vibrations, and road noise. We like to say it gives an old car a new car feel.
PR: And this sound insulation can be completely hidden?
BM: One of the marketing problems we have with Dynamat is that if you go to a car show, it's probably in every car, but you never see it! It gets covered up by trim panels, carpet, and so on. It's an unseen product that's doing a world of good for your car.
PR: How do you use it?
BM: Dynamat extreme has an aluminum layer on the top, then underneath it's a butyl composite, which is sticky. It's got a release liner on it, and you just peel the release layer and then stick it on. It comes in sheets up to 24 by 48 inches. You can butt the sheets together, overlap them, or leave a slight gap between them.
PR: How does dynamat handle heat?
BM: Dynamat withstands heat up to 350 degrees, so it's just fine on the inside of your car. It also insulates against heat, so if you've got a hot spot on the floorpan, it will dissipate and spread out that heat. You can also start with the Dynamat Extreme and then overlay that with Dynaliner, which is a closed-cell foam. It won't absorb water or oil, so it won't ever mildew or deteriorate. It's a phenomenal insulation. Dynaliner comes in three thicknesses, half-inch and quarter-inch for insulation, and eighth-inch for vapor barrier.
PR: How is Dynamat sold? In sheets or in packages?
BM: It's sold in packages. We found that it's easier to sell in kits. We have door kits, trunk kits, and general kits sold by the square foot. One of the questions we get is "how much will it take to do my car?" and we tell them to measure and estimate the square footage. So, for a larger car, it can cost between $800 and $1200. A smaller car can get away with a bulk pack of 36 square feet, and that retails for $310.
PR: Anything else?
BM: People tell us that they remember their classic cars from when they were young, but when they restore them, they find that they can only drive them for 20 minutes. We're just so used to our smooth, quiet modern cars. So, to spend a little money to do a good job of sound damping on your older car will give it a new luxury car feel, but still look great as an older car.
| | | |
| --- | --- | --- |
| Click on any item below for more details at Amazon.com | | |
---
Dennis W. Parks
How to Restore and Customize Auto Upholstery and Interiors


Motorbooks, Paperback, 2005-09-29

This book primarily focuses on creating custom upholstery and interiors for hot rods, but the basic practices are all the same, and the techniques apply well to any restoration job. Seat uphostery, dash, headliner, and interior panels are all covered.
---
Don Taylor
Automotive Upholstery Handbook


California Bill'S Automotive Handbooks, Paperback, 2001-11-02

This is the book to have for upholstery work. The author provides illustrated step-by-step instructions for virtually all necessary restoration procedures from rebuilding a seat to creating a convertible top. Tool tips and custom work information is also provided.
---
Don Taylor
Custom Auto Interiors


California Bill'S Automotive Handbooks, Paperback, 2003-11

This is a fun book, full of color photographs that illustrate the process of creating a custom interior from scratch. Although the emphasis is on custom work, the same principles will apply to restoration, especially if you are in the position of having to re-create a stock-looking environment, rather than installing reproduction pieces.
---
K. Henson
Car Interior Restoration Manual


Haynes Publishing, Hardcover, 1995-05-14

This book is filled with advice on feeding and maintaining leather upholstery, repairing seat frames, renewing trim panels, curing water leaks, re-coloring vinyl trim and much, much more.
---
---
HushMat
HushMat PF400S Ultra Silver Foil Floor Kit - 20 sheets


38 square feet. Treats the floor pan and under the dash. Significantly reduces vibrational noise--no surface prep or pre-treatment required. Peel and stick--adhesion guaranteed. When you get to Amazon take a look at the other insulation products by Hushmat.
---
ThermalSound Direct
dBLyte (Under Carpet Thermal and Acoustic Insulation) 42" X 48"


14mm thickness and is highly wear-resistant and delivers maximum insulation and longevity. Easily conforms to irregular shapes and can be cut to size using household tools. Can be glued or simply laid into place. Exceptional sound-dampening properties. This product is available in other sizes.
---
---
Here are links to some other insulation manufactureres: