No one gets through a restoration without buying a lot of parts. That's just an undeniable fact. It doesn't matter how original and unmolested your starting point may be - you're going to do some parts shopping before you're done.
Given that we're all going to be in the market for parts, it's reasonable to take a look at the parts-buying process and to offer some pointers on good and less-good ways to get parts. Of course, depending on the age and uniqueness of your project, any of these ways that work may be the best way for you to obtain parts, so don't take any of these sources off your table right away.
New Old Stock (NOS) parts - If you can find these, they're the holy grail of restoration. If you haven't heard the term NOS before, it means just what it says - factory original parts that have never been installed on a car. Generally, these are in good condition and you can't beat the fit and originality. Your best sources for these are shops that have been in business forever and your brand owner's club. Sometimes you'll see parts advertised as NOS on auction sites and in auto classifieds, and you should use all appropriate caution to determine the truth of the claims. You'll usually pay a premium for real NOS.
Remanufactured/Restored parts - If you can't find the original still-in-the-box part, then your best bet is usually a quality restored older part. These parts have been gone over by a professional, crack-checked or rebuilt as appropriate, and they should work as well as an original, even if they don't last as long. Generally, that's OK, as your restoration isn't being driven like a new car. The better news is that these parts are far more widely available than NOS components.
Reproduction parts - Reproduction parts are a little more dicey than any new original or rebuilt original parts. Many of these parts are being made overseas in the modern era, and their fit and finish is not always good. For example, in restoring an antique farm tractor, I purchased an overseas-made replacement intake/exhaust manifold. This is a cast part that had been gang-drilled for its mounting holes. Five of the six holes lined up perfectly, but one drill bit was misaligned in the production process and the mounting hole was more than half occluded when I installed the part. The good news with reproductions is that if you buy them from a reputable vendor, that retailer should stand behind their sale if there's a problem.
Used parts from swap meets - Swap meets are one of the joys of the old car hobby. They are a great opportunity to get together with hundreds of other like-minded people, walk around, look at parts, projects, and finished cars, and find the rare pieces you're looking for. On the other hand, swap meet parts have been getting to be less of a bargain recently as the restoration hobby has blossomed and the Internet has made it possible for sellers to become aware of the best prices their parts can possibly bring. The negative corollary is that many sellers are unrealistic about their pricing, expecting top dollar for less-than-top parts.
Used parts from online auctions and classified ads - The rise of Internet auction sites such as eBay and classified sites like Craigslist have dealt a serious blow to the swap meet scene. If a collector has his parts organized and knows what they are, why not put it online from the comfort of home instead of loading it up, paying for a space, setting it all out, haggling with whomever walks by, and then trucking it home again? The good side of online auctions is that you can find the parts you need regardless of where you or the parts happen to be located. The downside of auctions is that you're competing against every other owner of your make and model for those parts, and the auction sites have every incentive to get the highest price for each auction. Add to that the problem with buying parts sight-unseen with no opportunity for personal or professional inspection and you've got a recipe for potential disappointment or even fraud. So, approach online auctions with a skeptical mind and pay attention to those previous transaction ratings. You want someone who has a long history of good transactions. Be skeptical of someone who claims to have been in business a long time, but has fewer than several hundred feedback ratings! No matter what, be prepared for a little disappointment now and then.
Used parts from junkyards - I've had good luck in junkyards over the years. Of course, most junkyards won't have anything in stock more than 20 years old, but there are exceptions. It pays to ask the question. The issue with junkyard parts is that if the clock, for example, is broken in your old car, then chances are that the one in the junkyard is similarly broken. You can spend a lot of money buying junkyard parts that are all broken (or about to break) in the same way that your existing parts are broken! But you can also find the cigarette lighter, trim piece, or miraculously undamaged fender that you need. Many junkyards are putting their stock online now, so you can browse junkyards nationwide from your desk.
In general, you want to use the same mindset about buying parts that you did when you bought your restoration project -unless you just bought the first rusty heap you saw because you fell in love! In that case, be smarter about your parts purchases. The cheapest part is often far from the cheapest solution.
| | |
| --- | --- |
| | DO |
Take your time and do your research to be sure you're getting the right parts
Invest in the best possible parts for your restoration
Be honest about your ability to install and adjust parts correctly
Shop around and look for better deals on the best possible parts
| | |
| --- | --- |
| | DON'T |
Don't figure that an incorrect part is "close enough" to escape notice
Don't hesitate to ask your club for help
Don't be tempted to believe that used parts work like new ones
Don't send large amounts of money to unknown persons on the Internet
You might think Packard parts would be difficult to find but for many items you can choose from several sources. The two biggest outfits are Max Merritt Auto and Kanter Auto Products. Both carry thousands of reproduction, NOS, and salvage parts. Other companies catering to Packard owners include Bill Hirsch Auto, Tucson Packard, Steele Rubber, Yesterday's Radio, and Packard Seattle Company. And, of course, eBay, and the parts vendors listed by Hemmings.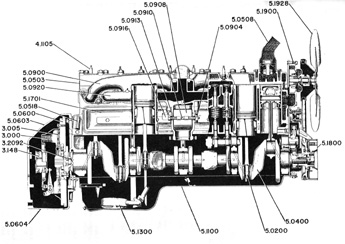 What I learned, though, is many of the parts are expensive. The rubber parts were nearly $3000, the wiring harness was about $1000, and a rebuilt starter solenoid was $225.

On the other hand some of the parts were reasonable, including the engine rebuild kit (under $1000) and the front suspension kit (under $500).
All of the abovementioned parts are in current production. The prices just get higher for items that are not: $125 for a NOS parking light lens and $195 for a hubcap cloisonne emblem. But that isn't really out of line with some of today's car part prices. I also realize the people selling rare parts should get compensated for buying and storing parts that may not sell for years and years. Overall, I was very happy to find everything I needed was available from one source or another.

Eddie Nakato, Owner
16088A Boones Ferry Road
Lake Oswego OR 97035
Ph: (503)697-3311
Fax: (503)697-3353
www.ARAutoService.net
PR: What's the best way to get good parts?
EN: Obviously, factory parts are the best way to get something that's going to fit 100% of the time, without fail. Aftermarket equivalent parts are going to have OE fit, and sometimes they're actually the OE part without the label. But they go all the way down to being made in some third world country and they're absolute junk.
PR: How do you find the best price?
EN: Pricing is pretty equal across the board. Obviously, factory parts are the most expensive, but you know it's going to fit. Definitely choose the factory first, but if you know there's a vendor with an acceptable substitute, go ahead and get that part.
PR: You ran an Internet parts business for years, what's your advice about getting parts on the net?
EN: The Internet is definitely on the scary side. You can punch in a part and get 100,000 results, but 99% of those people don't actually stock that part and don't know anything about it. The key is to find a reputable vendor who either specializes in your particular or has a warehouse that physically stocks the part. Most of the vendors on the Internet now don't really exist apart from a guy behind a computer. He places an order at one warehouse, and they place an order at another warehouse, and four guys down the line, someone ships your part. That's not necessarily bad, but it can be problematic. You don't know if it's a decent product or if they even sent you the right part -and then the guy you ordered from is out of business! So look for someone who's been in business for a long time, and make sure the part is in stock and ready to ship.
PR: How about asking your repair shop to find your parts?
EN: It depends on the shop. Some shops don't want to sell you a part unless they also install it for you. It depends on their business model, but if you allow them a decent markup, no more than an average auto store, they should be more than happy to sell you a part.
PR: Anything else to watch out for?
EN: Once again, buying on the Internet and sending your money into a black hole can lead to serious problems. I've had to write off money that I sent out and then the vendor just stopped answering. Always be careful who you do business with.
| | | |
| --- | --- | --- |
| Click on any item below for more details at Amazon.com | | |
---
Peter Wallage, John Wallage
Repairing and Restoring Classic Car Components


Haynes Publishing, Hardcover, 2002-01-17

This book will show you basic workshop techniques, such as welding, grinding, riveting and soldering. It walks you through specific restoration tasks such as restoring door locks, fuel pumps, distributors, speedometers, and much more. It has a full chapter on windshield wipers and their motors. The focus is on British cars.
---
Cars & Parts Magazine
Salvage Yard Treasures of America


Cars & Parts, Paperback, 1999-05-01

This entertaining and informative book features profiles for more than 20 salvage yards from Georgia to California. The book includes hundreds of photos along with the address and phone number of each of the salvage yards profiled. Also included is a state by state salvage yard directory.
---
Tom Brownell
How to Restore Your Collector Car


Motorbooks, Paperback, 1999-12-24

This book has a great deal of information on selecting a potential project car and setting up the workshop, plus a lot of detail on cleaning, stripping, blasting, derusting, bodywork and trim restoration, but comparatively less (just 1 chapter) on engine and mechanical restoration and 1 chapter on brakes. The book includes many nice color photos, however, and would be a good addition to a restoration library.
---
Tom Benford
The Complete Idiot's Guide to Restoring Collector Cars


Alpha, Paperback, 2004-08-03

The first 150 pages of this book are dedicated to the process of finding and deciding upon a restoration project and determining your restoration strategy. This part is covered in detail, and covered very well. The last 50 pages or so cover what to do with your car after the restoration is done, which leaves just over 100 pages to cover the actual work. For example, the chapter on engines assumes that the basic mill is in good shape, and simply covers tuning, carb adjustment, and freshening the engine bay. This is not a step by step mechanical manual - but it offers some of the best coverage on every other aspect of restoration.
At Amazon.com you can choose from over three million automotive products, usually at discounts. Buying your parts from Amazon has the advantage that you only have to provide account information to one vendor.
Hemmings Motor News has one of the largest directories of parts suppliers for collector cars. Go to their home page, click Parts for sale (on the left), and then click the name of your vehicle. You can also used their search utility.
Summit Racing Equipment is the largest Internet supplier of high performance automotive parts and accessories.
JEGS Performance Auto Parts has the largest selection of quality performance parts.