When you disassembled your car, you should have organized all the hardware by its location and use. You should have boxes, baggies, or trays of nuts, bolts, screws, brackets, and other parts clearly labeled with their proper location, plus photos and diagrams of how they all went together.
You need to assess the usability and cleanliness of each part before you put it back on your car. Start by examining your fasteners, because many of these will need to be replaced. Chances are, you broke some of them when you were taking your car apart. Old bolts are especially prone to breaking off in their holes, and screws often strip their slots. Many nuts will be stripped of their threads, or their outside edges will be chewed up, and most of your washers are likely to be bent or out of round.
Removing broken bolts and studs is among the most frustrating things to do in your restoration. Typically, the threaded shafts have rust-welded themselves into their receptacles, and they will hold on with a tenacity that never ceases to astonish even experienced restorers.
To remove stuck fasteners, first remove everything around the bolt to see if you can get any kind of a grip on it. If you have only a little broken-off piece to work with, try a pair of big vise-grips cranked down very tight - but don't start twisting just yet! Your best friend in this process is heat. Apply a pencil-flame propane torch around the stuck bolt, heating it several times. You want to heat the surrounding metal more than the bolt, if possible. Metal expands with heat and you want to break the rust connection between the bolt and the surrounding metal. You can try letting the bolt soak in penetrating oil overnight, but it rarely does any good.
If the bolt is broken off below the mating surface, you have fewer options. Drilling and retapping the hole may be your only option. You can try "Easy-Out" extractors, but these may also snap off. The rule with these tools is to use the biggest size extractor you can manage without completely destroying the hole.
If you have to completely drill out the hole, you're looking at reassembly with a nut backing up the bolt, or tapping the hole a size larger and inserting a helicoil. This is simply a sleeve that is threaded inside and out. You enlarge the original hole to the next size up, get the right sized helicoil, and thread it in. Helicoils work well, and machine shops often insert them into engine blocks when they have this problem.
If you're attempting a concours restoration measured to 1,000 points, you need to get exactly the right fasteners with the correct markings on the bolt heads and the correct nut design. Some bolts in specialty applications have a shoulder, offset head, or other unique features. Pay special attention to these parts and make sure you get the right replacements.
But if you're working a less rigorous restoration, you can get away with using substantially similar hardware. And if you plan to drive your car with any vigor, you should seriously consider replacing critically stressed fasteners with modern high-grade nuts and bolts. As a rule, the harder Grade 8 nuts and bolts are used in tension stress applications (high torque values or the pieces in question want to pull apart) while Grade 5 bolts are used in shear applications, where the pieces want to slide sideways to each other.
For applications such as mating exhaust headers to your engine, consider using brass nuts. These have a very limited maximum torque before they strip, but they don't rust!
Where you're dealing with invisible nuts, consider using nylon insert locknuts. These will give you some peace of mind that your fasteners are not likely to come loose.
For non-marine applications, you should not need to invest in stainless steel fasteners, but they look great, so restorers often choose to spend the money.
The main thing about fasteners, especially if your project did not include all the fasteners you might need, is to have plenty of them. Your car probably uses 2 or 3 main sizes of bolt (7/16, 9/16, and 3/4, or 3/8, 1/2, and 5/8) and just a few other sizes here and there. So at a minimum, you should have a goodly supply of nuts in the appropriate sizes for your car and an assortment of the same size bolts in various lengths.
| | | |
| --- | --- | --- |
| | | Hint... |
When buying hardware, avoid the little bags with 5 or 6 fasteners in each bag. By the time you've bought a few of those, you could have paid for a box of 100. Nuts and bolts don't generally go bad, so you might have a lifetime supply, but they'll be there when you need them!
| | |
| --- | --- |
| | DO |
Have critical bolts checked for cracks
Try to save your original fasteners and keep them organized
Use new hardware where it does not affect your restoration
Clean your original hardware
Use heat to break stuck bolts free
| | |
| --- | --- |
| | DON'T |
Don't try to reuse an obviously damaged nut or bolt
Don't put too much torque on a cold bolt you think might break
Don't use cheap Grade 2 hardware on a critical application such as holding your car's suspension together.
Don't use obviously wrong fasteners on an otherwise sanitary restoration
For the Popular Restorations feature car I tried to plate or replace all of the fasteners so they would be unlikely to rust for decades. I described how I had most of the Packard's fasteners cadmium plated in our Plating - Zinc, Cadmium, etc. article.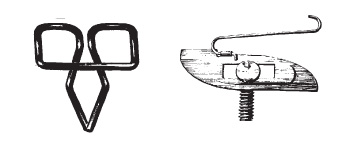 In some cases the old fasteners were too far gone to plate--for example, nearly all of the stainless steel trim clips broke during disassembly. I replaced them with new equivalents, all of which were available at RestorationSpecialties.com. Some were available at my local parts store. To hold down each of the threaded clips (shown above) I used a rubber grommet, a stainless steel washer, and then a stainless steel nut. The grommets served two purposes: sealing the body hole so water would not enter and providing "spring" tension so the nuts would (and will) stay in place. You can find inexpensive grommet and stainless nut/washer assortments at Harbor Freight.
A couple of other topics worth discussing here are Finding Fasteners and Identifying Fasteners.
Finding Fasteners
As mentioned above, RestorationSpecialties.com has a huge assortment of fasteners, as well as rubber and weatherstripping supplies. I also found BoltDepot.com to be a good source for some hard-to-find chrome and stainless bolts. But the bulk of the fasteners I purchased came from local hardware stores. If you live in a city, the key is to find which store has the best selection. Usually Ace or TrueValue hardware stores carry a hardware line by Hillman or one of the other parts vendors. Their selections are usually much better than what you'd find at Home Depot or Lowes. If you're not sure where to go, ask people in your local car clubs or at their website forums.
Some fasteners are specific to your make of car in which case you'll need to find specialty stores (e.g., Max Merritt or Kanter for Packard, Chevs of the Forties for Chevrolet, or C&G Early Ford Parts for Ford).
Identifying Fasteners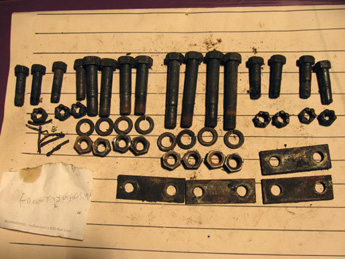 Note: When photographing parts, place them on paper with at least one-inch rules.
Your best bet is to photograph the parts as you take them off of the car. Put a note next to each set of parts so you can look at the parts and their descriptions later. But, if you do a full restoration I will guarantee that you'll have questions at some point. That's when a factory parts manual comes in handy.
For example, the 1941-1947 Packard Clipper Master Parts Book has the inner fenderwell graphic shown above. If you refer to part 30.782 (labeled number 2), the parts book describes the screws that hold that part to the radiator, the frame, and the gravel shield, such as #14 X 3/4 (quantity 4).

Dave Mihalko, Owner
148 Minnow Creek Lane
Windber, Pennsylvania, 15963
814-467-9842
www.restorationspecialties.com
PR: How should someone go about ordering fasteners?
DM: We prefer to go off of samples. The customer sends samples and we match them as best we can. Not everything is available, but we match it up and ship it out.
PR: Do you recommend using all original grades or do you advise people to upgrade?
DM: In today's world you have to go with what's out there. We recommend that you use at least the grade that was original to the car in that location. But for example, we don't carry a lot of engine bolts or suspension bolts because for those, you need exactly the grade that was specified for the car.
PR: How about upgrading to stainless steel?
DM: A lot of times you don't have an option. Frequently the specific original finish used by the factory is not available in many types of fasteners, and so you don't have an option and you have to go to stainless.
PR: Do you recommend people cadmium-plate or otherwise refinish their fasteners?
DM: If the quality and integrity of the bolt is good enough and you want to maintain the correct head markings of the original bolts, that's really your only option. To find the correct head markings for your vehicle, most of those companies are long gone and finding surplus of that stuff is really difficult.
PR: Are there resources that can tell you the correct lengths and sizes for a given car?
DM: There isn't a database or anything that I'm aware of. Good parts books will give you sizes and so forth, but not at any great detail. Can you imagine the size of that database? And even to generate that list now, you'd have to find absolute 100% correct vehicles. A lot of cars are over-restored. You can find original cars where the bolts don't always match what they should be. When they were putting cars down the assembly line and they ran out of bolts, they'd just use the next barrel that they put in front of them.
PR: Any other good advice?
DM: Don't throw anything away until it's all put back together. You'd be surprised how often we ask for samples and we find that the owner has thrown them all away.
| | | |
| --- | --- | --- |
| Click on any item below for more details at Amazon.com | | |
---
Mike Mavrigian
High Perf. Fasteners & Plumbing HP1523: A Guide to Nuts, Bolts, Fuel, Brake, Oil & Coolant Lines, Hoses, Clamps, RacingHardware and Plumbing Techniques


HP Trade, Paperback, 2008-01-02

This user-friendly guide explains high-performance fasteners, plumbing, and all the other hardware used by racers, rodders, restorers and all other auto enthusiasts. Subjects include hose sizes, fittings, materials, routing and installation tips, heat shielding, brake, fuel, coolant, and oil lines, as well as fastener technology such as thread sizing, clamping loads, bolt stretch, and fastener styles.
---
Wayne Scraba
Practical Fabrication and Assembly Techniques: Automotive, Motorcycle, Racing


Motorbooks, Paperback, 2010-08-15

This book guides enthusiasts through the most essential processes for assembling a high-performance engine, car, or motorcycle. Tasks like fabricating mounts for fuel pumps or ignition boxes, selecting fasteners and hardware for securing components, and plumbing brake and fuel systems are among the many topics covered.
---
Timothy Remus
Hot Rod Hardware


Wolfgang Productions, Paperback, 2000-11

This generously illustrated guide to automotive fasteners examines hot rod applications exclusively, with advice on choosing the best parts for the job, fresh approaches for routing lines and hoses, and ideas for giving the seemingly mundane that unique, one-off touch.
---
---
---
---
Mstc
Metric Machine Screw Assortment


Metric machine screw assortment contains: M 3x6, 3x10, 3x16, 3x20, 3x30, 4x8, 4x10, 4x16, 4x20, 4x25, 5x10, 5x16, 5x25, 5x30, 6x10, & 6x20 in several head styles. ALL screws are slotted heads. Parts are steel with a zinc finish.
---
MSTC
Machine Screw, Nut, Lock & Flat Washer Assortment


M3X6, M3X10, M3X12, M4X6, M4X10, M4X16, M5X12, M5X16, M5X25, M6X12, M6X16, & M6X25 in slotted pan & slotted countersunk flat head with matching Hex Nuts, Flat Washers, and Lock Washers. All parts are Steel with Zinc plating. Comes in a 10" x 13" steel, hinged covered compartment box. Racks are available for sale, for multi assortments.
---
Stanley
10 Compartment Professional Organizer


(10 compartments) Stanley organizers are a great way to organize your parts, before and after cleaning and painting or platng. The cup compartments are removable and multiple organizers can be stacked for space efficiency. After your restoration is complete they can be used for organizing spare parts or even household supplies.
---
---
Wilmar Corporation
1200 - Pc. Nut & Bolt Assortment


This assortment contains common fittings and fasteners for your home workshop. Includes 6 different machine screws (20 ea.), 4 sizes of washers (25 each) and 6 common hex nuts (25 each). Set weighs 7 lbs.
---
Wilmar Corporation
Nut & Bolt Assortment -- Metric--347 Pieces


This 347 metric nut and bolt hardware kit contains the following:(49) M5, (11) M6 hex nuts, (59) M5, (19) M6 flat washers, (43) 3 x 12mm, (32) 3.5 x 19mm, (10) 4 x 25mm wood screws, (32) 3.5 x 12mm, (26) 3.5 x 19mm, (13) 5 x 25mm sheet metal screws and (19) 5 x 25mm, (10) 6 x 19mm, (19) 5 x 19mm machine screws.
BoltDepot.com has a Fastener Info page with many printable charts, grade information, tap and drill sizes, and much more.