Since he was a teenager, Norm Schmidt has owned more than 200 cars. Buying and selling an average of five cars per year over four decades may be hard to fathom, but it's easier to understand when taken in this context: At any given time Schmidt may have a dozen cars tucked into his garages, RV parking spaces, and even the large patio of his half-acre property.
Despite the quantity, Schmidt is not a big spender. When a good deal comes along he'll snatch it up. If the car grows on him he'll keep it. Or, just as often, he'll sell it for a profit or make a smart trade for another.
"I like my cars to be practical so I can drive and appreciate them without a lot of worry. I don't like to go overboard. I want to spend my money wisely--so I can spend it on other cars." Schmidt says with a laugh.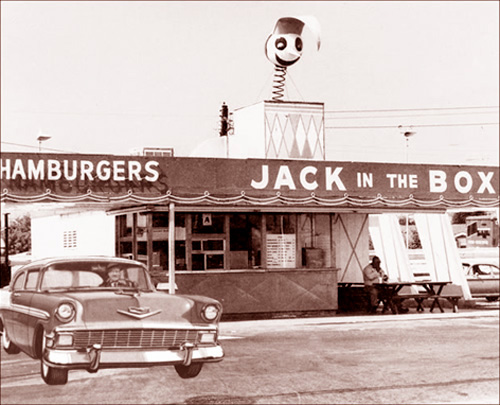 Schmidt's interest in cars took off when he was a paperboy. While on his route one day he spotted a discarded engine and knew he had to have it for his own. But his bike was set up for 40 pounds of newspapers, not 400 pounds of motor. So he disassembled it and moved it piece by piece to his parents' house where he put it together again. At age 15 he used his paper route to discover and buy an eight-year-old 1956 Chevy two-door Bel Air post. This car was his ticket to ride with the older boys, and ride he did until a year later when he got his license.
Since that time Schmidt's ever-changing inventory has allowed him to experience car ownership in a way that would exhaust most mortals. He's covered the automobile spectrum from one end to the other, not randomly but in phases.
"My first car was a beautiful 1956 Chevy two-door Bel Air post and from there I went to less expensive cars but I still liked them. Later on I owned a 1957 Nomad and a 1930 Ford Sedan," says Schmidt.
"Then I got interested in horses, motor homes, and going to the desert, and then back into cars. I spent several years doing the off-road thing and then came back to cars again. Whatever I did I always came back to cars."
In the 1980s Schmidt began an eight-year, Class-Five* Baja Bug racing career and was frequently in the press for his repeated first-place finishes.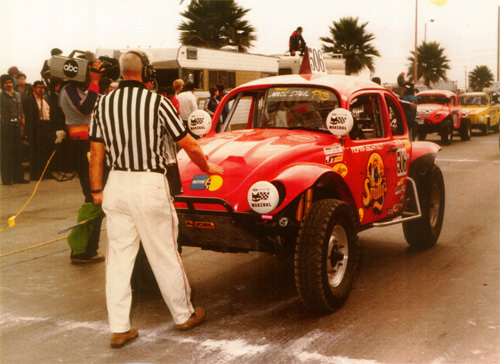 "In the late 1970s I used to go pre-running with friends. My brother had been racing motorcycles and was starting to race cars. In 1980 I purchased a Class Five Baja Bug and entered it in the Baja 1000. I was in the car 9 hours straight then gave it to my brother who drove it for another 9 hours and we won the Baja 1000 by a couple of hours in our class. We took the same car to the Las Vegas Mint 400 in 1981 which was a much, much tougher race than the Baja 1000. We got first place in Class Five again and finished 16th overall against the high dollar vehicles."
To stay on the cutting edge Schmidt designed a new, more competitive bug.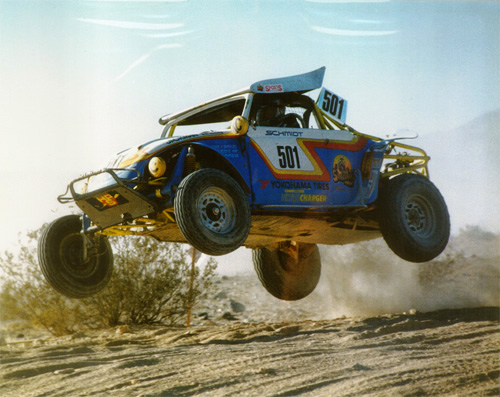 "In 1982 I built a brand-new Baja Bug convertible from the ground up with a lot of my own ideas and with the help of Ed Frisk and his brother. We took it to Parker Arizona and the first time off the trailer it got first place. Our car kept progressing as the sport grew: It was one of the first cars to have power steering and one of the first cars to have a secondary torsion bar. We mounted our motor and transmission and even the driver's seat in urethane. With a 35 gallon tank that looked like a miniature coffin we could go nearly twice as far as our competitors between refuelings. In 1984 the car won at Parker Arizona (again), San Felipe, the Baja 500, and even an overall win at a District 38 race at the Superstition Mountains."
But life behind the wheel can become wearisome, even for the most energetic drivers.
"At that time I would drive a semi truck all week at my job. On the weekend I would drive all the way to Las Vegas to race for six or eight hours straight and then drive back from Las Vegas to get into a truck and drive all week at work. It was lot of driving. We stopped racing in 1988 but I still have both cars today. My son is 19 and we took the Baja Bugs out to play cat-and-mouse last New Year's Eve. We had a great time and plan on doing it again this year."
Schmidt is now an across-the-board auto enthusiast.
"I appreciate all types of cars: the artistic value of off-road fabrications, the artwork that goes into customs, and I really appreciate the classics. They are all rolling art and reflect their owners' interpretations and points of view."
* Class 5: Must be a VW Sedan Type 1 Hardtop or Convertible. Front and rear suspension is open, but must retain stock concept. Length, width, and manufacturer are open, but wheelbase must not exceed 105 1/2'' at ride height. Any VW concept engine is allowed. VW 4 cylinder water cooled engines may also be used. Displacement is open.