At a recent Packard Club meeting one of the senior members announced he and his wife had fallen in love with a Model A Ford. He said, "We don't just like it, we love it!" It was surprising that a member who owns over a dozen Packards would fall in love with a Ford. But it goes to show that one's passions can change over time, and that a car collector is no exception.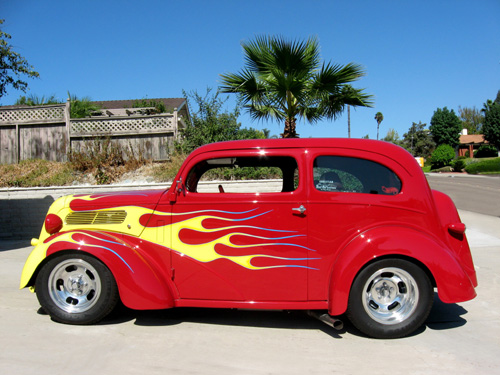 Take Gary Browne for instance. When he was in high school he liked Anglias and Willys so when he had the chance he bought a 1948 Anglia.
"When I was growing up in junior high and high school I loved going to the drag races and Anglias and Willys were the hot tickets. Anglias were quick because they didn't weigh anything. They weighed 1600 pounds soaking wet with the original engine. You put a V8 in it and all of a sudden the power to weight ratio was really good. So they were popular even though they got outlawed for a while by the NHRA. They were too short, they only have a 90 inch wheelbase. Then the NHRA said "Okay" just for gas classes and if they don't have a blower. Then they finally said, "Okay, put a blower on it, do everything, and just go crazy!" Just growing up and watching Anglias and Willys race I knew I either wanted an Anglia or a Willys. I came across an Anglia first and bought it and still own it," says Browne.
And that was over thirty years ago. Today the Anglia is still Gary's pride and joy, as well it should be--but not long ago he stumbled upon another car that is competing for his affection. While browsing eBay he saw a '56 Ford Ranch Wagon--a frame-off restoration but still in a basket. When the owner cut the price in half, Gary snapped it up. Now the more he drives it the more he likes it.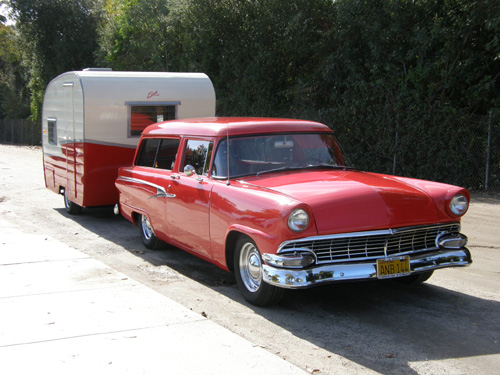 "The Ranch Wagon is a cruiser, it just goes and goes. It's a keeper. I guess it might be age, but I like driving it so much more than the Anglia. The Anglia is pure hot rod and everything, but the Ford is pure fun. I really enjoy it, it's amazing! In the Anglia you bounce along but in the Ford you just float along. You turn on the air conditioner and enjoy the ride!"
And the Ranch Wagon encouraged Browne to buy another collector vehicle.
"I like to take a trailer when I go to long distance shows so I was forced to go out and get an old Shasta," says Browne.
"The trailer is only a 10 foot box, 12 1/2 feet overall. It's called a Shasta Compact. It's actually a 1963 but it's the same design they had back in the 50s. I rebuilt it so it goes with the wagon. Now when I go to long distance shows I can camp and still have my car with me."
Collector car owners usually like to see smiling onlookers but Browne's rig is almost too much.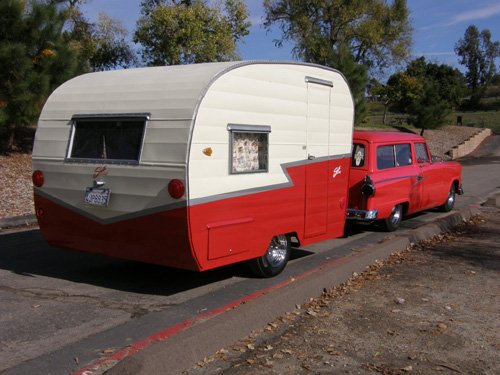 "I get looks going down the road with my Ford. But stick an old trailer behind and you wouldn't believe it. Nobody goes by without looking," Browne says laughing.
"But they scare you, people going down the road blasting their horns and you think, 'What did I do?' and then they give you a thumbs up!"
Although Browne has plans for improving the Ford, the Anglia has not been forgotten.
"Now that I have the Ford station wagon, I'm considering turning the Anglia into more of a high performance car. Possibly put a blower on it and make it what an Anglia is supposed to be like. But there's a chance I won't. I can let it sit for three weeks and turn the key and it starts right up. It gets over 20 mpg on the highway and works so well it would almost be a shame to change it. But sometimes I do things that aren't practical so we'll see."