There are very few areas of an automotive restoration project that don't really matter. But one area that matters more than anything else is your car's bodywork and paint. This is the make or break point of every restoration. Simply put, your tie rod ends can be old and worn or your turn signals might not flash in exactly the right rhythm, but if your paint looks great at 3 feet and your sheet metal looks absolutely perfect at 6 inches, people won't care too much about small flaws elsewhere.
Consequently, paint and bodywork is where most restorers spend the bulk of their budget. This is especially true if you're pursuing a resto-mod project, but even for a strict restoration, getting the paint and body just right is critical to a successful build.
One question to ask and answer before you get started is whether you will keep (or return to) the factory original color for the car. In many cases, this is part of the VIN number and build code of the car, and an astute judge will notice if your car is painted in the rare shade of turquoise when the code says it originally left the factory in white.
In general, the right answer is to restore your car to the factory original color. You will never go wrong with this choice. But bear in mind that you need to be happy with the results, and if you just hate brown cars, but you love your make and model, then choose a different color that is correct for your car.
One issue to bear in mind if you change your color is that you must take the entire car down to bare metal, and that will almost certainly require having the car dipped to get rid of the original color in all the crevices and interior panels. Then you have to paint the new color so that it gets into all those places. That's potentially a bigger job than restoring the original color.
The good news is that companies like PPG have formulations that cover thousands of factory color codes from every automaker. If you're restoring a Jaguar from the 1960s or an Oldsmobile from the 1920s, any good automotive paint store can mix up exactly the color you need, and the formulation will be better than was painted on the car at the factory decades ago.
If you choose to paint your car yourself, the single best investment you can make is in training. Painting a car well is both a science and an art. It takes practice to really master the process. Ask at your local restoration shops and paint stores and you can usually find someone running a class in body prep and painting. Sometimes these courses are offered through your local community college. One of the key benefits is that these classes are usually gateways to specialty facilities like paint booths. Pass the class and you can often rent the facility for your project, and hire the professor to act as your coach.
| | | |
| --- | --- | --- |
| | | Hint... |
There are dozens of books on the market that cover body prep and painting, and you should also pick up and read at least several of these books to get an idea of what you're going to do. You can buy these books through this website, or borrow them from your local public library, but it's good to have read the books before you take the hands-on classes -that way you're ready to learn when you arrive.
One misconception to clear up is that painting your car yourself will be much less expensive than having it professionally painted. By the time you pay retail for your paint, take the classes, buy the other supplies, rent the paint booth, and hire the coach, your costs will rival a good paint job by a competent professional. The reason to paint it yourself is that when it's done, you'll be that much more proud of your own work.
| | |
| --- | --- |
| | DO |
Be a complete fanatic about cleanliness
Invest in the best possible products
Invest in training and coaching before you commit paint
Be ready to deliver the project to a professional if needed
| | |
| --- | --- |
| | DON'T |
Don't convince yourself that flaws won't be noticeable
Don't be afraid to stop at any moment and ask for help
Don't shortcut the process at any point
After going to the trouble of taking the body off the Popular Restorations feature car I decided it deserved a paint job that would last. For a long lasting paint job, the general consensus is that all of the paint should be removed, especially when it is old lacquer. Otherwise the new paint can end up looking like this:

I decided to walnut-shell-blast the body and to dip the other body parts--the gist of that decision is discussed in the Large Parts (Blasting and Dipping) article.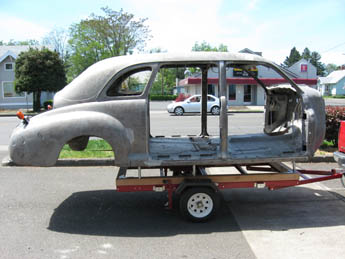 Once the Packard was down to bare metal I moved it to the paint shop. They immediately painted it with a primer that would stop it from rusting. Then, over a period of months, they did the necessary body work, put in new seam sealer, painted, and then polished the car.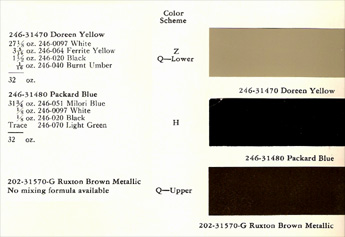 Before they painted the car I had purchased an original DuPont color chip sheet for a 1946 Packard and went to the paint store to buy that color. Over the decades DuPont, like other manufacturers, had reformulated their paint lines a number of times. When they reformulate their paint, they create new mixing instructions for the old colors, but not forever. Not having the mixing instructions, the paint store suggested scanning my paint chip. When we tried the resulting paint on a test panel, I saw that it was not a deep Packard blue but a blackish, greenish color no one would like. The color chip had chemically changed over the 60-plus years. The paint store then contacted DuPont, whose color lab scanned their color chip and forwarded the mixing instructions back to the store. But the result was the same--their color chip had aged too.
The next step was to go through stacks of color sample books for car makes from the 50s up until present. The problem is that most auto paint after the 60s is metallic. The Packard blue is not. No colors in their books looked like what I wanted. This was disappointing as it's better to work with a standard color in case you need to match it up later.

Searching the web for "Packard Blue" I found images of Packards that were described as Packard blue but some had more of a green cast and some had more of a red cast, so that was no help.
Finally, I took one of the paint store's color chips to the paint shop. It was not exactly right but it was a least a starting point. I asked the painter to mix a color that was a little darker and a little redder. He sprayed that on a test panel and then I asked for further adjustments. After several go-rounds we settled on a handsome blue. It is always scary, going from a test panel to an entire car that may look different in another light.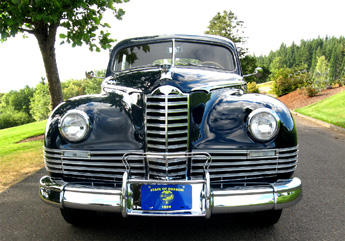 But once the car was completely put together, I realized it was just right. More than any other compliment I get, people say they really like the blue.

Jeff Womack
9831 SE Powell Blvd.
Portland, OR 97266
503-761-1549
www.womackautobody.com
PR: How do you approach a classic restoration project? Is it different from a modern car?
JW: Absolutely it's different. With a newer vehicle, you don't have rust issues and parts availability issues. And even with some old cars like VW Bugs and Mustangs, there are tons of parts being made. Whereas on many older cars, you can't get those panels so you repair anything you can repair. The old cars are great because you can do a lot of hammering and dollying on the metal to bring it back to shape, then use filler to smooth it out.
PR: How do you deal with holes and thin spots?
JW: It depends on the car and on what the customer wants. For me to cut out panels and weld in new pieces all over a vehicle can costs thousands of dollars, but if many of the spots are just cosmetically bad, and hidden from view, we can use other methods. We use a product called All Metal that is metal shavings mixed with Bondo. The All Metal is as hard as concrete when it dries, so you have to grind it. We grind it down below surface level and then skim it with Bondo.
PR: A lot of cars used very different paint formulations than are used today. If someone wants a complete original paint job, can you paint a restoration project with the correct original materials?
JW: I would tell that customer to find another shop, and I would tell him "Good Luck." One, the cars done back then were all done with lacquer paint, and those paints are outlawed in urban areas. None of the mainstream shops can even use lacquer, and even if we could I don't know of any reputable shop that would use it. Lacquer paint is very labor intensive and it doesn't last. If you've ever heard of checking or crow's feet, that's lacquer breaking down over time. Between the 50s and 70s, everyone switched over to enamel paint, and those were much better than lacquer, but the smell is horrible and lingers. It's similar to urethane paint, but it's more difficult to polish and work with. It's good for cheap paint jobs, because it's 1/3 the cost of urethane paint. Then in the 80s they switched everything to urethane. I use PPG urethane paints, and I'm still using the same formulations I was using 17 years ago. My point is that this stuff no longer changes very often and it's hard to improve on it.
PR: What about paint prep?
JW: There are different things you can do, depending on the surface and on the vehicle. If you strip a vehicle to bare metal, but you didn't sandblast it, then the vehicle still has some factory E-coating, which is a clear sealant. But on an older vehicle there's almost always some surface rust. So I recommend that they strip the paint off and then have the car sandblasted. I tell people not to have the car sandblasted first, because if you have to take off a lot of material, you can warp the metal. But if you go to a good sandblast guy, they can go over it lightly to remove the surface rust. Then that metal is bare and rust-prone, so don't touch it, but immediately seal it with an epoxy primer, and then immediately cover that with a sandable self-etching urethane-based primer.
PR: Anything else to recommend?
JW: There's a thousand things that come up. I would recommend that they contact a reputable shop. There are shops that work from $5,000 to $10,000, and others that are over $30,000 for absolutely perfect work. They do fantastic work, but you need an unlimited budget.
| | | |
| --- | --- | --- |
| Click on any item below for more details at Amazon.com | | |
---
Martin Thaddeus
How to Paint Classic Cars


Veloce Publishing, Paperback, 2005-08-28

This is a very basic book. There are only 5 pages devoted to panel beating and metalwork, and not much more than that to many other topics. All in all, not the best book for the do-it-yourselfer.
---
---
David H. Jacobs
How to Paint Your Car


Motorbooks International, Paperback, 1991-09

This well-reviewed book explains and illustrates every step of the automobile paint process including stripping, sanding, filling, spraying, ploishing and waxing.
---
Stefan R. Gesterkamp
How to Paint Your Show Car


Motorbooks, Paperback, 2008-10-21

Stefan Gesterkamp leads the reader through the concours painting process including precise color matching for complete paint jobs, and how to match weathered panels when doing area touch up. How to Paint Your Show Car will provide you with a solid and valuable foundation of knowledge, whether you do it yourself or hire a professional.
---
Jim Richardson
Pro Paint & Body


HP Trade, Paperback, 2002-09-03

This is another well-reviewed guide to professional paint and bodywork. It includes information on bodywork tools, materials and techniques. A partial list of subjects includes: Assessing a project car and damaged bodywork, disassembly and stripping, basic hammer and dolly techniques, diagnosing dents, fillers, leading, spray guns, current paint technology, color coats, color sanding, and custom colors.